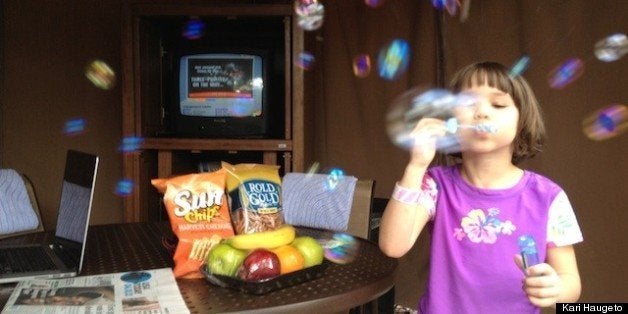 I'm not a hang-out-at-the-pool kinda mama. I don't like being hot. I burn.
So when we checked into our Orlando hotel recently, and my three kids caught a glimpse of the the massive "lazy river" that wound around our condo, I suspected my goose was cooked. (A lazy river, for the uninitiated, is an artificial river with a real current that carries you around the property on inner tubes. Think of it as a pool on steroids.)
As the kids high-fived and fist-bumped each other, gathering pool toys, I silently cursed our pool-view accommodations at the Holiday Inn Club Vacations at Orange Lake Resort.
But I'm also a pushover mommy who will do anything to exercise the kids and tire them out before bedtime. A quick phone call later, I had secured a private cabana as our "poolside room" for the day.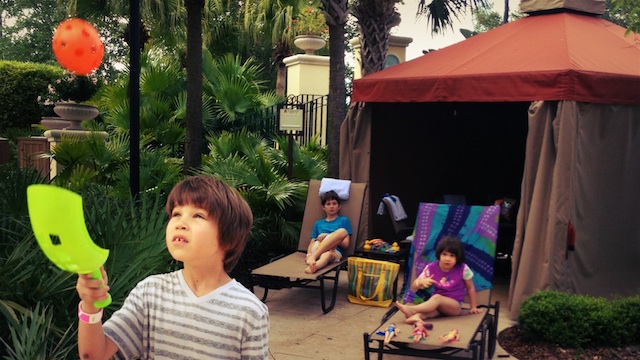 Guess what we learned? You can survive a whole day at the pool, even if you're not a "pool" person. A valuable lesson, with the summer pool season just around the corner.
Most hotel guests pass on the cabana, for a for a variety of reasons. But after we reviewed our last trip -- and several others before it -- we concluded that would be a mistake. Here's why you should consider splurging between $50 and $200 a day for a cabana:
Shelter from the sun. You know that cabanas offer a level of privacy, but it is also a shelter from the sun. (Did I mention that this Norwegian-Irish girl burns easily? Yes, that she does.) Some cabanas come with a ceiling fan to help circulate the air and offer extra cooling. Many also block out the rain, which is very important in the afternoon when visiting Florida.
Snacks are included. Our cabana at the Holiday Inn included fresh fruit, chips and a refrigerator packed with bottles of water. That's a pretty standard amenity that can save you the time it takes to shop for nibbles or the cost of purchasing them poolside, although some higher-end cabanas, like the one we checked into at the Four Seasons Miami, also offered chilled towels to stave off the tropical heat. Pretty cool.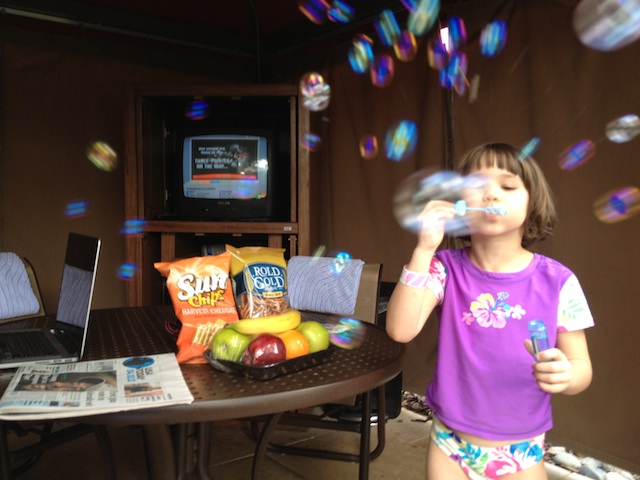 An entertaining backdrop. When the kids lips turn blue it's time for a break. They don't always want to return to the room, but having a shady spot with snacks and a TV can be a draw. We packed coloring books and games for both the pool and the cabana, too.
Personal attention. This is a point of distinction for different resorts. It is standard to have an attendant to take orders and deliver food from the dining menu to your cabana, but some resorts have dedicated service personnel exclusive to the cabanas. When we had a cabana at the Doral Golf Resort and Spa near Miami a few years ago, our attendant always seemed to be just around the corner.
An unorthodox workspace. The cabanas are usually set aside, which allows for privacy and quiet when the kids are out splashing. Our cabana in Orlando included a table and had power so I could set up the laptop to follow my favorite twitter handles. Some work was done in between trips along the lazy river.
Comfort and peace of mind. In our cabana, we were able to bring more personal items than if we stayed on a lounger at the pool. I could unpack my workspace and the kids packed a variety of dolls, toys, goggles and snorkels for the pool. The cabanas can be closed off for privacy, but I used this feature to keep our stuff safe. With constant attention by the attendants I wasn't worried about leaving for a few minutes to take the kids for splash time in the pool. We did, however, discreetly put things away -- just in case.
Wouldn't you know it, this sensitive-to-the-sun mom managed to avoid getting roasted on our cabana day. So did the kids. I even got a little work done. Actually, it's the story you're reading right now.