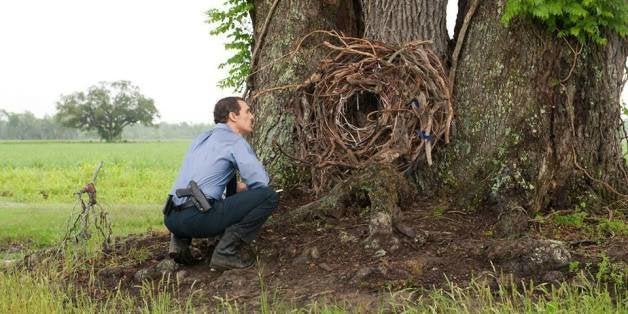 Some hardcore "True Detective" fans on reddit have proven themselves the real true detectives.
Obviously there are some possible minor spoilers in the photos since they reveal set pieces, locations, and (possible) characters that may hint at theories about the ending. We've made our own speculations from each photo, but again, these are just speculations and nothing truly spoilery is in the pictures (at least that we can tell yet).
Decide for yourself whether or not you should look, but if anything, these photos will just get you more excited for the final two episodes. If you choose to not look, then check out College Humor's amazing and hilarious creation of what Rust Cohle's OKcupid profile would look like.
This looks like Fukunaga on a boat, but even more interesting, the ship's name includes the name of the first murder victim, Dora. The show's 1st A.D., Jon Mallard, posted this photo with the caption, "Notice the ship's name...just sayin'." Definitely important.
Erin Moriarty, who plays Marty's grown up daughter Audrey, is in the front center with what appears to be her crew of rebellious bad girls.
Audrey again with her gang of girls.
These look like behind the scenes photos from previous episodes:
This looks like the burnt down church from Episode 3.
Possibly another photo of that church.
Preacher Joel Theriot's tent revival.
Fukunaga while possibly shooting the jail scene from Episode 6.
This looks like the tree where they found Dora Lange's body, and it is similar to images in the opening credits.
The rave scene from Episode 4.
Check out more photos here.
UPDATE -- After publication, several accounts and images embedded from Instagram were removed from circulation by the users. This article has been updated accordingly.
REAL LIFE. REAL NEWS. REAL VOICES.
Help us tell more of the stories that matter from voices that too often remain unheard.
BEFORE YOU GO
PHOTO GALLERY
"True Detective"