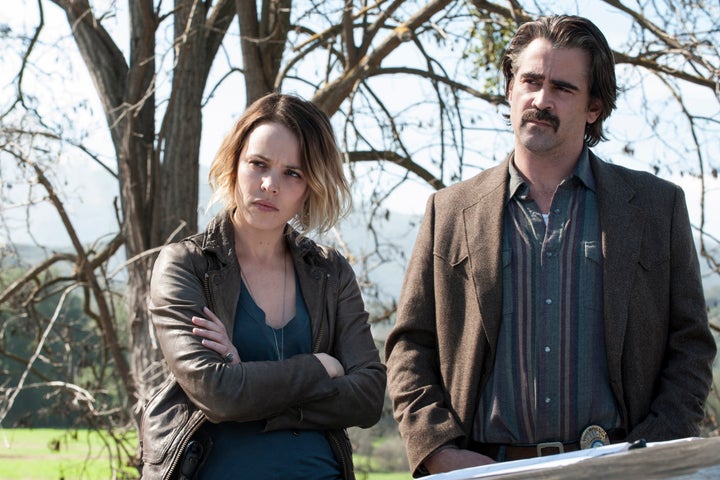 For those who don't remember, last year's "True Detective" followed Matthew McConaughey's Rust Cohle and Woody Harrelson's Marty Hart as they attempted to track down the Yellow King. While Season 2 of the HBO series follows an entirely different plot with all new characters, it looks like Sunday's episode may have referenced the infamous killer.
Episode 4 of the second season, "Down Will Come," introduced a new bad guy to Ray (Colin Farrell), Ani (Rachel McAdams) and Paul's (Taylor Kitsch) investigation: Ledo Amarilla. Played by Cesar Garcia ("Breaking Bad"), Amarilla is a pimp linked to the detectives' murder case when it's discovered that one of his prostitutes pawned dead city manager Ben Caspere's watch. Thus, Ray, Ani and Paul all attempted to infiltrate Amarilla's meth lab at the end of the episode, resulting in a gruesome shootout. But what does this have to do with the Yellow King?
As Complex points out, Ledo's last name, Amarilla, means "yellow" in Spanish, and we doubt creator Nic Pizzolatto would chose that name without realizing the connection. But that's not all -- the pimp's first name is two letters short of Ledoux, the last name of Reggie Ledoux. Fans will remember Ledoux as the red herring from Season 1 whom Marty killed after discovering he was holding two children hostage.
While Amarilla may not be the Yellow King, it could mean he's a distraction for the real killer, as Ledoux was. The Yellow King symbolism tied to Amarilla's surname may signal that he's a part of a larger organization or religious association behind the murder, similar to Ledoux's Carcosa relation last season. 
In the premiere episode of this season, you may have noticed an interesting skeleton statue wearing a crown in Caspere's apartment during Ray and his (now dead) partner Dixon's visit. While MTV News previously wrote that this was a reference to the Yellow King, fans on Reddit have noticed the statue closely resembles Santa Muerte. A Mexican folk saint, "Santa Muerte" translates to "Saint Death" or "Holy Death" and is a figure venerated in Mexico and parts of the U.S.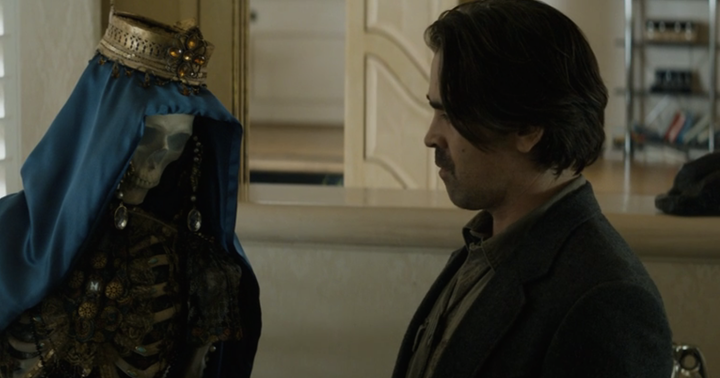 In Sunday's "True Detective," Frank (Vince Vaughn) told his right-hand man, Blake Churchman, that Amarilla has "some Santa Muerte association" and in the final moments of the episode, Amarilla's last words were "La madre de la muerte me encuentra," which translates to, "The mother of death finds me." This would make sense, since the real-life saint has become linked to criminals in the drug war who pray to her for protection. (Fans of "Breaking Bad" may also recognize Santa Muerte from an episode featuring Tuco's cousins.) While we may not know who exactly Amarilla is, we do know that he's somehow connected to Caspere (the watch), Santa Muerte and that he's important enough to grab Frank's attention.
Even if Santa Muerte isn't the main source behind Caspere's death, there could be another religious aspect that helps crack the case. Vanity Fair has drawn connections to the real-life secret society Bohemian Grove, and we already know from Episode 4 that Ani's father Eliot and his church have a past connection to Vinci Mayor Chessani. Who knows if any of this means anything, though. Regardless, we can still expect that rumored "colossal" orgy scene to happen this season, which may have a connection to the sex parties Ani's sister mentioned on Sunday. Perhaps that will tie all the pieces together, or maybe Pizzolatto is making fools of us all as we continue searching for a non-existent Yellow King.
"True Detective" airs on Sundays at 9:00 p.m. ET on HBO.
PHOTO GALLERY
"True Detective"
To subscribe to our HuffPost Entertainment WhatsApp account:
1. Download WhatsApp on your phone.
2. Save this number, 347-334-1794, in your phone's contacts.
3. Text "POP" to that number via your WhatsApp account.
You can unsubscribe at any time by texting "STOP" to the same number.
Calling all HuffPost superfans!
Sign up for membership to become a founding member and help shape HuffPost's next chapter