Time was, opening a new restaurant in Los Angeles often involved offering a menu with any number of exotic ingredients from remote corners of the globe and fielding an intimidating staff with a whole lot of attitude. But as the classic Dylan tune would have it, "the times, they are a'changing." Attitude has given way to gratitude, and fois gras smuggled in from Perigord has been replaced by pastured organic chicken hand-delivered from Petaluma. "Healthy" is the new order of the day, and "nice" is the coin of the realm.
Nowhere is this more clearly evidenced than in the newly-minted True Food Kitchen restaurant that is now anchoring the southwest corner of the re-imagined Santa Monica Place Mall. The "globally inspired" but locally sourced menu is based upon the principals of Dr. Andrew Weil's Anti-Inflammatory Diet & Food Pyramid, well-known to television viewers from Dr. Weil's guest appearances on numerous daytime shows. He is partnered here with Fox Restaurant Concepts, a group headquartered in Arizona that offers "13 unique concepts across 31 restaurants with more than 1900 employees."
Yes, this is the new face of chain restaurants: individual concepts, adapted to specific locales and audiences, with none of the anonymous mediocrity that made "chain" a dirty word in epicurean circles.
All well and good, but the proof is in the pudding, as my Irish grandmother used to say. And the pudding turns out to be mighty fine -- a dairy-free organic chocolate pudding, to be precise.
But I'm getting ahead of myself. Back to the beginning... I was invited to attend a pre-opening tryout dinner; intrigued by the concept, I rounded up my discerning friend Valli and headed out across town. Traffic was relatively painless, and parking was easy enough in the structure right next door (though valet parking is readily available out front if you're so inclined).
Passing through the open front door, we were hailed on all sides with greetings so warm and cordial, I felt we had possibly been mistaken for long-lost family members. As it turned out, this extraordinary civility and gregarious friendliness is an integral part of the concept here; all night long, everywhere you turned, someone was making way for you in the aisle, asking if you were in need of anything at all, or swiftly removing soiled plates and glasses -- always with a genuine smile. At some point we lost count of all the people who had provided service of one sort or another at our table.
All of this caretaking was perfectly expressed in the person of our primary waiter, who turned out to be not a waiter at all. The open-faced, jaunty youth who effusively welcomed us, discussed the menu and offered suggestions, wrangled the wine and evidenced the mot juste in every facet of conversation, turned out to be a consulting manager from headquarters in Arizona who was there to enable the dining staff and kitchen to hit the ground running. The intriguingly-named Kalen Pereida-Rice ("I had hippie parents" he explained with an engaging grin) was one of the most polished and enthusiastic restaurateurs I have ever experienced; he managed to make us feel that we were the focus of all his attention, at the same time that it was clear he was not only performing a similar dance for many other customers, but also overseeing the smooth running of the entire dining room all night long.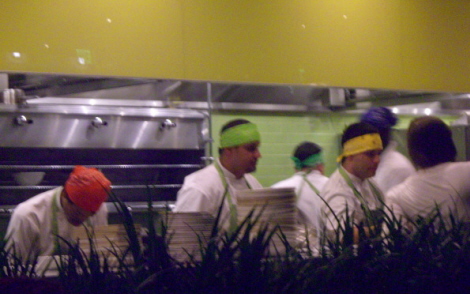 And an attractive dining room it is -- casual and comfortable, with bright colors and warm wood tones combining to create a light yet earthy impression. Tables are not crowded together, and the decibel level even at full capacity was more than conducive to quiet conversation. A long narrow open kitchen runs half the length of the restaurant, crowded with chefs who appear to be as smilingly pleased to be there as the rest of the staff.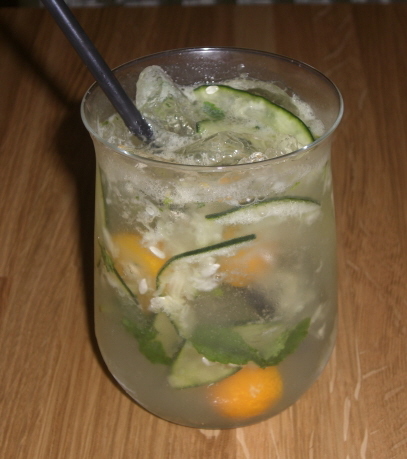 I embarked upon the evening with a cocktail, and what a cocktail it was -- a cucumber-citrus skinny margarita that was not only fresh-tasting and a generous pour, but several dollars cheaper than anywhere else in town. An auspicious beginning I thought.
But the food? Okay, let me confess my first impressions were not entirely thrilling. Overall I perceived a timidity and a blandness that were disappointing; yes, the Tuscan kale salad totally rocked (perfectly fresh, assertive but balanced), but the delicate hamachi was drowning in a yuzu emulsion. The Monterey Bay sardines were perfectly cooked, but the salsa verde topping them was nondescript. We both chose fish for our entrees, and all the components were demonstrably fresh and well-executed, but just seemed to lack excitement. And the desserts were no more than competent.
Our consensus? Perfectly pleasant for pre- or post-shopping fare, but hardly a destination event worth a drive across town.
But then, I remembered back (way back) to my theatre days and what tech week looked like to our preview audiences, and I decided to make that cross-town trip again. And again. Because subsequent visits spun my head around and made me a fervent believer in True Food.
Lunch was the next occasion. A starter of hand-formed shrimp dumplings was exceptional - beautifully presented, tasting of actual shrimp, perfumed with ginger and enlivened by shiitakes and bits of Chinese broccoli. My friend Del's bison burger was a succulent symphony of robust meat and subtle umami mushrooms and onions wrapped in a crusty flax bun; my Alaskan halibut soft tacos offered a generous portion of firm snowy-white fish uplifted by the creaminess of avocado and tickled by the piquancy of pickled onions, with an undertone of heat that gave me the kick I had been looking for. Desserts were equally gratifying -- the non-dairy pistachio milk ice cream was a revelation, and the strawberry rhubarb crisp was no slacker either. And the service provided by our charming server Janet was right up to Kalen's standards -- attentive, informed, and genuine.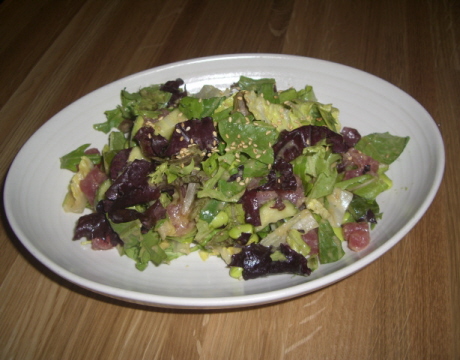 Encouraged by this unexpected midday delight, I returned again on my own a few days later for dinner. The place was jammed, but the service was as flawless as ever -- Janet again, and Kalen ever-present throughout the evening. The food continued to impress and delight; a sashimi tuna salad was as beautiful to behold as to consume (which I did in short order), and a half-and-half pizza, with chicken sausage & fennel on one side and asparagus & smoked mozzarella on the other, disappeared rather too quickly. Oh, and the asparagus side won, hands down, as Janet had predicted it would. Then the aforementioned pudding provided the perfect coda to the meal.
So yes, I imagine I'll be making that crosstown trip quite frequently and happily in days to come. I like this new trend in restaurants a lot -- Healthy and Nice make a felicitous combination, and I'd like to see a lot more of it. Now if only they'd open a True Food Kitchen in Burbank and spare me the freeway traffic, I could die happy... after many years' worth of excellent meals, of course!
REAL LIFE. REAL NEWS. REAL VOICES.
Help us tell more of the stories that matter from voices that too often remain unheard.