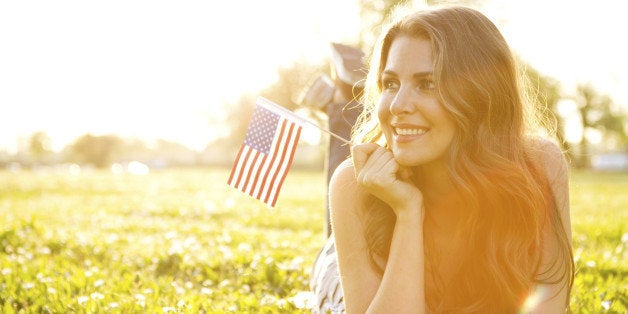 As we finish up the Fourth of July celebrations, I have been contemplating independence. It is a great concept and a definite cause for celebration but what does it actually mean? It is true that America is independent from Great Britain but are we really independent as a nation and as individuals? Independence is defined as "freedom from the control and influence of others." This sounds great but in reality, it seems difficult to be entirely free from the control and influence of others.
What aspects of society could be exerting control and influence over us? Well, there are many. The media potentially influences us, as does familial expectation, our government and the options we are given (and not given), corporate America, organized religion, the expectations of the culture, conventional schooling, and the list could go on and on.
Why might it be important to shine a little light on this? There might be areas where you have unwittingly given over control. Maybe you're in a job or an industry that doesn't light you up (or maybe even is toxic for you) because you fell into it and it seems easier just to stay. Maybe you're eating something or wearing something that isn't in your best interest (or in the best interest of the planet) but it's just what you've always done, or it's convenient. Maybe you're in a relationship that isn't quite right but you're there because you've been subtly influenced or maybe even overtly controlled to be there.
I invite you to pause and look more closely at the different choices you make in your life, both big and small. Are there areas where you have given up some of your power? Where are you being influenced and is it serving you?
You might even want to consider crafting your very own personal declaration of independence. What truths do you hold to be self-evident? When you stop to deliberately ask yourself what matters to you and what you stand for, it can move you into more conscious living and being the deliberate creator of your own experience.
Here are a few of the truths that I hold to be evident:
• I commit to the ongoing personal development and moment-to-moment awareness required to continually make the wisest choices for myself and the greater good.
• I commit to being gentle with myself and not expecting perfection. I give myself permission to make mistakes and move forward with grace and courage.
• I declare that I will no longer play small so as not to make others uncomfortable. I will be as kind as possible, but I will also be honest.
• I vow to honor my own inner knowing above that which the culture tells me is true. When there is a discrepancy, I will henceforth always side with inner knowing.
• I will prioritize and have a reverence for my own happiness and will give this serious consideration when making any and all decisions. I will remember that this is not selfish, as joy is not meant to be a crumb and happiness is contagious.
• I declare that I will tread lightly on the earth and remember that our beloved planet has been giving and being exploited for quite a while and would likely appreciate a more gentle touch. I will remember that there are choices I can make on a daily basis to mitigate the impact and I will choose compassionately.
• I will honor all the other life forms sharing the planet with us.
What truths do you hold to be self-evident? The beauty of this is that we all have the chance to craft our own experience to a large degree. Independence truly is an inside job. I'd love to hear what it looks like for you.