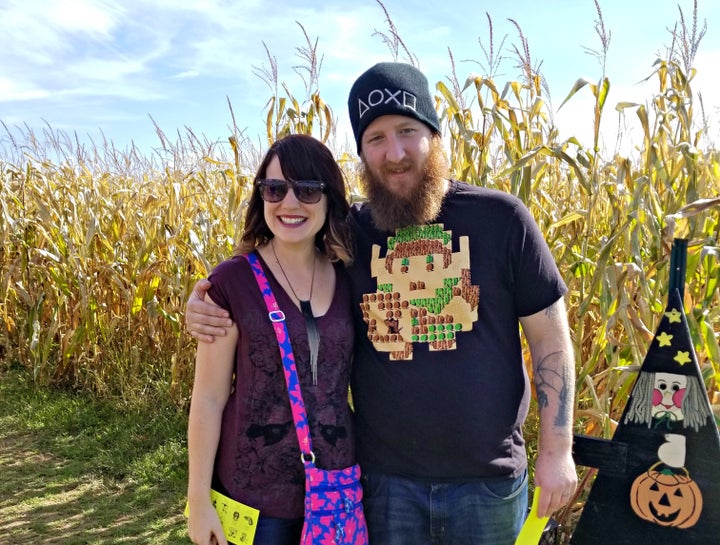 We handed over the $10 bill to the clerk as we each claimed a scavenger hunt list, laughing a bit at ourselves in the middle of nowhere. With two of our close friends and no children between us, we felt sort of foolish coming to a corn maze for the first time as adults. Still, we ambled onward as the entrance to the maze beckoned us forth on a warm, October day.
Journeying through the small-town haunt and laughing at our inability to navigate what we assumed would be a simple autumn activity, I glanced at my husband while we argued over whether to go right or left. We cheered like children after finding the first scarecrow even though we were already panting from our hike — we hadn't really thought about how much walking would be involved in a corn maze.
As he punched his card for finding the "Lazy Louie" scarecrow — clearly, the maze wasn't made for almost-30-year-olds, judging by the fun alliteration and kid-friendly scarecrows — I grinned to myself, my heart swelling.
And right there, in the middle of the cornfield, dust on my boots and perspiration on my forehead, I thought to myself: This is what love is.
It wasn't an overtly romantic moment or a luxurious, expensive date. Sweating profusely from the baking sun and tromping repeatedly up and down paths, it seemed like the least likely place to be reminded of the love I have for the man I've been with for seventeen years and married to for six.
Nevertheless, as we marched forward, giggling wildly about an inside joke and trying to find the next item, I realized that it was because of the simplicity of our day I was reminded of our love.
Perhaps it's because we're simple, small-town people, or perhaps it's just because of who we are together. Whatever it is, though, I've come to realize that our love has been built by days just like today—days of unimpressive ordinariness to the outside eye. Our love is about small days to build memories upon, simple adventures we experience together.
When I think of the days that define who we are, the days that make me smile to myself in gratitude for what we have together, I usually don't think of the sophisticated days. We've been through our share of romantic excursions. We've gone to tourist-worthy locales. We've been to Broadway plays, a handful of high-quality restaurants, and some well-planned romantic trips. These were all great, and I'm thankful for those moments.
But when I think of us and what our love is, those aren't usually the days that come to mind.
Instead, when thinking of what defines our love, I think of the days of making homemade pizza and tucking in under a blanket, watching our favorite show and promising we'll just watch one more episode—and both knowing it's an utter lie. I think of the day we were snowed in together in the middle of winter and decided to trudge through two feet of snow to window shop at the local consignment store. I think of walking hand in hand at our local Pumpkin Fest or attending the tree lighting in our hometown together, the freezing cold seeping into our bones but the festive atmosphere making it worth it.
Every week, there are small moments. There are simple walks at our local state park in all of the seasons. There are walks to the local coffee shop for bagels with our mastiff. There are plenty of days tucked lazily away inside our humble home, playing board games and talking about life.
When I think of what true love means to us, I also think of the mundane days of bill paying, chore completing, and grocery shopping. Even though we hate being adults, being adults together somehow seems tolerable and perhaps even survivable. Laughing over inside jokes about taking out trash or teasing each other about how many trips we need to make to carry in the groceries, even the most dreaded adult tasks become memories.
Our love, our true love, isn't about fancy dresses and picture-perfect hair. It isn't captured by the staged family photographs during the holidays where everything is in place. It isn't about fine wine or expensive gifts. It isn't about basking in luxury together.
I've come to realize that our love is truly built in the simple, sweet moments that sometimes seem too ordinary to really be anything at all.
Our love is simply about us being together, hand in hand, for the small, daily joys in the world around us. Our love is about the fact we have someone to share those moments with, good and bad. Our love is built on the fact that being together helps us appreciate the beauty in the life we are creating with each other.
Trudging through the cornfield on a warm, October day today, I was reminded that these small adventures are what our love is about—sweaty foreheads, dirty shoes, forever undiscovered corn maze scarecrows, and all.
Lindsay Detwiler is a contemporary romance author with Hot Tree Publishing and a high school English teacher. Learn more about her work by visiting her on Facebook or on her blog.
Calling all HuffPost superfans!
Sign up for membership to become a founding member and help shape HuffPost's next chapter
BEFORE YOU GO