My first experience with blood sausage was something between the Texas Chainsaw Massacre and Oliver Twist. I was seven and a student at a French boarding school outside of Paris. Meals there, as a rule, were not particularly memorable or at all good but I will never forget the day the bowls filled with what seemed like boiled black sausages arrived on our cafeteria tables. At first there was uncharacteristic silence as we all stared in confused horror. "Qu'est ce que c'est ça?" We all wondered when no explanation for what we were being fed was offered. Next thing I knew forks were stabbing at the black oblong UFO -- yes at this point they were indeed flying through the air with their blood stuffing spilling all over the tables and on all of us. Needless to say there was very little eating done, although I do recall being intrigued enough to taste it and found it putridly unseasoned and funky, spitting it out instantly.
I didn't venture anywhere near Boudin Noir, as it is called in France, for another 13 years when a dear family friend, Sylvie de Cardinal brought my favorite aunt some freshly made blood sausage from the Perigord region. My aunt was so excited and began to sauté apples and make creamy mashed potatoes while the boudin cooked in a cast iron pan until it's skin became charred and crispy. I was wary but trusted my aunt's taste buds, so if she liked it so much it was worth a try (thankfully if I didn't like it there was always a fresh baguette and myriad of cheeses in the house).
To my amazement, it was sensational. The perfectly seasoned and well-spiced sausage had a unique but very pleasant and exciting flavor. That was it. I was hooked and on my way to becoming a blood-thirsty aficionado. Wherever I would see boudin noir on a menu, I would order it. A little crèperie in Paris, near my university (AUP) off of Avenue Bosquet, where we would lunch regularly on fabulous salads with freshly poached eggs and savory crèpes, had a crèpe with apples and boudin noir on their menu. I was probably the only one from my school to ever order it, but I devoured it at least once a week. It was completely satisfying. I loved everything about it -- the light, springy and tender golden crèpe, the rich and earthy blood sausage combined with the caramelized apples all perfectly wrapped into a delectable package ready to be devoured -- it was blood lust at its most primal. My mouth is watering as I type this and I wish I could transport myself back to that little café now.
On a recent trip to Paris I had the good fortune, as I think I already mentioned, to dine at Alain Ducasse's legendary brasserie, Benoit, where I proved to the French that an Egytian-American girl can eat like a champion. In all honestly, it's just that sometimes when I'm in Paris or any good restaurant -- let's just call a spade a spade -- I tend to be a bit of a glutton. You never know when your next opportunity to try amazing dishes will be, so I said there's no time like the present and proceeded to order the Tête-de-Veau (a hearty dish that is filling enough for two) and then the Boudin Noir with mashed potatoes. I couldn't help but notice the staff watching me closely, wide eyed and with big smiles on their faces, wondering how a non-French person could possibly order both of these adventurous dishes and then also proceed to eat them, cooing with every bite.
However, my blood-thirsty love affair had to come to an end when I moved back to New York, where blood sausage was virtually not available, with the exception of maybe a few obscure spots that I did not know about. It was not until one Halloween in the late 1980's when my friends and I decided to go celebrate at Les Halles on Park Ave South when I saw they had Boudin Noir with sautéed apples on the menu. Blood sausage on Halloween? How fitting! And I of course ordered it immediately. It was done in the traditional way and was exactly what I expected -- no more, no less -- and I was perfectly satisfied and also appreciative that it was offered on the menu, as well as a to-go item from their butcher (so I could make some at home if the urge should strike me). But other than that it wasn't an item I typically saw on menus in New York, with the exception of Benoit in New York, until recently.
When my pals from out of town came to New York for the New York Wine and Food Festival a couple of weeks ago, we decided to venture to Long Island City to have lunch at much talked-about M. Wells Dinette, now at MoMA PS1. My friend Jeffrey Chodorow kept telling me about the Escargots with Bone Marrow (gastronomic crack for me as anyone who knows me well would know -- I love both escargots and bone marrow, so how could this be anything less than pure, decadent cat nip) so we ordered it, of course, but what immediately caught my eye was the Blood Pudding with sautéed cabbage. "That's for me," I blurted out practically drooling, my canines seemingly growing longer, "and I'll start with the bone marrow and escargots." Maybe I was a vampire in a past life. Who knows? I certainly am a solid vampire movie fan.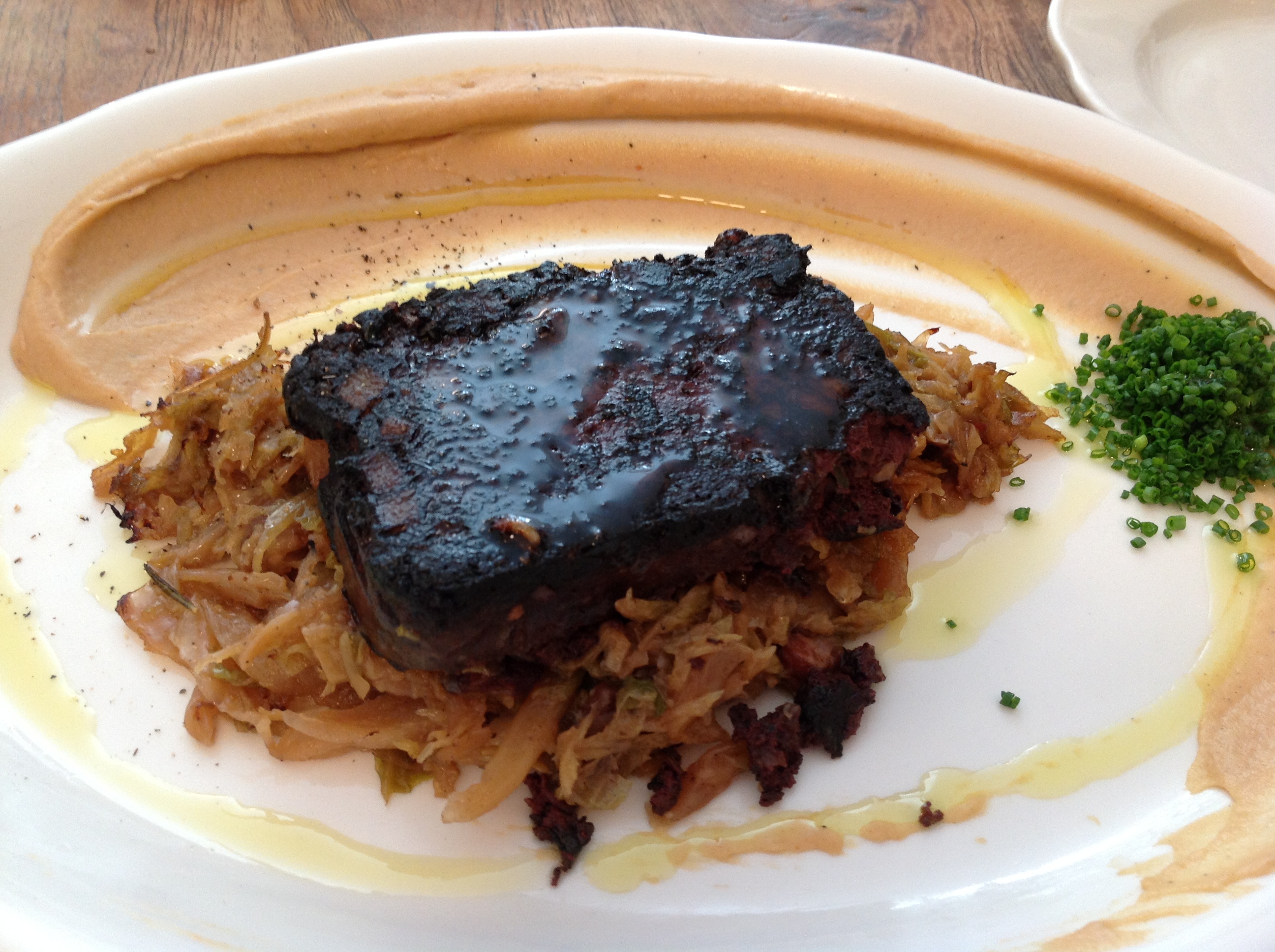 The Blood Pudding was outstanding, to say the least. It was crispy, yet the interior was creamy and perfectly seasoned with just the right amount of sweetness from spices, caramelized onions and just the right amount of heat from black pepper. It was perfectly paired with the sweet and tender cabbage and while it was extremely rich and oh so comforting, I just kept taking another bite until I felt my liver might just give out on me on the spot. I truly overdid it at that lunch. We ordered everything on the menu and even though I left felling utterly disgusted with myself and my stomach was wondering what in the world I was thinking mixing so many rich foods together, I still went to sleep that night (after doing a number at Meatball Madness) thinking about the blood pudding at M. Wells -- it may very well have been the best blood pudding I've ever tasted. "Please sir, may I have some more...?"
This time the answer will be YES, YES, YES, as New York celebrates and glorifies my unquenchable thirst for blood. I'll be heading soon to some or all of these fine establishments in search for their unique takes on blood sausage and welcome you to do the same. The soon to open Upper West Side Spanish restaurant Casa Pomona will offer their "Morcilla" (blood sausage) grilled with preserved lemons and chickpeas (save me an order of that please); The Breslin offers Blood Sausage with crispy duck egg and tarragon dressing (Ok I'm all over that one too); DBGB makes a Boudin Basque with spicy blood and pig's head sausage and scallion mashed potatoes; and the Italian eatery Birreria claims a Tuscan inspired blood sausage with Barlotti beans, pickled onion and red wine vinaigrette. So glad it's finally catching on...I'm going to have a bloody good time!
And if you want to experiment with blood sausage on your own at home, here is my recipe for "Blood Sausage with Sautéed Apples and Potato Purée." Enjoy!
Ingredients:
4 to 6 Yukon gold potatoes
1 Cup half and half
3 TBS butter
4 fresh blood sausages purchased from reputable butcher
2 yellow delicious apples (or apple of your choice but not too tart) cut into segments
½ tsp nutmeg
1 TBS Sweet butter
Dijon Mustard
For Potato Puree:
4 to 6 Yukon gold potatoes; peeled and sliced. Place in boiling salted water and cook until soft. Drain water. In a pot add 1 cup of half and half, cook over medium heat until it begins to boil. Add cooked potatoes, more salt (to taste) and 3 TBS of butter. Mash with a potato masher until creamy. Taste for seasoning.
Method Boudin:
Place Boudin sausage in a large heated skillet and cook on all sides until skin is crispy. Add butter and apples when butter is melted and cook until caramelized and soft but still retain their shape. Sprinkle nutmeg on the apples.
To Serve:
Serve each diner one blood sausage with caramelized apples and a serving of mashed potatoes. Enjoy with mustard and a bottle of red wine.