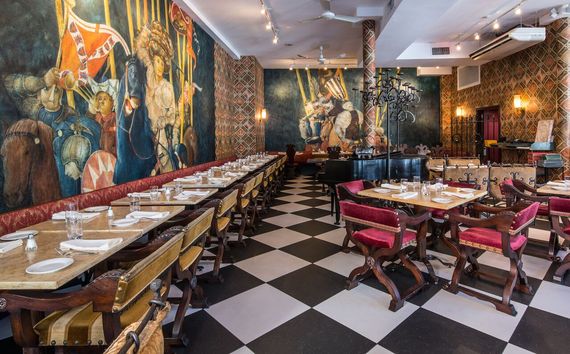 It may seem odd to name a restaurant after the controversial Renaissance man Niccolò Machiavelli, whose name, unfairly, has long been associated with power politics. But, then again, he was an extraordinary intellect, philosopher, poet, dramatist, historian and humanist. And it's such a mellifluous name for a trattoria.
Perhaps that's what restaurateur Nathalie De La Fontaine had in mind for her five-year-old Upper West Side trattoria, whose sumptuous décor does indeed evoke the Renaissance, not least in the series of murals taken from Paolo Uccello's 15th century masterpiece "The Battle of San Romano." De La Fontaine commissioned artisans, woodworkers, ceramicists, sculptors and blacksmiths to fashion the hand-carved chairs, wrought-iron candelabras and marble-topped tables, with Renaissance-style floor tile, wallpaper and banquette fabrics. Certainly Macchiavelli himself would find the place familiar in its opulence and be comfortable sitting in one of the cross-framed "X" chairs. There's also live music, though the piano selections tend more to be from the 1970s than the 1450s.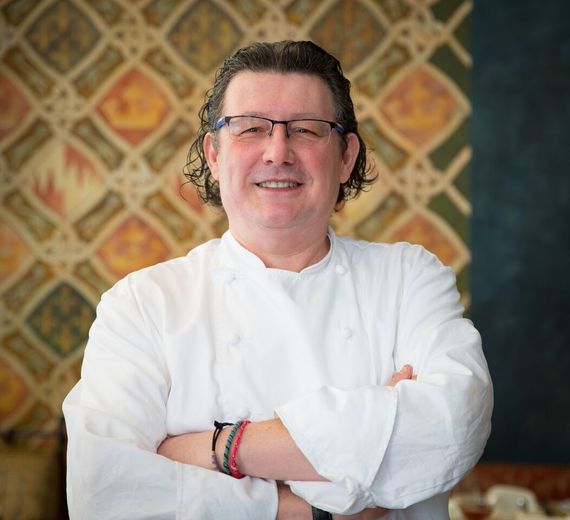 The menu is large and long, but its distinction from so many others in NYC, via Chef Gian Pietro Ferro, is in its tilt towards northern Italian dishes from regions like Trentino-Alto Adige and the Tyrol, Mantua, and Veneto, all driven by the season. I do think that more focus on those regions in a more concise menu would be better than trying to offer so many dishes of a kind unadventurous guests may find up and down the West Side, like mozzarella Caprese ($14.95). Still, Ferro does so many things so well, I'll forgive him for trying to please everyone.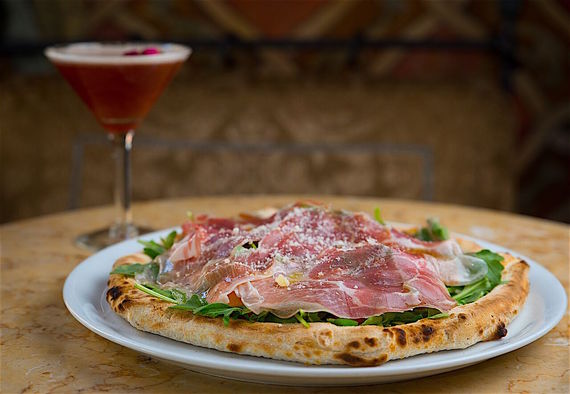 You may want to begin with thin, yeasty breads called crescentine ($4.95) or schiacciata dusted with rosemary ($4.95) or the puffy bruschetta ($9.95), steamy hot from the oven, waiting to be brushed through fine olive oil, to be accompanied perhaps with a selection of cheese or charcuterie ($17.95). But then there are a number of pizzas you may want to share, including the luscious namesake, Pizza Machiavelli, lavished with black truffle cream, mozzarella and wild mushrooms ($21.95); it can be split among four people.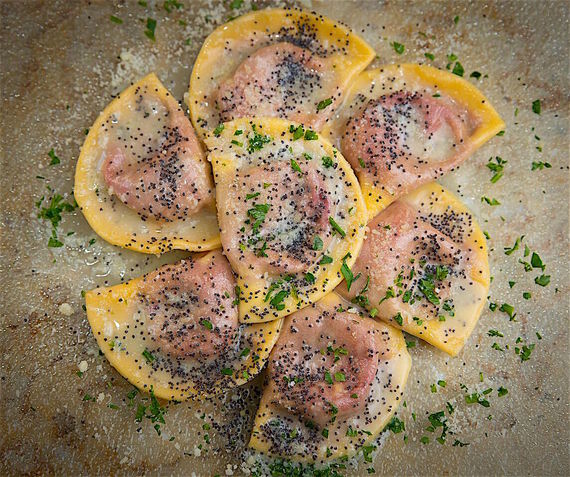 Then there are the antipasti, and I highly recommend the Sformato di Spinaci (right) a delicate ricotta and spinach flan topped with a classic fonduta of melted fontina cheese and white truffle oil ($12.95).
Now your appetite will be raging for a good pasta dish, and Ferro is justly proud of all his hand-rolled artisanal pastas, especially the delicately thin, stuffed versions like Tortelli alla Mantovana filled with pumpkin, ricotta, and crushed amaretti cookies ($22.95), and the tangy-sweet mostarda di Cremona, glossed with butter and sage. I'm always on the look-out for casunzei ampezzani ($22.95), a pasta from the Dolomites (below). Plumped with beautiful purple-red beets and ricotta, they cut open to mix with a butter and poppy seed sauce. Thick strozzapreti noodles ("priest stranglers") get a robust toss of broccoli di rape and sweet Italian sausage ($20.95), while Cacio e Mele con Stufato d'Agnello are stuffed ravioli with roasted Granny Smith apple, ricotta and pecorino, dressed with sage butter, then topped with deeply flavorful lamb ragù ($25.95). There is also an interesting risotto cooked carefully with amarone red wine and fresh grapes ($24.95), though I need to go back to try that Venetian-style dish.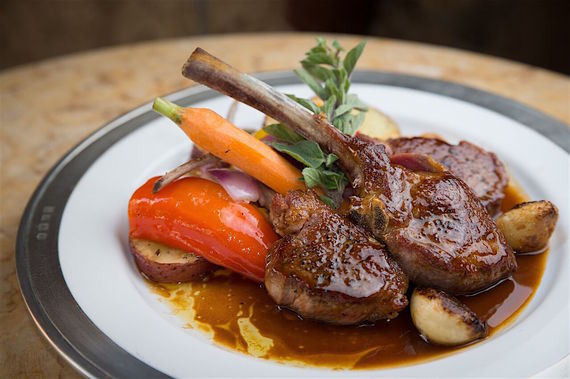 The main courses don't quite live up to those preceding, but not for lack of first-rate ingredients and generosity of spirit. It's just that Italian chefs in the U.S. tend to lavish their entrees (secondi) with heavy brown sauces, which is actually a real virtue in the marvelous Brasato al Barolo with a reduction of Barolo wine and served over soft polenta ($31.95), the kind of hearty dish you'd find in autumn in Verona. But there was no necessity for the brown brandy cream sauce with pink peppercorns poured on a perfectly good ribeye steak ($35.95). Nor did a similar sauce do anything but blunt the fine taste of the Colorado lamb chops (below) with herbs ($38.95). These were all good dishes that would be even better with less fuss. And a sautéed fillet of tuna with Vidalia onions in a white wine sauce ($31.95), ordered rosy in the center, arrived gray inside that evening.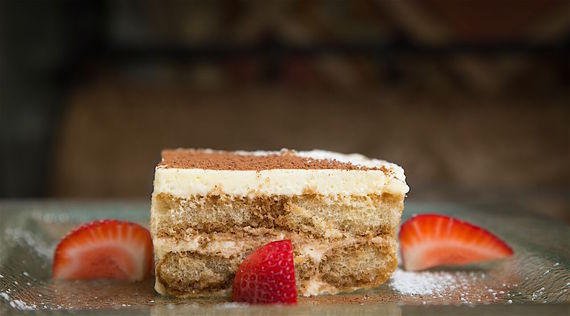 Ask about the night's desserts and be surprised: The millefoglie of crackling crisp puff pastry and pastry cream ($11.95) is outstanding.Machiavelli has a serious Italian wine list, with both well-known producers and smaller newcomers from just about every region of Italy. The mark-ups are not outrageous, but I wish there were a lot more red wines under $70. (I counted ten).
The Upper West Side is a better neighborhood than its East Side counterpart when it comes to fine Italian restaurants--Lincoln Ristorante, Caffe Storicò, La Masseria di Vini, and The Leopard at des Artistes handily prove the point--and Machiavelli belongs on that admirable list, places where you will not find the same ten Italian dishes and the same twenty Italian labels. Gian Pietro Ferro wants you to try what he loves best, and what Nathalie De La Fontaine wants most is for you to be among her most faithful clientele.
Machiavelli is open Mon.-Fri. from 11 AM to 11 PM, and on Sat. & Sun. from 9 AM; Brunch Sat. & Sun.
TRATTORIA MACCHIAVELLI
519 Columbus Avenue (near 86th Street)
212-724-2658