The ancient Chinese philosopher Laozi said that "A leader is best when people barely know he exists; when his work is done, his aim fulfilled, they will say: we did it ourselves."
Last month, New York City and our nation lost such a leader, Richard Murphy, whose legacy should serve as an example of true servant leadership for all social entrepreneurs, innovators and leaders. Here is only a partial list of his innovations and impacts:
•He founded the Rheedlen Center for Children and Families, now known as the Harlem Children's Zone, which serves 12,000 youth and their families each year and is being replicated across the country as Promise Neighborhoods.
•He created the Beacon Schools in New York, turning school buildings into community centers after school hours, which was replicated across the country as Community Learning Centers at schools including my own children's public elementary and middle schools in Milwaukee.
•He created a free program in New York to help low-income working families complete tax returns to maximize their Earned Income Tax credits. The effort helped over 30,000 New Yorkers each year access over $60 million, and provided resources for families to use their returns for greater economic security. Again, many groups and communities have replicated this effort.
•He created a youth services search engine, before such things existed digitally. In the early 1990s, he hired youth to map out their neighborhoods and find all of the services and opportunities for youth and input them in a GPS-based directory. He then hired youth to staff a peer-to-peer Youthline that young people could call for help and to be connected with resources in their neighborhoods. "Youth Mapping" was replicated in over 100 communities. Most recently, Richard was building iMapVentures, an online Yelp-like search engine of services and opportunities for youth created and evaluated by youth.
The list of his innovations runs much longer, yet one can find only one image of him in a Google search, and not much written about him before his obituaries. But to many leaders in the youth development field in New York City and across the country, he was a giant.
Most often the leaders we celebrate are the ones who stand in front, the public evangelists for their causes. This plays into America's tradition of seeking out and believing in heroic, charismatic leaders who create change. In the nonprofit sector, many leaders are honored as social entrepreneurs who are as well known as their causes. Jim Collins, in his classic book on successful enterprises, Good to Great, downplays charisma as a quality of success and highlights leaders who are bold in their vision for change yet personally humble. Richard was such a leader.
Richard is a role model for a more selfless than self-aggrandizing leadership, and the lessons I learned from his example are good for every leader to reflect upon.
1. Scale ideas, not just programs and organizations.
Geoff Canada, who succeeded Richard at Rheedlen/Harlem Children's Zone, said Richard had hundreds of ideas, and while most were bad, he had 12 to 14 groundbreaking ideas that changed countless lives. And Richard never cared about intellectual property or credit -- he only cared if more kids and families were benefitting from these ideas.
Richard did not focus on scaling organizations or programs, but scaling ideas, and the more people stole, adapted, and built upon those ideas the better in his opinion. His ideas and innovations would not have achieved the level of scale they did if he focused on owning them or building them through a single program or organization. We often reward social entrepreneurs more than spread social innovations. We need the innovations more.
2. The first job of leaders is to build and support other leaders.
The number of people Richard mentored is staggering. Richard did not focus on getting himself in the spotlight, because he was too busy shining it on everyone else, especially women and people of color. And when that light went off, he was there to help us reflect, think differently, and support our work. Among those who Richard championed and supported were Geoff Canada of Harlem Childrens Zone, Shawn Dove of Open Society Institute, Greg Taylor of the NBA, Sister Paulette LoMonaco of Good Shepard Services, Michelle Cahill of the Carnegie Corporation, Robert Sherman of the Novo Foundation, Patrick Gaspard of the Democratic National Committee, Rev. Alfonso Wyatt of the Fund for the City of New York, Dorothy Stoneman of Youthbuild USA, and Reggie Moore of the Center for Youth Engagement. This is only a partial list!
His support was generous, his care genuine, and his gift giving legendary. Handwritten notes often accompanied by books or other gifts were common to the many he supported, and he really took care of people. He once had me meet him for what he suggested would be a long lunch but turned out to be a museum tour -- he thought I was working too hard and needed to stop and smell the roses for an afternoon. The impact of his work is much bigger and more sustainable because he invested his time, talent, and care in building leaders whose impact multiplied his own.
3. Take chances on people.
In 1983, Richard Murphy made arguably one of the best hires in the history of the nonprofit sector. Geoff Canada, unemployed and eager for work got lost on the way to Rheedlen and was over 45 minutes late. Most employers would have canceled the interview, but Richard made the hire despite Geoff's lateness and now-ironic insistence that he would do anything except fundraise. Another national philanthropic leader recently shared a story that he had left youth work in his early 20s due to a battle with addiction. When Richard found him waiting tables, he intervened and recruited him back to nonprofit work and a very successful and impactful career.
When Richard was New York City's Commissioner for Youth Services, Moisés Pérez, Executive Director of Alianza Dominicana in Washington Heights, was having trouble reaching him and heard one of the kids at his center say, "I talk to Richard all the time." Moises sat next to the kid as he dialed up Richard and got through right away. Moisés grabbed the phone from the kid, and Richard explained: "Moisés, you know I'll get back to you but the kids don't know that, so we have to always be there for them." And even when they screwed up, he was forgiving and stuck by them because someone had to be there for them.
4. Advocate for social change, and stay grounded in service.
Richard fought hard for systems change. He was an FDR liberal who believed government
had the responsibility and the appropriate scale of resources to really make a difference in creating paths of opportunity out of poverty. While a champion for more resources, he was critical of schools and programs that were failing kids and pushed for higher quality. He was especially critical of programs that treated kids as problems to be fixed rather than assets to be developed, and he believed in putting kids in charge and hiring them to do work whenever possible. His commitment to quality, however, came with a critique of the obsession with outcomes and metrics: "If a rich person signs their kid up for dance, they just want their kid to have fun. If a poor person signs up for dance, they have to have an outcome -- their grades have to improve or their body-mass-index go down. It's unfair."
A fighter for social equity and justice, Richard never lost his grounding in service to the community. He always made sure kids had access to the basics. For years, Richard in his trademark navy blue suit and polka-dot bow tie would walk the streets of Harlem with day-old bread he picked up from local bakeries to make sure kids had something to eat before school. On Fridays, he'd give the kids quarters and invite them to call him if they got hungry. He was a true servant leader.
We need more Richard Murphys.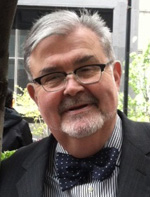 Related
Popular in the Community