Those afraid of disturbing the dead need not apply.
Welcome to Truk Lagoon (also known as Chuuk Lagoon), home to one of the world's largest ship graveyards, courtesy of a surprise Allied attack during World War II on one of Japan's largest naval bases.
Nearly 70 years later, the lagoon has become a major tourist destination. Divers can explore what is now a legally-protected underwater museum. Disturbing or removing any of the underwater relics can draw fines and possible jail time, according to Pacific Wrecks, a non-profit dedicated to preserving the area's history.
And if the prospect of swimming through coral-coated sunken submarines doesn't get your adrenaline pumping, there's also this tidbit, via Pacific Wrecks:
Caustic substances like high octane aviation fuel, oils, gasoline and acid exist on many of the wrecks. Explosives, mines, munitions, detonators, torpedoes and shells are still "live".
Surrounding the wreckage, at depths varying from just below the surface to more than 200 feet, lies what The Earthwatch Institute, a nonprofit environmental charity, has termed "a diverse array of marine life." Sharks, manta-rays, and turtles all inhabit the area in addition to at least 266 different species of reef fish and a rare coral, Acropora pichoni.
The lagoon itself is part of the Federated States of Micronesia, a cluster of more than 600 islands located approximately 1,800 miles northeast of Australia.
PHOTOS of the lagoon and some of its wreckage: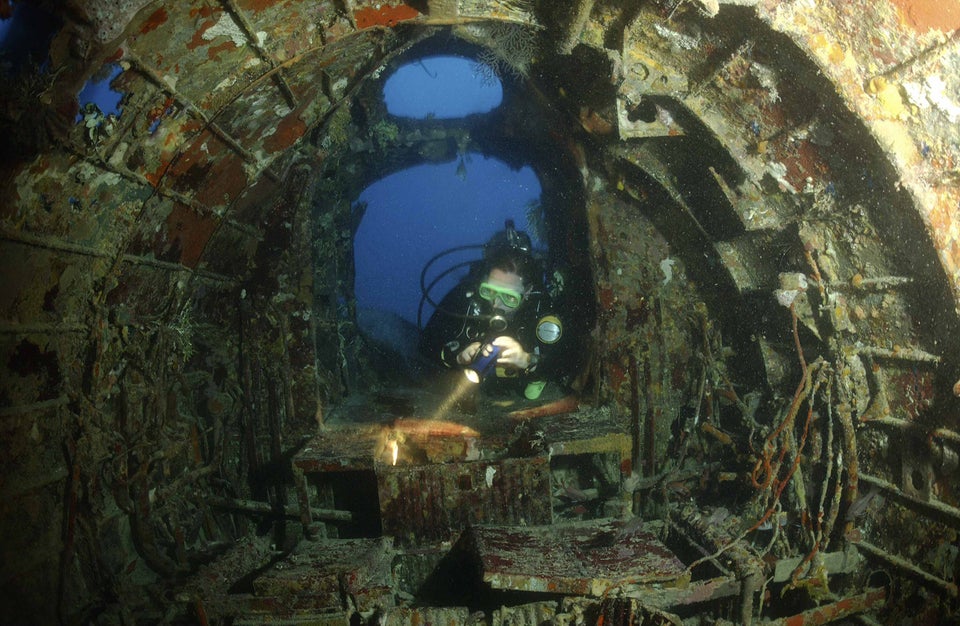 PHOTOS: Diving One Of The World's Biggest Ship Graveyards