President Donald Trump tweeted on Sunday that he told Secretary of State Rex Tillerson that diplomatic efforts to resolve tensions with North Korea are pointless.
The statement is an apparent undermining of the top U.S. diplomat ― an extremely unusual move for a president to make ― as well as yet another threat from Trump directed toward North Korea at a time of rising concern around military conflict with the country.
"I told Rex Tillerson, our wonderful Secretary of State, that he is wasting his time trying to negotiate with Little Rocket Man," Trump said, referring to North Korea's Supreme Leader, Kim Jong Un. "Save your energy Rex, we'll do what has to be done," Trump added.
Trump doubled down on his message a few hours later and argued that years have negotiations with North Korea have brought few results. "Being nice to Rocket Man hasn't worked in 25 years, why would it work now?" Trump said.
The president's comments come one day after Tillerson disclosed the U.S. has direct lines of communications with North Korea. Tillerson told reporters in Beijing several diplomatic channels are open, and that the U.S. is seeking to engage in dialogue with North Korea.
"We ask: 'Would you like to talk?' We have lines of communications to Pyongyang. We're not in a dark situation, a blackout," Tillerson said.
A senior U.S. official on Sunday told Reuters that Trump, however, does not believe now is the time to negotiate with North Korea and that existing diplomatic channels are intended to negotiate for the return of American citizens who are detained in the country.
Tensions between the U.S. and North Korea have escalated in recent months amid advancements in Pyongyang's missile and nuclear programs. North Korea has launched provocative missile tests, including flying projectiles over Japan, and last month conducted its most powerful nuclear test to date.
Trump has responded to North Korea's actions with weeks of bellicose statements, including threats of military action and insults directed at Kim. The result has been an escalating war of words between Pyongyang officials and Trump, along with fresh international sanctions against North Korea as it continues to carry out missile tests.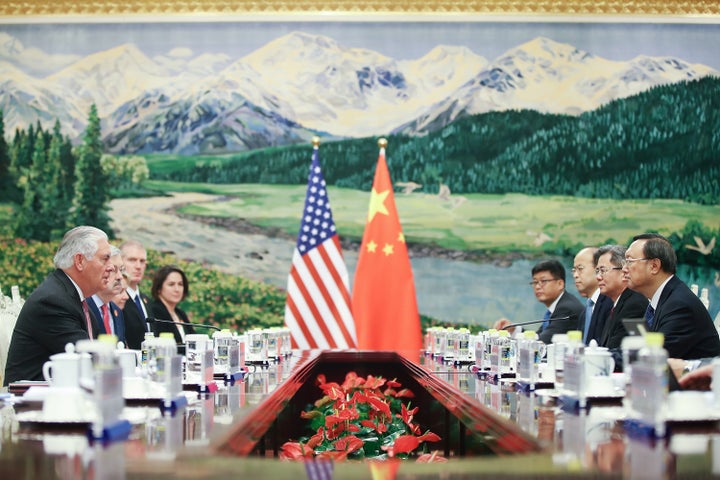 Tillerson has often taken on the role of walking back Trump's volatile rhetoric and boasts about U.S. military power. After the president threatened in August that North Korean threats would be met with "fire and fury like the world has never seen," for instance, Tillerson said that there was no dramatic change in relations between the two countries and that Americans shouldn't worry.
On Saturday in Beijing, Tillerson spoke of peaceful denuclearization of North Korea and offered assurances that the U.S. is not trying to topple Kim's regime.
"I think the whole situation's a bit overheated right now," Tillerson said. "I think everyone would like for it to calm down.
But as Trump and Kim continue to goad each other into possible reprisals, the prospects for diffusing tensions have been repeatedly scuttled.
Trump's Sunday morning Twitter post comes as the president is facing increasing domestic pressure and criticism over his handling of disaster relief efforts for hurricane-stricken Puerto Rico. The vast majority of the island is still without power, basic necessities are running low and thousands are homeless.
This article has been updated with comment from a U.S. official on Trump's view toward negotiating with North Korea.
Related
Popular in the Community