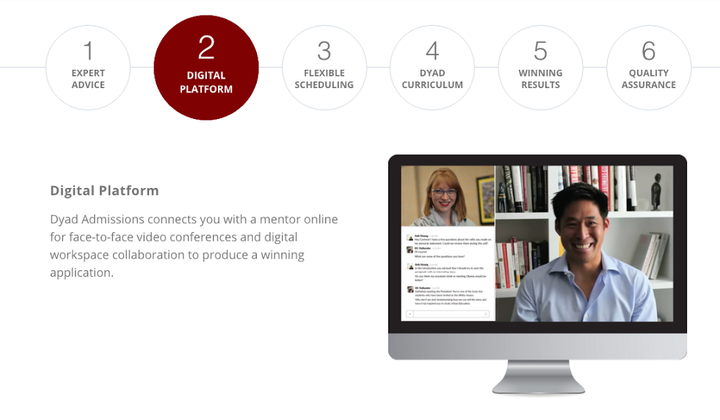 Recently, I interviewed a good friend, Greg Nance, who founded and Dyad.com while a Gates Scholar at Cambridge University. Greg is also the Chairman of Moneythink, a FinTech company recognized by President Obama as a "Champion of Change." He is passionate about working with awesome people to tackle big challenges in the education space. Greg is a straight baller; he is a World Global Shaper in Shanghai and was a National Recipient of the Jefferson Award for Public Service. Under Greg's leadership, Dyad raised ~$1M in venture capital from 500 Startups, SOSV, Banyan Partners, Harbor Pacific Capital, and Artesian Capital Management. Here's my interview with Greg:
Marquis Cabrera: What is Dyad.com? Where did you get the idea from?
Greg Nance: Dyad.com is a platform that connects motivated students to mentors. We provide an online workspace, a structured curriculum and a network of 200 expert mentors to help students navigate the university admissions and career recruiting process. We started as a dorm room project at Cambridge Business School. I was assigned to research a global challenge and offer a commercially viable solution. I knew first hand how confusing and challenging it was to navigate the university admissions and job search process so wanted to solve my own problem. I filmed several instructional videos and posted them on social media where we found a receptive audience. After building some early momentum I decided to go for it and moved to Shanghai. It's been a wild adventure since!
Marquis Cabrera: What pain point are you solving?
Greg Nance: There are massive information asymmetries that particularly disadvantage both international students and those from low-income families. Our free instructional articles and videos aim to help both groups. We demystify the admissions and job search process and give motivated students a competitive edge through mentorship. Our structured curriculum helps students produce compelling application materials efficiently and effectively. We help students develop a target list, build their CV, create a compelling personal statement or cover letter, secure recommendation letters, and prepare to ace the interview. We aim to reduce the stressful uncertainties and boost the confidence of candidates.
Marquis Cabrera: Can you tell us about someone you've helped?
Greg Nance: We've now served over 1,700 clients and helped them earn admission at universities in 23 countries including 136 placements at the Ivy League and a (China's 1st) Rhodes Scholar. I'm proudest that our clients have earned $1.2 million in scholarships. I'm totally blown away by the caliber of our students.
One of our very first, Henry Liu, is an all-time favorite. With our counsel, he earned a big scholarship to UChicago's masters of public policy program. He became a Research Associate at CPOST, a leading security affairs research institute and went onto secure top internships with former U.S. Treasury Secretary Henry Paulson and the Federal Reserve Bank of Chicago. Henry's goal is to become China's Foreign Minister someday and I think he's on the right path.
Marquis Cabrera: What is the scope of your market and have you gained traction?
Greg Nance: Bloomberg estimates there is a $100 billion market for private tutoring in Asia alone. We focus on students aged 14-25 who are seeking educational and career advancement. We've captured a significant portion of that segment in in China, Southeast Asia, the Middle East, and North Africa. A big differentiator is the scalable quality that's built into our product — through automation we're able to more effectively match clients with mentors and then track every interaction in real time to ensure a great experience. So far, over 98% of our clients give us a 4- or 5-star rating and 46% of new clients have come directly from referrals.
We're fortunate to be backed by some amazing investors including 500 Startups, SOSV, Artesian Capital Management, Banyan Partners, Harbor Pacific Capital, and several great angel investors. These stakeholders, along with our advisory board, — including Ed Rensi, former President & CEO of McDonalds; The Honorable Tidal McCoy, former Secretary of the U.S. Air Force — have pushed us forward. Dyad was recognized as People's Choice for Asia's Best Startup at the 2015 Echelon Summit.
Marquis Cabrera: Recently, I saw that you rebranded from ChaseFuture to Dyad.com. Why did you rebrand?
Greg Nance: We rebranded to Dyad.com because it perfectly encapsulates our core offering. Dyad is Latin for "consisting of two parts." For us, this represents the power of the mentor-mentee relationship and ability of the present to shape the future. Our new logo is a compass which signifies the importance of navigating life's journey with the help of an experienced guide.
Marquis Cabrera: What has been the most exciting adventure or challenge you have had while in Asia?
Greg Nance: When I'm not in the office you're likely to find me running trails or climbing mountains. I do a lot of my best thinking when I'm outdoors pushing myself. My most exciting challenge was a 200KM Ultra Marathon through Malaysia. 54 runners started in Kuala Lumpur's foothills at 6pm Friday and toured the rainforest, jungle and countryside until Sunday morning. The heat, humidity and hills were real tough so only 14 of us finished the race. I was dog tired but loved it because when you're running long distances you find your limit and have to push past it.
Marquis Cabrera: What advice would you give to an American entrepreneur wanting to create change in Asia?
Greg Nance: Asia is rapidly evolving and opportunities continually emerge. It's a crucible where you'll learn new skills and level-up fast due to the steep learning curve. To be a successful entrepreneur and leave an impact, you have to be ready for that rapid pace of change. That said, it's hard to build a business, no matter the location. It's critical that you're working on a challenge that you're deeply passionate about because you'll certainly face roadblocks and setbacks along the way.
My biggest advice is to recruit a dedicated local partner that can help you navigate challenges on the ground. As an American in Asia, your success depends on finding elite local talent that can help execute the game plan. I'd be lost marketing and selling in China without extraordinary colleagues.
Even more so than in the West, much of business in Asia revolves around trusting relationships. The best way to earn trust is through a relentless focus on customer value and a long-term commitment to doing the little things right. Anh Hoang and Daniel Burnham, incredibly gifted Americans with a passion for mentorship and technology, have built Dyad's mentor corps and client experience to earn and retain trust in the marketplace. Trust is the most valuable currency in Asia so invest accordingly.
Related
Popular in the Community