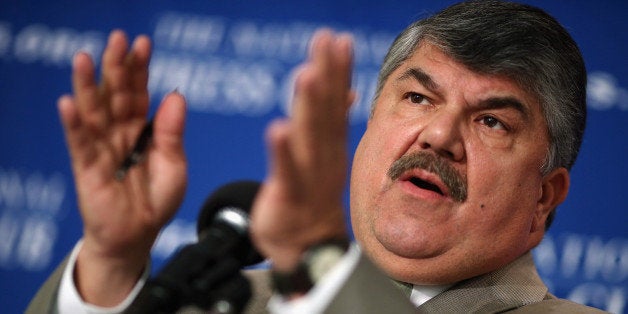 WASHINGTON -- The nation's largest labor union drew a line in the sand Tuesday for those vying to become the next president of the United States, cornering candidates on minimum wage, fast-track and sick leave.
AFL-CIO President Richard Trumka, who represents 12 million workers across the U.S., set a litmus test that he will judge each candidate by, arguing that the 2016 campaign will leave "no place to hide."
"For decades, we have given politicians the benefit of the doubt," Trumka said. "Today, there is much more doubt than there is benefit."
In a wide-ranging speech at the AFL-CIO's Washington, D.C., headquarters, Trumka highlighted key issues the AFL-CIO will expect candidates to weigh in on if they want to win the group's endorsement.
The agenda, titled Raising Wages, calls on candidates to set high priorities for raising the national wage, earned sick leave, fair overtime rules and more taxes on Wall Street.
"It is early, and although many candidates are already in the race, the field remains open," Trumka said. "And the labor movement's doors are open to any candidate who is serious about transforming our economy with high and rising wages."
Trumka said candidates will need to choose between Wall Street and American workers.
"We want to be able to bargain collectively with our employers for good wages and benefits without fear of retaliation," he said. "Workers are being held down on purpose."
The AFL-CIO also plans to pay close attention to the current debate in Congress over whether to grant the president fast-track authority on trade deals.
The union opposes the issue and expects candidates to as well, putting Republican candidates Sens. Rand Paul (Ky.), Marco Rubio (Fla.) and Ted Cruz under the spotlight for an upcoming vote in the Senate.
"There is no middle ground, and the time for deliberations is drawing to a close," Trumka said of fast-track trade authority.
Similarly, Democratic presidential frontrunner Hillary Clinton has yet to take a hard stand on the issue.
"No candidate can be silent on any issue that's important to the people," Trumka told reporters after his speech. "She'll have to respond like every other candidate."
He said the AFL-CIO has done a "whole bunch" of outreach to candidates on their priorities for the 2016 race.
Pressed on if Clinton is dodging questions on trade, Trumka said the former secretary of state started off the right way by listening to Americans.
"I think that is a good start. I think everybody should start that way," he said.
Either way, Trumka said, "no candidate will be able to dodge any issue."
Trumka wouldn't budge Tuesday on who the AFL-CIO was leaning towards endorsing, saying if the 2016 contender has a "raising wages agenda that they're sincere about and we think they'll fight for, we will consider any candidate."
He hinted, however, that the Trans-Pacific Partnership and fast-track authority are issues that could be make-or-break for the AFL-CIO.
"Every issue that affects raising wages is significant and important, but because of the size of that issue it's going to be more significant than other issues," Trumka said on trade.
Calling all HuffPost superfans!
Sign up for membership to become a founding member and help shape HuffPost's next chapter
BEFORE YOU GO
PHOTO GALLERY
Potential 2016 Presidential Contenders