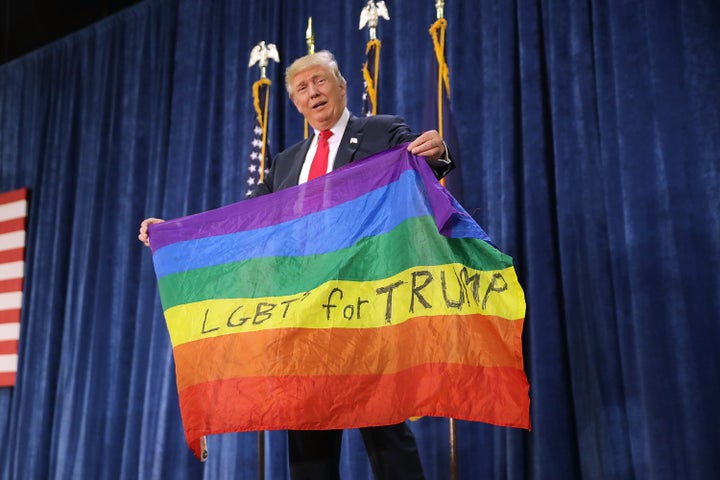 President Donald Trump has not acknowledged June 1, 2017 as the beginning of LGBTQ Pride month, missing an opportunity to be the first Republican president to publicly recognize the annual month dedicated to the queer community.
Trump, who was heralded by Log Cabin Republicans as "the most gay-friendly Republican nominee for president ever," had remained mum on the issue as of Thursday afternoon.
This June, recognizing the joys and sorrows that the gay and lesbian movement has witnessed and the work that remains to be done, we observe Gay and Lesbian Pride Month and celebrate the progress we have made in creating a society more inclusive and accepting of gays and lesbians.
President Barack Obama also declared June LGBTQ Pride month, throughout the course of his Presidency, with the proclamation typically sent out a day before the month began. He issued a proclamation every year of his presidency ― eight in total.
This year, many Pride celebrations are being rebranded as protests and "resistance marches" due to fears about how the Trump administration's actions could affect the queer community, as well as those with other marginalized identities, including women, people of color and immigrants.
This Pride month remains a particular tender time for the LGBTQ community, with June 12 marking the one year anniversary of the Pulse Nightclub Massacre.
The Washington Blade noted on Thursday that Trump issued five different proclamations on May 31 recognizing June as National Caribbean-American Heritage Month, African-American Music Appreciation Month, National Homeownership Month, Great Outdoors Month and National Ocean Month -- but did not release anything related to Pride.
HuffPost reached out to the White House for comment and did not hear back.