A crowd gathered outside the U.S. District Court courthouse in Brooklyn, New York, one Saturday night in late January to await word of a decision on President Donald Trump's hastily implemented ban on refugees and immigrants coming from predominantly Muslim countries.
Among the masses were professors from the Benjamin N. Cardozo School of Law in New York City. They had come as interested observers and avid political news consumers, eager to take in the citizen activism popping up around the administration's controversial policy. But as the scene unfolded in front of them ― with a blend of reporters, impassioned New Yorkers and vocal protestors ― a bit of academic inspiration crept in. Why not turn that moment into a class?
"Friends of mine in front of the courthouse were peppering me with questions," recalled Michelle Adams, a faculty member at the law school. "I woke up the next morning and realized that we would come in and students would have dozens and dozens of questions and we didn't have a framework or forum to discuss those legal questions."
Adams and other Cardozo professors moved swiftly. By Sunday night, they had mapped out the format the class would take: a 10-week, not-for-credit course that touched on various constitutional, legal and political issues stemming from the president's tumultuous first 100 days. There was the travel ban, a Supreme Court appointment, regulatory law and executive powers. They brought the idea to the registrar the next day. Within two more days they had a course description posted online. And within 90 minutes, enrollment had filled. The school placed the course in its largest classroom to accommodate 125 students.
"It was a perfect moment. I have all these students having strong reactions, on both sides really, to what was happening," said Melanie Leslie, the dean of the law school. "It was a way to take this incredible moment filled with energy and anxiety and channel it for the students into something that would make them better lawyers and thinkers."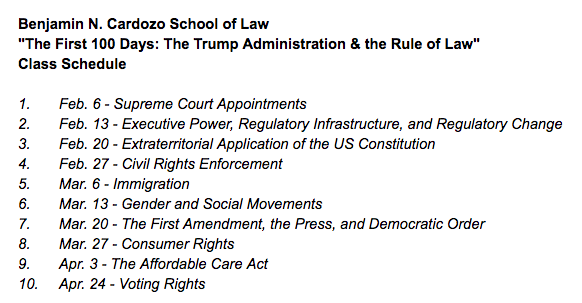 The legal disputes spurred by Trump's presidency have engendered enough curiosity and debate to power countless cable news segments, numerous late-night comedy segments, and even tailor-made political podcasts. Cardozo's "The First 100 Days: The Trump Administration & the Rule of Law" class was, its organizers say, the first case of Trumpism formulating the foundation for a law class.
For faculty, it was a new way to conceive of coursework. Law school, after all, is often geared toward providing students with a broad set of legal theories upon which they can craft arguments or put together briefs and memos when a new issue or case arises. What Cardozo did with the Trump course was the inverse: It took a set of specific cases from which they reversed engineered the relevant legal theories to teach. And its professors adjusted on the fly, carving out time in their schedules to teach individual classes.
"We, and our students, were finding it very hard focusing on their course work which seemed abstract when all they really wanted to do was follow breaking news," said Kate Shaw, head of Cardozo's Center for Constitutional Democracy. "It was a difficult position. Do you blow up your syllabus and say it seems crazy to teach in the abstract, or stay with the syllabus despite what's going on in the news? One way we addressed this was to teach the classes we are teaching but carve out some time to go deep on the things emanating out of D.C."
But that didn't come without risk. Cardozo was diving directly into controversial political terrain at a time when colleges and postgraduate schools are increasingly sensitive to accusations of overt liberalism. Leslie said she knew it was possible that faculty would be accused of Trump-bashing with a law school imprimatur. But the course, she argued, was structured in a way that avoid that. And beyond that, they felt a responsibility to tackle the topics.
"You have to be concerned about that because we are not a law school that serves Democrats. We serve everybody," she said. "But on another level, it is not that different from what we do in constitutional law: Does this president have that power to do that act?"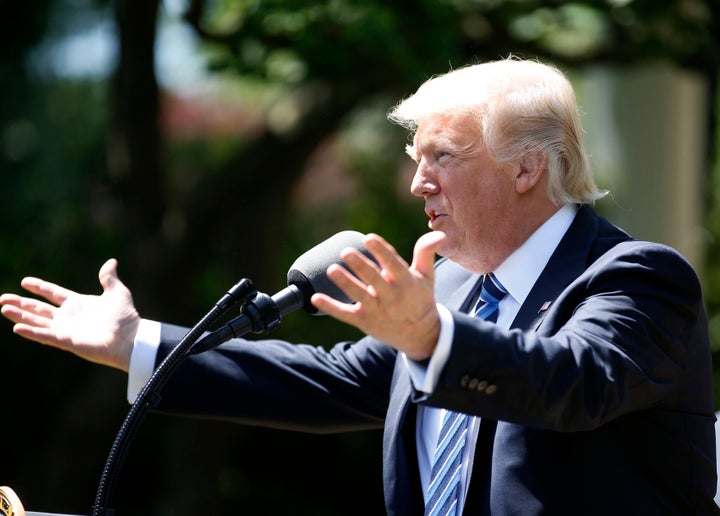 Students who took the course said they felt no political influences from the course's instructors, which included Cardozo professors and outside voices such as the director-counsel of the NAACP Legal Defense Fund and the deputy general counsel of The New York Times. And some expressed hope that the school would bring back the course for future semesters. Leslie said she was open to doing so, but that she wanted faculty to get through final exams first.
One potential hurdle would be if Trump were to simply stop providing the legal fodder necessary to structure 10 weeks worth of course material. Asked if that worry had crossed her mind while standing outside the courthouse that January night when the inspiration for the class first hit, Adams tersely replied: "No."
Want more updates from Sam Stein? Sign up for his newsletter, Spam Stein, here.
Before You Go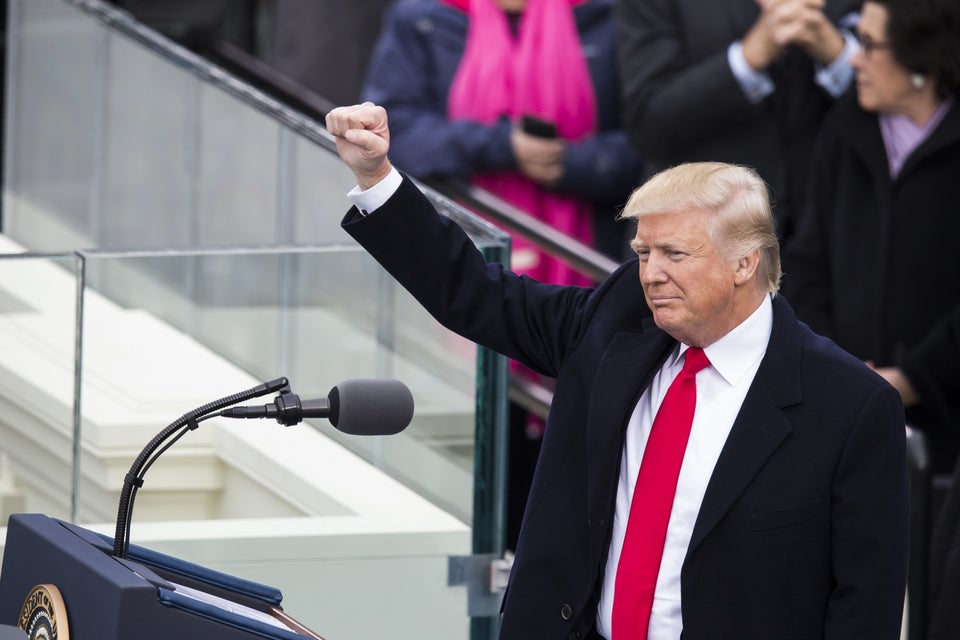 Best Photos From Trump's First 100 Days
Popular in the Community