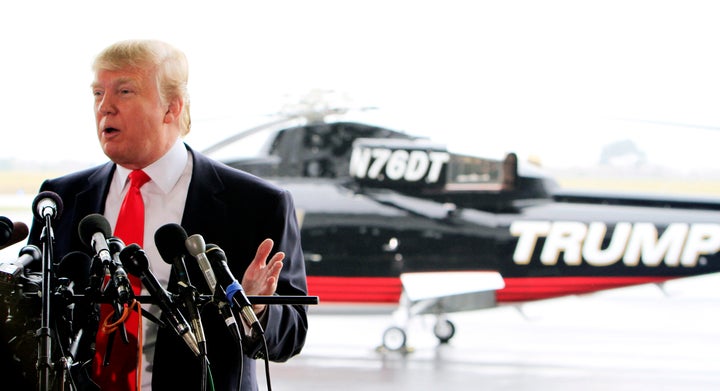 PORTSMOUTH, NEW HAMPSHIRE (Reuters) - Real estate magnate and television personality Donald Trump kept his presidential tease tour rolling on Wednesday with a high profile trip to New Hampshire.
Some polls show Trump could attract serious support amid a lackluster field for the Republican nomination to challenge Democratic President Barack Obama in 2012. In a general election, though, his prospects look dim.
But the star of TV's "Celebrity Apprentice" is still suspected of an elaborate publicity stunt and ratings grab with repeated hints he might run for the White House and his visit to the early primary voting state of New Hampshire.
Trump said on Wednesday he can not announce until his show ends on May 22, but would make a decision before June.
"I think you will be surprised at what my announcement is," he said. "I think if I do run, I'll do very well. I think I'll beat Obama."
A Gallup Poll issued on Tuesday showed that while Americans are entertained by Trump's flashy style, they don't see him as presidential material. More than 6 in 10 registered voters say they would definitely not vote for Trump for president.
Still, the Republican race has been slow to heat up, and several potentially strong candidates have yet to commit, allowing the thrice-married billionaire known as The Donald to attract nonstop attention.
In New Hampshire, a recent Public Polling survey showed Trump would get 21 percent of the Republican primary vote, trailing former Massachusetts governor Mitt Romney.
Trump, 64, in navy suit, white shirt and red power tie, looked every inch the candidate when he met with reporters after flying into this small seaside city in a black helicopter emblazoned with his name.
He claimed victory that Obama on Wednesday released a long version of his birth certificate, following months of hounding by Trump and the "birther" movement, which claimed the president was born abroad, possibly in his father's Kenyan homeland, and thus ineligible to be president.
"I feel I've accomplished something really, really important and I'm honored by it," Trump said of the birth certificate release. "Now we can get onto issues ... I hope we can start talking about gasoline prices, about OPEC, and about China taking our jobs."
Many local residents came out to catch a glimpse of the man Forbes Magazine estimates is worth $2.7 billion, but not all expected to see him on the ballot.
"I think he's stirring the pot. He's using his celebrity to get civilians to think about things," said Mary Beckwith, 48, of nearby York, Maine.
Asked if other Republicans candidates seemed interesting, retired aerospace machinist Bill Hammond, 69, like many other voters, just shrugged.
(Reporting by Ros Krasny, Editing by Jackie Frank)