WASHINGTON ― On Friday, visitors to the Washington Monument are being greeted by an unusual sight and sound: a large video screen playing President Donald Trump's infamous "Access Hollywood" tape, accompanied by statistics about sexual assault. It's playing for 12 hours, on a continuous loop.
In other words, in the shadow of a memorial shaped like a giant phallus, people get to hear the president of the United States talk about grabbing women "by the pussy."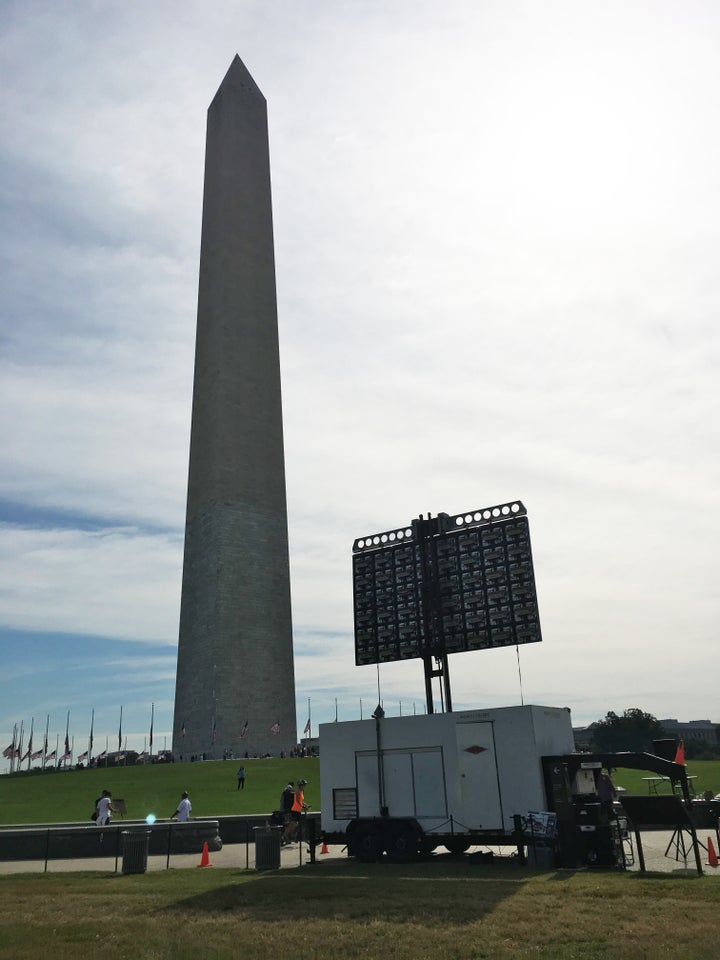 The women's rights group UltraViolet set up the display Friday, approximately one year after the 2005 tape became public. Trump was caught on a hot mic bragging about his sexual conquests to Billy Bush, then of "Access Hollywood."
"And when you're a star, they let you do it," Trump said. "You can do anything. ... Grab them by the pussy."
"That's why I don't like Donald Trump," one teenage girl said as she walked by the screen, right after the part where Trump said, "I moved on her like a bitch."
The video display attracted plenty of attention, with many people stopping for a moment to take a picture. Most were surprised UltraViolet was given permission to put up the video on public land, and one Canadian visitor said it was "refreshing that it was allowed."
Everyone who spoke with HuffPost said they remembered Trump's comments. One man, originally from Australia, said he felt Trump and the tape represented the "demise" of the U.S. political system and its position in the world.
The display was, in many ways, a fitting coda to the week, where there were plenty of other stories about toxic masculinity.
For starters, Las Vegas is still recovering from one of the largest mass shootings in history, carried out by Stephen Paddock. Employees at a Starbucks he frequented remember him verbally abusing his girlfriend on various occasions. As HuffPost's Melissa Jeltsen has noted, "Over the past few years, a number of mass killers and violent terrorists have had one striking thing in common: They practiced their abuse on family members before targeting the public."
On Thursday, BuzzFeed published documents showing how Breitbart News has smuggled white nationalist ideas into the mainstream. Buried in the story was a disturbing section about how male journalists at reputable publications gave suggestions about ways the conservative site could attack women online. Mitchell Sunderland, a senior staff writer for Vice's women's section, encouraged Breitbart News to go after writer Lindy West, saying it should "mock this fat feminist."
The Atlantic came out with an in-depth look at the heartbreaking death of Tim Piazza, a young man who died during hazing at a Penn State fraternity. He and the other pledges were forced to drink massive amounts of alcohol and then run an obstacle course. He later opened a door that happened to lead to the basement, and fell down the stairs. No one in the fraternity called 911 until 12 hours later.
And Rep. Tim Murphy (R-Pa.) resigned after it was revealed that he had pressured a woman to have an abortion while publicly touting his anti-abortion stance. Murphy was having an extramarital affair with the woman. The Pittsburgh Post-Gazette also reported that Murphy mistreated his staff.
Trump supporters quickly jumped on the Weinstein news to use as a cudgel against Democrats.
Those attacks rang rather hollow, considering the president they are supporting is a man who has been accused of sexual assault by multiple women.
And on Friday, the administration of this man rolled back requirements for employers to provide birth control coverage in health care plans for their workers.
Women could have found some consolation in the fact that there may be a 45-foot-tall statue of a woman on the National Mall beginning next month. But it turns out that woman will be naked.
CORRECTION: This article initially mischaracterized Bush's remarks on the "Access Hollywood" tape. Bush did not discuss any of his own past behavior on the tape.
Want more updates from Amanda Terkel? Sign up for her newsletter, Piping Hot Truth, here.
Popular in the Community