Eight of the women who have accused President Donald Trump of sexual misconduct put out a statement Wednesday denouncing the president's attitude toward Supreme Court nominee Brett Kavanaugh's accusers and demanding that the women be heard.
"President Trump's attacks on Dr. Christine Blasey Ford and Deborah Ramirez are beyond the pale and utterly lacking credibility," said a statement from Lisa Boyne, Rachel Crooks, Samantha Holvey, Jessica Leeds, Melinda McGillivray, Natasha Stoynoff, Temple Taggart and Karena Virginia, organized by media company Brave New Films. "We know from personal experience that he is a serial sexual harasser and abuser."
Blasey, Ramirez and a third woman, Julie Swetnik, have accused Kavanaugh of engaging in sexually predatory behavior while he was in high school and college.
Trump has been accused by more than 15 women of sexual misconduct, with allegations ranging from groping to workplace harassment to forcible kissing and assault. The president has consistently dismissed the allegations against him as baseless, though he has bragged on tape about grabbing women "by the pussy" without their consent. On Tuesday, he called the allegations against Kavanaugh a "high level con game" perpetrated by Democrats in an "effort to destroy a fine person."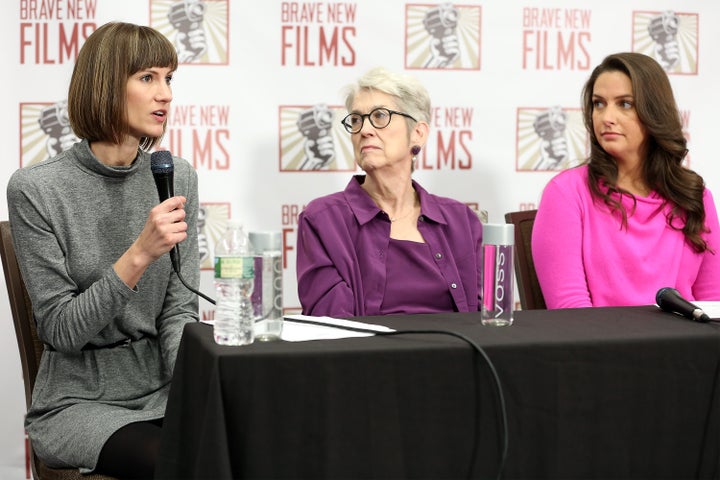 "Trump has dismissed our claims, lied about his conduct and attacked us," Boyne, Crooks, Holvey, Leeds, McGillivray, Stoynoff, Taggart and Virginia wrote in their statement. "Now he's painting with the same brush to salvage the Kavanaugh nomination. It's a standard move from his playbook."
The women also emphasized their support for Blasey, Ramirez and Swetnick, calling on the Senate to delay Kavanaugh's confirmation until an independent investigation into the allegations against him could be completed.
"We believe women, and we believe Dr. Christine Blasey Ford, Debbie Ramirez and Julie Swetnick deserve to be heard. We stand with them in calling for a full, independent investigation of Brett Kavanaugh's conduct in high school, college and beyond. Senators must not vote on his nomination until they have the facts."
Public allegations against the judge have emerged within the last several weeks. Blasey alleges that Kavanaugh pinned her to a bed and groped her at a house party when she was 15 years old. Ramirez told The New Yorker that when they were at Yale, Kavanaugh took his penis out at a party and put it in her face while other students laughed. On Wednesday, Swetnick became the third woman to come forward. In a statement posted on Twitter by attorney Michael Avenatti, Swetnick alleged that in high school she witnessed the future Supreme Court nominee engaging in "abusive and physically aggressive behavior towards girls."
Both Blasey and Kavanaugh are set to testify in front of the Senate Judiciary Committee Thursday morning.
Popular in the Community