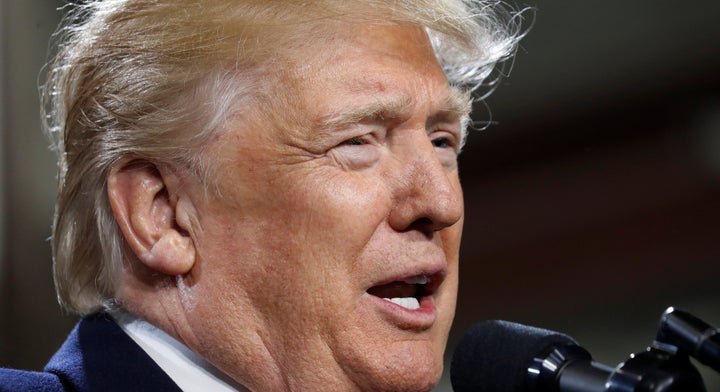 WASHINGTON ― It only took a government shutdown for President Donald Trump to return to his original campaign message: Undocumented immigrants are dangerous and out to get Americans.
Trump's campaign released an ad on Saturday that pinned murders committed by undocumented immigrants directly on Democrats who are pushing for relief for so-called Dreamers, young people who came to the U.S. as children.
"President Trump is right: Build the wall. Deport criminals. Stop illegal immigration now," a voiceover says. "Democrats who stand in our way will be complicit in every murder committed by illegal immigrants."
The ad shows House Minority Leader Nancy Pelosi (D-Calif.), Senate Minority Whip Dick Durbin (D-Ill.) and Senate Minority Leader Chuck Schumer (D-N.Y.) before cutting to video of an undocumented immigrant on trial for killing two police officers.
All three lawmakers are advocates of immigration reform and oppose Trump's border wall, but they aren't open borders advocates or defenders of murder; the bills they've pushed exempt violent criminals from protections and include border security measures. Schumer even said he offered Trump funding for his wall on Friday, but that the president declined the deal.
But calling Democrats "complicit" in murder fit in with the White House's messaging on the government shutdown, which happened when the Senate failed to pass a short-term government funding bill by the end of Friday. Most of the Senate Democratic caucus, plus four Republicans, voted against the bill, many of them saying they would not support funding without a fix for the 700,000 undocumented young people Trump put at risk of deportation by ending the Deferred Action for Childhood Arrivals program.
While Trump and the White House have occasionally referred to those young people, often called Dreamers, in fairly sympathetic terms, they're now characterizing them as "unlawful immigrants" whom Democrats insist on helping.
It's a return to form for Trump, who launched his campaign by claiming that Mexico was sending rapists and other criminals across the border, has called for a U.S.-Mexico border wall and has highlighted crimes committed by people without legal status in the country.
While some undocumented immigrants do commit crimes separate from immigration, numerous studies have disputed the idea that immigrants are bringing more crime into the country.
Trump and his administration have also repeatedly attacked Democrats for their immigration stances. As part of a campaign against so-called "sanctuary cities," a term for jurisdictions that limit their cooperation with deportation efforts to some degree, the administration has floated the idea of criminally prosecuting local officials.
Trump's message from day one has been that immigrants are, first and foremost, a frightening threat. His administration has said it won't discuss immigration measures until Democrats vote to reopen the government. In the meantime, he seems intent on insulting them and spreading fear about immigrants as much as possible.
Calling all HuffPost superfans!
Sign up for membership to become a founding member and help shape HuffPost's next chapter
BEFORE YOU GO
PHOTO GALLERY
How Donald Trump Talks About Undocumented Immigrants