WASHINGTON ― A few hours before he went inside the House gallery to watch President Donald Trump's address to Congress, Gregory "Ronnie" James read an article that said the president might address Dreamers, the young undocumented immigrants like him who came to the U.S. as children.
He was excited, even though he knew that any pro-immigrant policy would be a reversal from Trump's campaign promise to strip Dreamers of their protections and ramp up deportations.
And then he heard the speech on Tuesday night.
"A part of me just kept on hoping that maybe all of this [campaign rhetoric] was a farce and he's going to implement policies to benefit all of America like he's supposed to rather than just his constituents," the 19-year-old said after attending the speech as a guest of Rep. Adriano Espaillat (D-N.Y.). "But that wasn't the case."
Finding the right stance on immigration has been a dizzying process for Trump: vacillating between extreme policy prescriptions and the occasional nod toward a more compassionate approach to reform. Lawmakers have been left to decipher what the signals mean. But the immigrants themselves have been left with a horrifying experience: Their lives hang in the balance, and their own perceptions about their futures change as the president speaks. That was never more true than during Trump's address to Congress.
At least a dozen undocumented immigrants, including James, attended the speech as guests of Democratic lawmakers eager to highlight positive aspects of immigration and travel. More than 20 other guests were also there to draw attention to Trump's immigration and travel policies: refugees and foreign nationals he hoped to ban; children whose parent he deported; and advocates fighting to help communities he wants to split apart.
They didn't get the message they hoped for. On refugee and foreign travel issues, Trump promised another executive order after a court blocked his past attempt to temporarily bar people from the country based on their country of origin or refugee status. Trump made a vague statement about immigration reform, but largely talked about deportation and painted undocumented immigrants as criminals. Four of Trump's guests were family members of individuals killed by undocumented immigrants, and he talked about creating a special government office devoted to victims of immigrants' crimes.
"He used the actions of a few people to paint a brush over all immigrants," said James, who is a college student and an organizer with the advocacy group UndocuBlack Network.
The speech's focus on criminals was difficult to stomach, said Oscar Juarez-Luna, a 25-year-old Dreamer who attended as the guest of Rep. Jared Polis (D-Colo.).
"It was really hard to be there," he said. "The way he was addressing the immigrant community in a way that just separating them based on their legal status ... and as everyone being criminals ― that's not who we are. That's not what the immigrant community is. We're aspiring Americans seeking a better future."
Both Juarez-Luna and James have work permits and temporary deportation relief under a program that Trump promised to eliminate, although he has yet to do so. Most of the undocumented immigrants invited to attend were recipients of the Deferred Action for Childhood Arrivals program, or DACA. One undocumented immigrant attended even though he lacks even DACA protections. Journalist Jose Antonio Vargas, who founded the immigration group Define American, went as the guest of House Minority Leader Nancy Pelosi (D-Calif.).
"We're the face of all those people who want to speak out but can't."
Some of the guests highlighting Trump's deportation record were U.S. citizens who were nonetheless hurt by his policies. Jacqueline and Angel Rayos-Garcia attended as guests of Reps. Ruben Gallego (D-Ariz.) and Raúl Grijalva (D-Ariz.). Their mother, Guadalupe "Lupita" García de Rayos, was deported earlier this month based on a conviction for using a fake Social Security number to get a job ― a crime, but not of the type that Trump highlighted.
"It's very easy for someone like Donald Trump, who has a very simplistic worldview and almost near-nothing understanding of immigration policy, to take a wide brush and paint this community as something as bad as he wants it to be, particularly just to scare people," Gallego said in a press conference earlier Tuesday. "These are people. Guadalupe is a mother."
Angel Rayos-Garcia told reporters before the speech that it was difficult to come home from school and not get to eat dinner with their mother or tell her about his day. But he said it was important to them to be there to share their mother's story.
"Not having your mom there, it's the worst thing," he said. "I wouldn't want anyone to go through this. That's the sad part: We're not the only ones. There's thousands of families in the same position and that's why we're here today. We're the face of all those people who want to speak out but can't."
Before You Go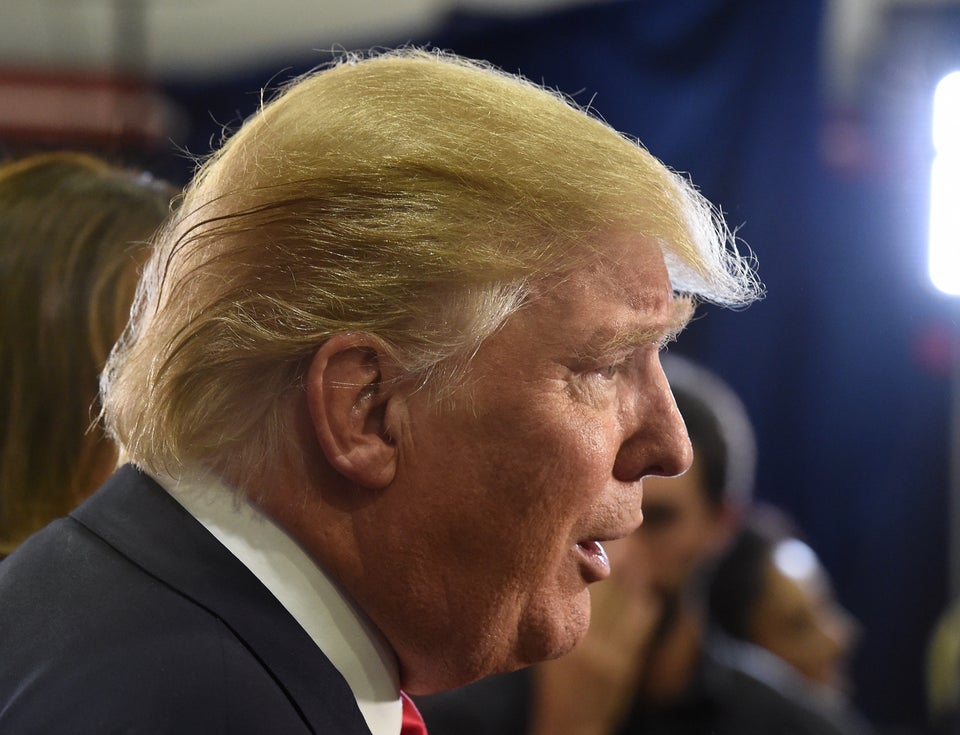 How Donald Trump Talks About Undocumented Immigrants
Popular in the Community