AUSTIN, Texas ― A memo issued by U.S. Attorney General Jeff Sessions last month ordering prosecutors to bring the harshest possible charges in federal criminal cases was widely criticized as a rollback of Obama-era limits on mandatory minimum sentences in drug cases.
But Sessions' memo doesn't just apply to drug crimes ― it applies to all charging decisions. The Attorney General wrote that a "core principle" of the Justice Department is that prosecutors "should charge and pursue the most serious, readily provable offense" in all cases, with very few exceptions. And that threatens to land more undocumented immigrants in prison on criminal charges.
"The bottom line is, yes, the memo from [May 10] applies to everything," a Justice Department spokesman told HuffPost.
Even before President Donald Trump took office promising an immigration crackdown, the department prosecuted immigration offenses more than any other type of crime. The deportation process is carried out by civil courts, but over the last two decades the DOJ has increasingly prosecuted undocumented immigrants, instead of simply deporting them, under two laws that criminalize crossing the border without permission.
Jumping the border the first time is a misdemeanor, punishable by up to six months in jail. Crossing the border illegally after being expelled is a felony carrying a maximum prison sentence of two years. On paper, the penalty can be enhanced up to 20 years if the offender has a serious criminal record, but most people receive shorter terms, according to U.S. Sentencing Commission guidelines. Neither charge carries a mandatory minimum.
Those two charges had already consumed about half of the federal criminal docket by the time Trump took office, up from less than 5 percent in 1994. Asking prosecutors to consider the bringing highest possible charge in federal criminal cases could swell those numbers further and result in stiffer sentences.
"It really feels like we're going backwards," Grace Meng, an immigration researcher with Human Rights Watch, told HuffPost. "I hope that those who question Sessions' philosophy behind drug prosecutions can see that there's a similar misguided philosophy behind immigration prosecutions ― the idea that deterrence is possible through sheer punishment alone."
In practice, some jurisdictions along the U.S.-Mexico border file felony re-entry charges against those caught crossing the boundary multiple times, but offer plea deals that reduce the crime to a misdemeanor. That allows prosecutors to dispose of the cases more quickly in U.S. Magistrate Court, which handles less serious offenses than U.S. District Court.
But the May 10 memo urges prosecutors to seek more felony charges when possible. "There is certainly the possibility that the felony will be pursued and we are planning on sending additional prosecutorial resources to the border," the Justice Department spokesman said in an email.
It's also clear Sessions is looking beyond border states in prosecuting immigration offenses. The May 10 memo followed a directive issued in April in which he asked U.S. attorney's offices in all 94 districts to prosecute illegal re-entry charges more aggressively, with each office assigning a "border security coordinator" to oversee its efforts to channel more deportation cases into criminal court.
People caught in the act of crossing the border aren't the only ones who get prosecuted for illegal re-entry. Immigration and Customs Enforcement authorities routinely detain people across the United States who have been expelled in the past. Most of them end up in immigration court to face deportation proceedings.
But ICE also has the power to refer undocumented immigrants with deportations on their records to DOJ for prosecution on felony re-entry charges.
Emphasizing criminal charges for undocumented immigrants arrested far away from the border exposes more people who have resided in the country for years to the possibility of not just deportation, but prison time.
"This all points toward incredibly harsh prosecutions in places where typically the criminal justice system did not get involved in immigration matters and it was handled purely by ICE," Carl Takei, a lawyer with ACLU's National Prison Project, told HuffPost. "The far greater impact that the Sessions' [directives] are likely to have for immigration prosecutions are in districts that are further away from the border."
Last year, about one in five illegal re-entry cases were prosecuted in federal districts that don't touch the border, according to Justice Department statistics. That generally means the offenders had already been residing in the United States, often for many years. It is common for people who have been deported before to cross back into the United States illegally ― particularly those who have established families here.
The number of criminal charges brought against undocumented immigrants outside the border zone is likely higher than those statistics indicate. The Western District of Texas, for example, includes border towns as well as cities several hours from Mexico, such as San Antonio and Austin. The federal district of Arizona includes the entire state.
"There's going to be changes," Milagros Cisneros, a Phoenix-based federal public defender who handles re-entry cases, told HuffPost. "We don't know what these changes are going to be other than that there's a directive to charge the most serious crime."
Before You Go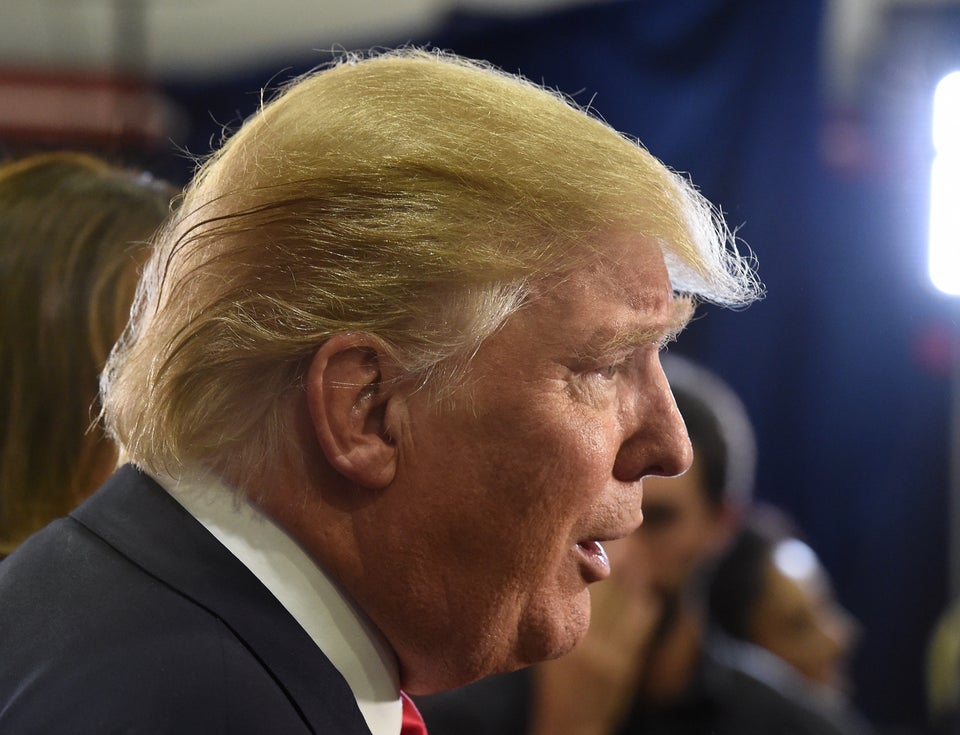 How Donald Trump Talks About Undocumented Immigrants
Popular in the Community