President Donald Trump plans to renegotiate the North American Free Trade Agreement with Canada and Mexico, United States Trade Representative Robert Lighthizer told congressional leaders in a letter on Thursday.
The president must give Congress a 90-day notice before beginning talks. The announcement, which comes three days after Lighthizer was sworn in, provides an opportunity for Trump to deliver on a campaign promise to dramatically improve the trade accord for U.S. manufacturers and workers.
"The United States seeks to support higher-paying jobs in the United States and to grow the U.S. economy by improving U.S. opportunities under NAFTA," Lighthizer wrote. "In particular, we note that NAFTA was negotiated 25 years ago, and while our economy and businesses have changed considerably over that period, NAFTA has not."
At just over a page, the letter offers few insights into the approach Trump plans to take in revamping the trade agreement. 
A draft of the letter that leaked at the end of March went on for nearly eight pages, alarming trade skeptics who thought the softer language represented a major climbdown from Trump's tough campaign stance.
Some of the specific goals that were outlined in the leaked draft and remain in the final version are unlikely to quiet these concerns. 
Like the earlier version, the new letter points out that digital trade was in its "infancy" when NAFTA was ratified and that the agreement's provisions regarding intellectual property rights need to be updated. It also keeps language about expanding NAFTA to include the intellectual property protections and other regulatory streamlining in more recent trade agreements.
The intellectual property provisions in the now-defunct Trans-Pacific Partnership were among the features that elicited the most criticism from liberal trade skeptics. Public health advocates in particular were wary of clauses that extended patent protections to biologics, fearing that it would make these drugs unaffordable to American trade partners. 
Rep. Richard Neal (D-Mass.), ranking member of the House Ways and Means Committee, and Rep. Bill Pascrell (D-N.J.), ranking member of the trade subcommittee, claim in a letter to Lighthizer that his notice may provide too little "specificity" to even comply with the law requiring the president to inform Congress of his intentions. The notice period is a requirement of a 2015 law, the Congressional Trade Priorities and Accountability Act.
"Some fundamental and critically important questions remain unanswered today. That is particularly true given how different today's one-page final notice is from the eight-page draft we received in March," they wrote.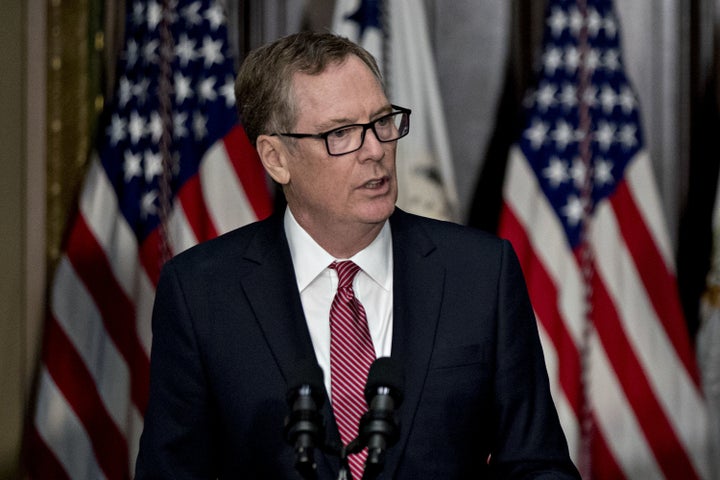 A true test of efforts to renegotiate NAFTA is whether it scraps the investor-state dispute settlement system that allows multinational corporations to challenge domestic regulations, according to Lori Wallach, a leading progressive trade deal critic and director of Public Citizen's global trade watch.
"If corporate elites are allowed to dictate how NAFTA is renegotiated, the agreement could become more damaging for working families and the environment in the three countries," Wallach said in a statement reacting to Lighthizer's letter. "And modest tweaks will not stop NAFTA's ongoing damage, much less deliver on Trump's promises for a deal that will create American jobs and raise wages."
Trump's efforts to rebalance global trade in favor of U.S. firms and workers have thus far largely been limited to symbolic gestures and the commissioning of studies that have the potential to reshape future trade relations.
In April, for example, he initiated an investigation into whether foreign steel imports jeopardize national security. But the memorandum creating the inquiry sets in motion a process that could last as long as a year before it produces presidential action.
Before Thursday, Trump's NAFTA comments had been limited to bluster. At the end of April, the president announced that he had been on the verge of pulling out of NAFTA entirely, until phone calls from the leaders of Mexico and Canada convinced him otherwise.
The vote for the top trade official reflects the way in which Trump's trade agenda has the potential to elicit rare bipartisan backing. But if the reaction to Thursday's letter is any indication, Democrats are not even eager to cooperate on the NAFTA talks.
Economists are divided about the net impact of NAFTA on the U.S. labor market. Proponents of the accord note that it made consumer goods cheaper and helped U.S. auto manufacturers and other industries expand their supply chains. Critics say the manufacturing jobs it cost the U.S. in other fields has contributed to the decline in earning power for Americans without a college degree over the last two decades.
Calling all HuffPost superfans!
Sign up for membership to become a founding member and help shape HuffPost's next chapter
BEFORE YOU GO
PHOTO GALLERY
Best Photos From Trump's First 100 Days