WASHINGTON ― The Inter-American Commission on Human Rights heard from civil rights and other advocacy groups on Tuesday about their concerns with the Trump administration's immigration policies.
Commissioners said they hoped to hear from the government, too. But they couldn't ― the federal government skipped the hearings, which officials said was because of ongoing litigation.
Advocates and observers said the move was highly unusual and sent a concerning message about the new administration's respect for international bodies such as the Organization of American States, of which the commission, or IACHR, is a part. Multiple experts said the U.S. almost always attends and hasn't skipped a hearing in at least eight years.
"Today's no-show is a new low," Jamil Dakwar, director of the American Civil Liberties Union's Human Rights Program, said at one of the hearings, calling it "an unprecedented show of disrespect to the international community that will alienate democratic allies."
"This is another worrying sign that the Trump administration is not only launching an assault on human rights at home but is also trying to undermine international bodies charged with holding abusive governments accountable," he added.
The government's absence was noted multiple times by commissioners, who said they weren't sure why it happened. IACHR President Francisco José Eguiguren Praeli told reporters that U.S. government officials informed the commission on Monday that they would not be in attendance at the hearings, one dealing with President Donald Trump's executive orders on travel and immigration enforcement, the other on treatment of asylum-seekers.
"Suffice it to say that it is a pity that this is the situation," IACHR Vice President Margarette May Macaulay said during one of the hearings, while noting the government had declined to attend and answer questions.
Commissioner Paulo Vannuchi, speaking in Spanish at the other hearing, said he regretted the absence, "which is what would have made it possible for there to be a democratic exchange of opposing views being aired."
"We fear this is a further reflection of their disregard for the human rights of migrants."
The State Department, which has a permanent mission to the Organization of American States, said the government did not attend because "it is not appropriate for the United States to participate in these hearings while litigation on these matters is ongoing in U.S. courts," acting spokesman Mark Toner said.
"The United States has tremendous respect for the role performed by the IACHR in safeguarding human rights and fundamental freedoms throughout the hemisphere, including in the United States," he said in a statement.
The State Department did not provide examples of other instances in which the government has declined to attend hearings ― last year, officials were present for a separate hearing that dealt with asylum-seekers ― or exact litigation. The president's temporary ban on entry to the country for refugees and certain foreign nationals is subject to pending litigation. Another State Department spokesperson, who declined to comment with their name, said "participants at both thematic hearings included parties to such ongoing litigation."
The spokesperson said the department's decision not to participate "does not have any bearing on current or future U.S. engagement with the Commission."
Neither the Justice Department nor the Department of Homeland Security, which were also expected by the ACLU to attend one or more of the hearings, responded to requests for comment.
Experts said it was far from normal for the government to skip a hearing. Ariel Dulitzky, a professor at the University of Texas at Austin School of Law and former assistant executive secretary of the IACHR, said in an email that "it is highly unusual for States not to participate" and that under former Presidents Barack Obama and George W. Bush, the U.S. attended hearings.
Marselha Gonçalves Margerin, advocacy director at Amnesty International USA, said it is the first time in the past eight years that the U.S. did not attend an IACHR hearing. She has litigated before the commission and been a close observer for about 16 years, she said.
Countries that skip hearings generally do so to send a message, she said, noting that Cuba, Venezuela and the Dominican Republic have declined to attend at times when they did not want to talk about accusations of human rights violations.
"Does 'America first' mean disengagement of its human rights obligations?" asked Gonçalves Margerin, who was not at the hearings.
The IACHR issued a statement on Wednesday calling it "troubling" that the U.S. government did not send representatives to its hearings. Cuba and Nicaragua also decided not to participate in hearings, according to the commission"
"The Inter-American Commission underscores the importance that the States participate in all hearings, in good faith and with adequate substantive information, in order to work constructively toward solutions to human rights problems in the region," the commission said in a statement. "The inter-American human rights system is strengthened by the active participation of States, victims and their representatives, and civil society organizations."
Sarah Paoletti, director of the University of Pennsylvania's Transnational Legal Clinic, said during the asylum-seeker hearing that those present were "extremely disappointed" to not hear from the government.
"We fear this is a further reflection of their disregard for the human rights of migrants," she said, "and hope that they will fully engage in future hearings and prove us wrong."
Because the U.S. government wasn't there, no one presented counter-arguments to a dire picture put forward by advocates, who argued the president's executive orders on immigration were discriminatory, dangerous and presented a potential for abuse by Customs and Border Protection agents.
At the asylum-seeker hearing, advocates who criticized Obama on treatment of vulnerable people apprehended at the border as well said they were concerned things would get even worse under Trump. Commissioners seemed sympathetic ― Macaulay said they agree that detention of families, asylum-seekers and children is "completely contrary" to international norms and standards.
"In no way can the commission accept these acts of violations which are occurring and which seem to be multiplying and becoming more and more serious as each day progresses," she said.
This story has been updated with a statement from the IACHR.
Before You Go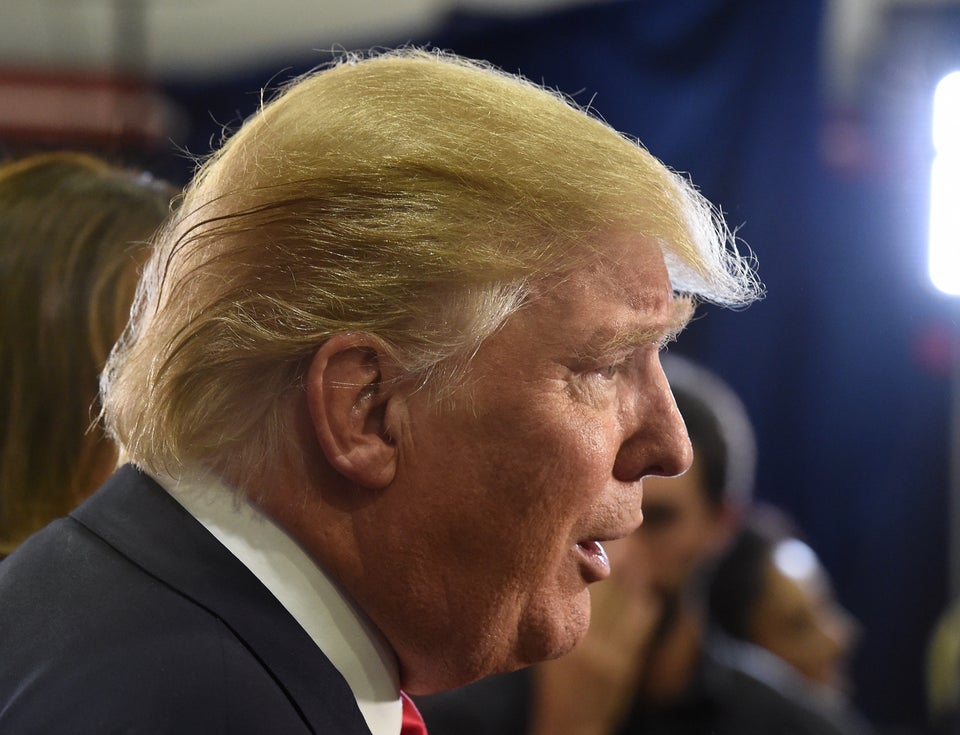 How Donald Trump Talks About Undocumented Immigrants
Popular in the Community