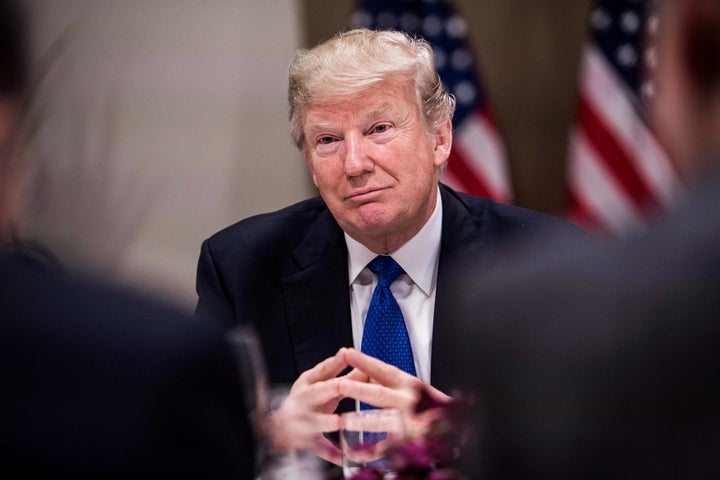 WASHINGTON ― President Donald Trump is open to granting a path to citizenship to roughly 1.8 million young undocumented immigrants who came to the U.S. as children as part of immigration talks, a top White House aide reportedly told Republican staffers on Thursday.
But although Trump is willing to help those Dreamers and some others who don't already have DACA protections, the White House has indicated it will only do so at a price — and his demands for steep border security increases and a dramatic reshaping of the legal immigration system could end up being poison pills that kill the chances of a deal.
White House senior adviser Stephen Miller told Republican staffers that Trump would accept permanent legal status for current DACA recipients and Dreamers who are eligible for the program but don't currently hold those protections, an estimated 1.8 million people, according to reports from NBC News and The Daily Beast. Miller described the plan as offering "extremely generous provisions" and "dramatic concessions" to Democrats, according to The Daily Beast.
But in exchange for helping some undocumented young people, Trump wants to enact policies that would affect countless more individuals, including immigrants in the U.S., people seeking to come here and even Americans who want to sponsor certain family members. Democrats would get one win — help for Dreamers — in Trump's proposed framework; immigration hardliners like Trump would get a slew of them.
"They think that by offering up a spoonful of sugar — relief for Dreamers — they can get Congress and the American people to swallow the bitter medicine of radical nativism," Frank Sharry, who leads the pro-immigration reform group America's Voice, said in a statement. "We are going to fight this tooth and nail. We are not going to stand by while Trump and Miller take Dreamers hostage in order to keep out and kick out millions."
Trump will request $25 billion for border security measures, including a wall in some areas, according to reports. (During the campaign, Trump said that Mexico would pay for the wall.) He is also seeking an end to the diversity visa lottery system, which allows individuals from countries with low immigration levels to come to the U.S. ― such as those in Africa that the president reportedly called "shithole countries″ in a meeting with senators.
The plan will also call for ending what Trump and his allies refer to derisively as "chain migration" ― the process by which Americans and legal permanent residents can sponsor their family members to legally immigrate to the U.S. The White House will propose restricting family-based immigration to spouses and minor children, excluding adult children, siblings and other relatives, according to reports.
Trump also wants the government to close "loopholes" in the immigration system to make it easier to deport people — likely including children and people seeking asylum, given past comments by officials — and detain immigrants for longer periods, according to Axios.
Democrats have said they are willing to make certain compromises as part of a Dreamer deal, but that dramatically reshaping the entire immigration system is both too much to ask and something that could easily cause a deal to fall apart under its own weight. Dreamer activists themselves have called for a deal that helps them without hurting other immigrants. The idea of severely restricting legal immigration — a cornerstone of the U.S. — isn't backed by all Republicans, either.
Rep. Luis Gutierrez (D-Ill.), one of the leaders on immigration policy among House Democrats, said the offer didn't pass the smell test.
"It would be far cheaper to erect a 50-foot concrete statue of a middle finger and point it towards Latin America," he tweeted. "Both a wall and the statue would be equally offensive and equally ineffective and both would express Trump's deeply held suspicion of Latinos."
The White House plans to unveil its immigration policy proposals on Monday. A spokesperson did not immediately respond to a request for comment on the reports.
Last week, the federal government partially shut down after Senate Democrats refused to vote for a funding bill that didn't include protections for Dreamers. They agreed to reopen the government on Monday after Senate Majority Leader Mitch McConnell (R-Ky.) said he'd allow a vote on an immigration bill in February.
Trump's support for an immigration measure is crucial, and not just because he's the one who would ultimately have to sign the bill. Trump is probably the only person in politics who could convince conservative House Republicans to go along with legislation granting legal status to undocumented immigrants, said Michael Steel, who worked as a spokesman for former House Speaker John Boehner (R-Ohio).
"A lot of those folks who would be the most upset by an immigration bill that is more generous than they would like are also the closest allies of the president in the House," Steel told the HuffPost Politics podcast.
Popular in the Community