The special relationship just got a little less special.
The U.S. Department of Commerce issued a ruling Tuesday that would slap a massive import tax on passenger planes built by Bombardier, one of Northern Ireland's biggest employers, and U.K. Prime Minister Theresa May is not pleased.
In a tweet on Wednesday, May said that she was "bitterly disappointed" by the 220-percent import duty, but would continue to work with the company to protect jobs. Bombardier is based in Montreal, but employs thousands of people in Northern Ireland.
Commerce Secretary Wilbur Ross said that foreign governments subsidizing goods is an issue that President Donald Trump's administration takes seriously. "The U.S. values its relationships with Canada, but even our closest allies must play by the rules," Ross said Tuesday in a statement. "We will continue to evaluate and verify the accuracy of this preliminary determination."
U.K. Defense Secretary Michael Fallon fired back on Wednesday by warning that the decision, which May had lobbied Trump on, could "jeopardize" future agreements with Boeing, Bombardier's U.S.-based rival.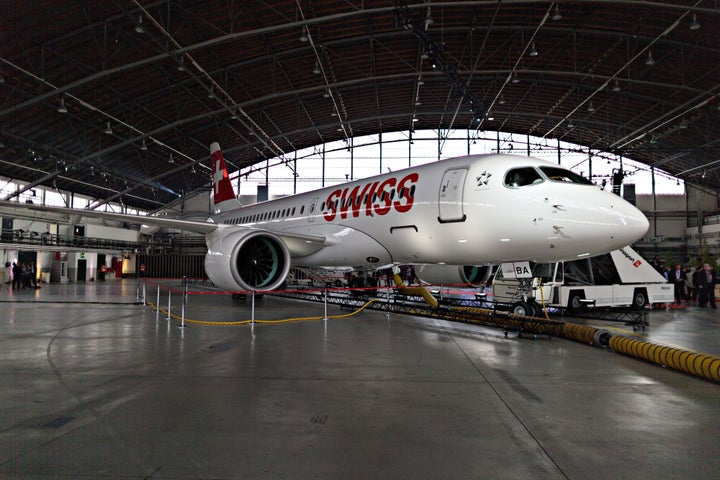 The rift began when, in 2016, Delta secured a deal to bring Bombardier's C series to the U.S. market. Boeing filed a complaint earlier this year claiming that the airline's order for dozens of Bombardier planes is an example of "dumping," meaning that they're brought to the U.S. at low cost ― subsidized by the Canadian government ― to gain market share. 
"The magnitude of the proposed duty is absurd and divorced from the reality about the financing of multibillion-dollar aircraft program," Bombardier said in a statement Tuesday. The company contends that the plane it's trying to import is "more efficient, more comfortable, and quieter."
It's now up to the International Trade Commission to make a final decision next year.
The Bombardier disagreement is only the latest example of tension between the Trump administration and its allies across the pond. In May, U.S. Secretary of State Rex Tillerson was forced to apologize after intelligence officials leaked confidential information about the Manchester terror attack.  
Trump created another conflict after he criticized London Mayor Sadiq Khan's response to terror attacks in the U.K. capital. British politicians of all stripes condemned the remarks, including May, who said Trump was "wrong" to have lashed out at Khan. Several U.K. officials, including Khan, have called on 10 Downing Street to cancel the U.S. president's upcoming state visit.
Trump has put nationalist trade policies at the center of his agenda, opting to pull out of the landmark Trans-Pacific Partnership agreement days after taking office, and threatening to withdraw from the North American Free Trade Agreement. Ross penned an op-ed for The Washington Post last week in which he claimed that NAFTA is killing American jobs.
Calling all HuffPost superfans!
Sign up for membership to become a founding member and help shape HuffPost's next chapter