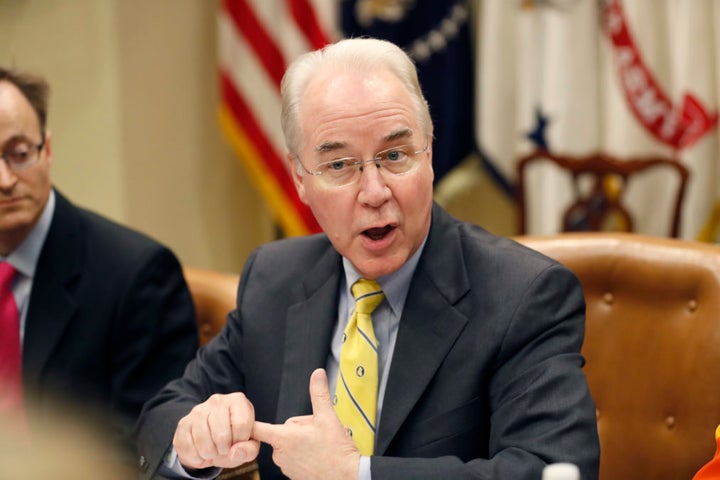 The Trump administration has quietly axed $213.6 million in teen pregnancy prevention programs and research at more than 80 institutions around the country, including Children's Hospital of Los Angeles and Johns Hopkins University.
The decision by the U.S. Department of Health and Human Services will end five-year grants awarded by the Obama administration that were designed to find scientifically valid ways to help teenagers make healthy decisions that avoid unwanted pregnancies.
Health and Human Services Secretary Tom Price and other top Trump appointees are outspoken opponents of federal funding for birth control, advocating abstinence rather than contraceptives to control teen pregnancies.
Among the programs that lost their funding: the Choctaw Nation's efforts to combat teen pregnancy in Oklahoma, Johns Hopkins' work with adolescent Apaches in Arizona, the University of Texas' guidance for youth in foster care, the Chicago Department of Public Health's counseling and testing for sexually transmitted infections and the University of Southern California's workshops for teaching parents how to talk to middle school kids about delaying sexual activity.
The elimination of two years of funding for the five-year projects shocked the professors and community health officials around the country who run them.
Health officials say cutting off money midway through multiyear research projects is highly unusual and wasteful because it means there can be no scientifically valid findings. The researchers will not have the funds to analyze data they have spent the past two years collecting or incorporate their findings into assistance for teens and their families.
"We are just reeling. We're not sure how we'll adapt," said Jennifer Hettema, an associate research professor at the University of New Mexico Health Sciences Center, which was finding ways to help doctors talk to Native American and Latino teens about avoiding pregnancy.
More than a quarter of U.S. girls become pregnant by 20. The teen birth rate has continually declined over the past 20 years, but it remains high compared with other industrialized nations, particularly among poor and minority girls.
Under the Trump administration, the Department of Health and Human Services' Teen Pregnancy Prevention Program had two strikes against it: Former President Barack Obama started it, and social conservatives don't want to give teens access to birth control.
Eighty-one projects were awarded five-year grants in 2015. But last week, they received annual grant award letters from the Office of Adolescent Health, which were obtained by Reveal from The Center for Investigative Reporting. Included was this sentence: "This award also shortens the project period to end June 30, 2018, at the end of this budget year." In years past, the award letters said the project period would end June 30, 2020.
In addition, a $2.9 million annual grant split among Children's Hospital of Los Angeles, the University of Michigan, the University of Massachusetts Donahue Institute, EngenderHealth in New York and Youth Catalytics in Vermont was eliminated immediately.
These five groups were unfunded after one year of their five-year projects. They were responsible for providing resources, such as training for recruiting and communication, to the other grant holders. The five groups received letters saying that the cut was due to changing program priorities and that the projects were no longer in the federal government's best interest.
The elimination of funding was done outside the traditional federal budget process. Congress has begun negotiations on the spending bill, and on Wednesday, an appropriations subcommittee cut money for teen pregnancy prevention.
Pat Paluzzi of the Healthy Teen Network in Baltimore said the axing of the program, including her project to develop an app to answer teen girls' health questions, is "part and parcel of the shift to abstinence-only dollars."
"They don't like to deal with the sexual reproductive health of teens," Paluzzi said. "They frame it in this country as moral issues. Public health issues shouldn't be political issues."
Several grantees were told by officials at the Department of Health and Human Services' Office of Adolescent Health that the decision to eliminate funding came from the office of the assistant secretary for health. Last month, President Donald Trump appointed a new chief of staff there, Valerie Huber, who favors abstinence as the solution to teen pregnancy.
The office of the assistant secretary for health on Thursday confirmed eliminating the final two years of funding for the 81 programs but declined to answer questions.
"All of these grantees were given a project end date of June 30, 2018, allowing the grantees an opportunity to adjust their program and plan for an orderly close out," a Health and Human Services Department spokesman said.
The funded programs were exclusively involved in preventing youth pregnancies; no abortion counseling was provided.
Some grant holders were unaware that their final two years of funding was eliminated until they were contacted by Reveal this week. They had thought the letters were a routine authorization of 2017-18 funds and hadn't noticed the line saying it was the final year of funding.
When Hettema contacted the Department of Health and Human Services for an explanation, staff in the Office of Adolescent Health "were extremely shocked and still trying to find out who made the decision and how this came about," she said.
The University of New Mexico had been recruiting for a randomized study of 1,000 participants in a program created for doctors' offices to help low-income Latino and Native American teens. Now they'll probably end up with half that number, which would turn it into a pilot study with much less value for health providers, Hettema said.
"It's kind of like building half a skyscraper and then saying, 'Never mind,' " Hettema said. "And there are thousands of health care providers in this country who are winging it in terms of how to talk to teens about unintended pregnancies."
Luanne Rohrbach, an associate professor of preventive medicine at the University of Southern California, said the eliminated programs, including the one she directed, are scientifically based.
"We took decades of research on how to effectively approach prevention and have applied it on a large scale nationally," she said. "We're not out there doing what feels good. We're doing what we know is effective. There are a lot of data from the program to show that it works."
The USC program supports a sexual health education program in middle schools in the Los Angeles and Compton unified school districts and in an alternative high school system. Included are workshops that teach parents how to talk to kids about delaying sexual activity and where to find health services for preventing disease and pregnancy.
In the San Antonio area, Healthy Futures of Texas provides education on preventing teen pregnancies and uses a control group to assess the effectiveness of the program.
"Our research design is to follow young people for a year and see if the program is making a difference," said Dr. Janet Realini, associate vice president of Healthy Futures of Texas. Without the funds, "it's going to be very difficult for us."
"The folks I've talked to who have had many federal grants say they would normally have had some notice," she said.
In May, Congress approved $101 million for the third year of the 81 grants. But Trump's proposed budget did not include any funding for fiscal year 2018.
Huber, the new chief of staff for the office of the assistant secretary for health, previously was the president of Ascend, which used to be named the National Abstinence Education Association.
In a 2014 paper on the history of sex education, Huber criticized Obama for creating comprehensive sex education programs at the expense of focusing on abstinence.
"Pro-sex organizations used every opportunity to attack abstinence education," Huber wrote with co-author Michael Firmin. "This agenda was (and is) at least as much about destroying abstinence education as it is about supporting 'comprehensive' sex education. … The current Obama administration has used its fiscal scalpel to eliminate the growth of abstinence education within America's school systems."
Tom Price, an orthopedic surgeon who was a U.S. representative from Georgia, was confirmed by Congress as health secretary in February. He has been vehemently opposed to federal programs involving contraception.
In Congress, he voted to eliminate Title X, which subsidizes contraception for low-income women. He opposed an Affordable Care Act provision that requires insurance plans to cover contraception.
"Bring me one woman who has been left behind. Bring me one. There's not one," Price told a ThinkProgress reporter when asked about the provision in 2012. "The fact of the matter is this is a trampling on religious freedom and religious liberty in this country."
The U.S. teen birth rate remains higher than many other developed nations despite a continuing decline.
In 1991, 62 out of every 1,000 females ages 15 to 19 gave birth, according to federal data. By 2014, it had dropped to 24. Health officials say the primary reason for the decline is more access to birth control because sexual activity has remained constant over the years.
Rohrbach and other grantees said they have evidence that certain programs are successful in reaching teens to prevent pregnancies.
Teen parents tend to have less education and are more likely to live in poverty and have chronic medical conditions. Thirty percent of teen girls who have dropped out of high school cite pregnancy or parenthood as a reason, according to the Congressional Research Service.
The unfunded programs are designed to focus on the highest-risk communities in the country.
"Yes, the teen pregnancy rate has gone down," Rohrbach said. But "if you look at the kids that live in disadvantaged neighborhoods, you see that the decline in teen pregnancies is not as steep as it is nationwide. The rates of teen pregnancies are still relatively high."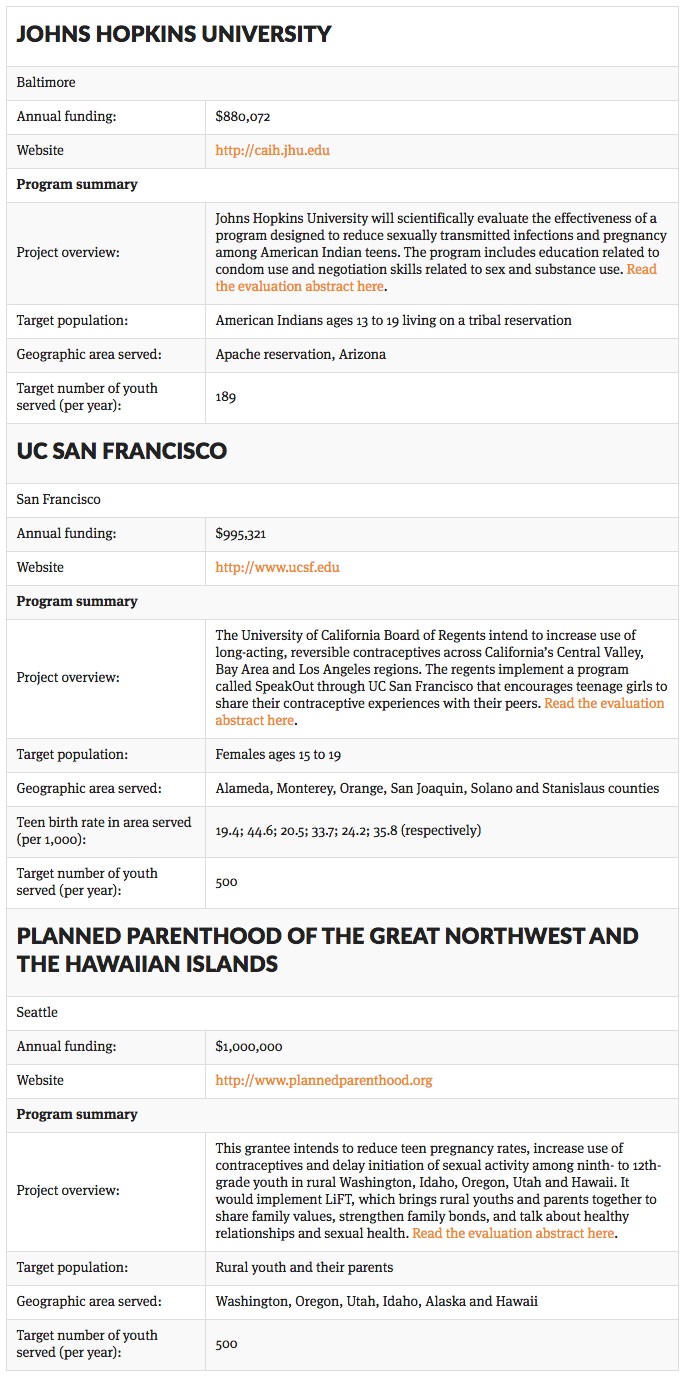 Reveal reporter Trey Bundy contributed to this story. It was edited by Marla Cone and Andrew Donohue and copy edited by Nikki Frick.
Support HuffPost
The Stakes Have Never Been Higher
Popular in the Community