The Trump administration just announced plans to repeal the Clean Power Plan, the landmark policy designed to reduce carbon emissions from dirty power plants and put our country on track to addressing climate change.
This is good news for anybody who likes pollution, thinks we ought to hitch our economy to 19th century technology and doesn't mind dealing with extreme weather disasters.
But it's not good news for our economy – despite the falsehoods you'll hear from President Trump, his surrogates and their fossil fuel industry backers.
Under the Clean Power Plan, states are supposed to reduce their carbon emissions from existing power plants by about 30 percent.
To do that, states have a variety of good options. They can increase the availability of clean, renewable energy sources like solar and wind. That creates jobs and drives economic growth.
They can pass policies to make energy efficiency improvements in our schools, offices and homes ― saving consumers and businesses money along the way. That creates jobs and drives economic growth.
They can clean up or replace outdated coal power plants, reducing their emissions while increasing their efficiency. Guess what? That creates jobs and drives economic growth.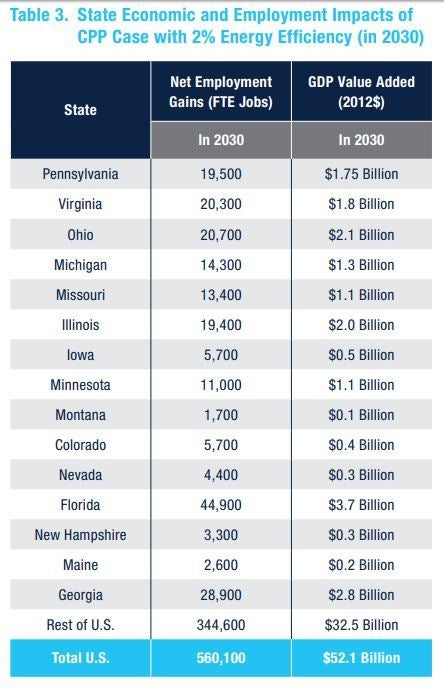 We know that policies that advance clean energy create jobs and drive economic growth in every part of the country
And in California, the state with the country's strongest clean energy policies also has the country's strongest economy. Today, more than 519,000 Californians work in clean energy and more than $45 billion have been invested into the state's economy thanks to California's leading climate and clean energy policies.
By cutting pollution and replacing outdated energy sources with clean, renewable energy, the Clean Power Plan is simply good for our economy and our environment.
Pretending it isn't is like pretending a border wall will stop immigration problems or that climate change is a hoax perpetuated by China.
It's a con job, and Americans can't afford be fooled again.
Calling all HuffPost superfans!
Sign up for membership to become a founding member and help shape HuffPost's next chapter