When it comes to the Middle East, the Islamic Republic of Iran is the linchpin and epicenter of many tensions and conflicts across the region. As an Iranian official stated, Iran dominates four Arab capitals. Countering Iran's military would lead to significant changes reducing the regional conflicts.
The Trump administration should pursue firm policies in countering Iran's militaristic, hegemonic and ideological ambitions. In the eight years of Barack Obama's presidency, Washington was hesitant to take robust stance against the Islamic Republic. It goes without saying that these appeasement policies have turned the regional tensions into conflagration. The creation of concepts such as "moderates" versus "hardliners" is a fallacy. In Iran, authorities do not use these concepts. Iran's politicians across the political spectrum might use different means but they try to achieve the same objectives: preserving the political establishment of the Islamic Republic, Velayate Faqih (the Supreme Leader) and the revolutionary principles of 1979.
Trump should observe and learn the bitter lessons derived from the two terms of the Obama administration. Iranian leaders learned that hardball tactics plays well with the US. Anti-Americanism and Anti-Semitism increased.
Trump administration should take a three-pronged approach toward the Iranian government. Regionally speaking, Washington needs to hold Iran accountable for any aggression, anti-US and anti-Israeli rhetoric. Washington should take legal action when Iran violates UN security resolution such as test firing ballistic missiles or breaching the arms embargo.The US should stand with its Middle Eastern allies to counter the IRGC expansion of its stranglehold in the region and should drive the IRGC forces out of foreign territories. Financing of Iran's proxies and delivery of arms to them should be countered appropriately.
Domestically speaking, the US needs to publicly condemn Iran's increasing human rights violations. With regards to the nuclear agreement, the US should not solely rely on the IAEA to inspect Iran. Since Russia and China will support Iran, the US should take unilateral proportionate action such as re-imposing Obama's repealed sanctions on Iran.
For more details and nuances you can read full versionon Here.
You can sign up for Dr. Rafizadeh's newsletter for the latest news and analyses on HERE.
Harvard-educated, Dr. Majid Rafizadeh is an American political scientist, president of the International American Council on the Middle East, business advisor, and best-selling author. He serves on the advisory board of Harvard International Review.
Dr. Rafizadeh is frequently invited to brief governmental and non-governmental organizations as well as speak, as a featured speaker, at security, business, diplomatic, and social events. He has been recipient of several fellowships and scholarships including from Oxford University, Annenberg, University of California Santa Barbara, Fulbright program, to name few He is regularly quoted and invited to speak on national and international outlets including CNN, BBC World TV and Radio, ABC, Aljazeera English, Fox News, CTV, RT, CCTV America, Skynews, CTV, and France 24 International, to name a few. . He analyses have appeared on academic and non-academic publications including New York Times International, Los Angeles Times, CNN, Farred zakaria GPS, The Atlantic, Foreign Policy, The Nation, The National. Aljazeera, The Daily Beast, The Nation, Jerusalem Post, The Economic Times, USA Today Yale Journal of International Affairs, Georgetown Journal of International Affairs, and Harvard International Review. He is a board member of several significant and influential international and governmental institutions, and he is native speaker of couple of languages including Persian, English, and Arabic. He also speaks Dari, and can converse in French, Hebrew. More at Harvard.
You can also order his books on HERE.
You can learn more about Dr. Rafizadeh on HERE.
You can contact him at Dr.rafizadeh@post.harvard.edu or follow him at @Dr_Rafizadeh.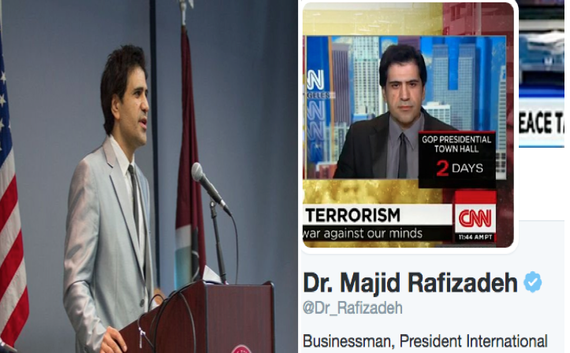 Related
Popular in the Community