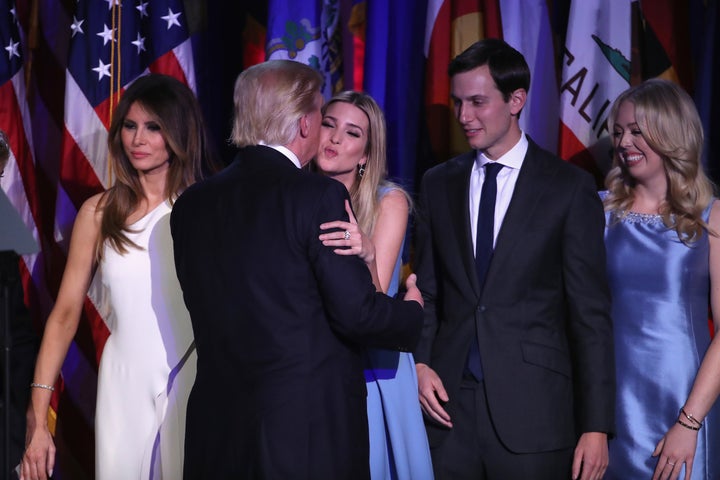 And Wednesday morning, Mario Schlosser and Josh Kushner, the founders of Oscar, a health care startup that sells insurance on the state exchanges Obamacare created, did just that. They say they want more competition in the insurance industry, and they think allowing individuals to buy health care plans with pre-tax dollars would make that happen. Oscar's founders also expressed openness to ideas Republicans have floated in the past.
What's interesting in this case is that Kushner is the brother of Jared Kushner, who is married to Ivanka Trump, the eldest daughter of President-elect Donald Trump. Jared Kushner is also serving on the executive committee of the presidential transition, and could potentially take a senior job in the White House. Venture capitalist and Facebook board member Peter Thiel, who also sits on the executive committee of the presidential transition, is also an investor in Oscar.
A spokeswoman for Josh Kushner and Oscar declined to comment beyond his blog post. Spokespeople for Thiel and the Trump transition did not return requests for comment.
Anti-nepotism laws bar Kushner from taking a paid job in the White House, though he is exploring getting around that rule by taking an unpaid role advising his father-in-law, The New York Times reports.
On the campaign trail, Trump railed against Obamacare and promised to replace it with something better ― though he never said what his alternative was exactly. He told The Wall Street Journal last week that he may try the virtually impossible task of keeping popular parts of the law, like allowing children to stay on their parents' plans into their 20s and barring insurance companies from denying coverage due to pre-existing conditions, while still reducing costs. But in all likelihood, any changes a Trump administration and a Republican-controlled Congress make would be far more favorable to insurance companies.
That would create the potential for a conflict of interest ― or in the very least, the appearance of one ― if Oscar were a run-of-the-mill health insurance company. But the potential is amplified due to the fact that Oscar was started for the express purpose of making money on the state exchanges for individual insurance.
Oscar sells insurance through its website and app directly to individuals who aren't covered by employer insurance or a government program. Individuals who aren't covered are required to buy insurance or pay a penalty under what is called the individual mandate. The federal government partially subsidizes the plans that Oscar sells. Precisely how big that subsidy depends on the type of plan and how much money the person buying it makes.
Federal conflict of interest rules say executive branch employees can't make decisions that affect their family's finances. That means that even if Jared Kushner accepted a job in the White House, which he has not yet, his brother Josh's business falls outside the scope of the conflict of interest laws for federal employees. However, "there might be some question of whether it is appropriate to weigh in on decisions that have an enormous impact on [his] brother's assets," said Richard Painter, a University of Minnesota law professor who was the chief ethics lawyer under President George W. Bush.
"[Oscar] lost $45 million in just the past three months, and a total of more than $230 million in the past 21 months."
Painter, who endorsed Democratic presidential candidate Hillary Clinton, said he would put Oscar "fairly low down the alleged conflicts of interest in the incoming Trump administration." But the conflict is emblematic, he said, of "how the private sector responded to Obamacare." If Obamacare is repealed, a Trump administration is "going to be hurting a lot of people who invested in the system the way it is now... People they know and people they don't know who depend on government being predictable."
Oscar "may be a conflict that helps to temper their decision-making," Painter said.
Whether the Trump administration's decisions could put Oscar on a stable financial path is unclear. The company lost $45 million in just the past three months, and a total of more than $230 million in the past 21 months.
Like other insurance companies, Oscar's founders thought that the new individual marketplaces that Obamacare created would be a large and profitable. While some insurers have profitably sold insurance on the exchanges, Oscar has been unable to. Oscar has spent heavily on cute ads ― it's hard not to see them if you ride the New York City subway ― but most people opt for established brands like Blue Cross and Blue Shield or Cigna.
Oscar is also different from the massive insurance companies in that it doesn't have a diversified revenue stream like corporate plans or government health care programs. That means that while companies like Aetna can choose to either absorb losses in the individual plan market or simply pull out and focus its business elsewhere (Aetna choose the latter in August). Oscar has to date raised a reported $400 million in venture capital because Oscar is losing money on Obamacare, and Obamacare is Oscar's entire business.
Indeed, the core bet of Oscar ― that a startup with a slick app could outsmart the entire insurance industry ― is belied by who has managed to be successful selling plans on the exchanges: companies with a track record of selling plans to individual buyers. That's experience you don't get coding apps.
But only Oscar has an intimate connection to a top adviser to President-elect Trump.
Popular in the Community