But his actual record suggests this is an overstatement.
In fairness, the Trump administration did announce new security measures in June for flights entering the United States from abroad. Not all of those measures have been made public, but the new rules mean in part that U.S.-bound passengers are now asked a round of basic security questions, with enhanced screenings for a selected group of passengers on each flight.
On the other hand, 2017 was just as safe for U.S. aviation as 2016 and 2015, so there's no statistical change to suggest the new security measures had a major impact. (The figure in Trump's tweet refers to aviation safety worldwide, not just in the U.S.) In fact, there hasn't been a fatal commercial passenger airplane crash on an American airline since February 2009, when a Colgan Air Dash 8 propeller plane crashed on approach to Buffalo, New York. Forty-nine passengers on the plane were killed, along with one person on the ground. The National Transportation Safety Board attributed that crash to pilot error, and the following year, President Barack Obama signed a major piece of legislation that raised the bar for commercial flight training, among other safety-related improvements.
But the last major reform of aviation safety in the U.S. nevertheless dates to the Obama administration, while Trump's signature aviation policy thus far has been his proposal to privatize the nation's air traffic control system, part of the Federal Aviation Administration. In a White House ceremony in June, Trump cited the agency's outdated infrastructure and argued such a change was long overdue.
"We live in a modern age, yet our air traffic control system is stuck painfully in the past," he said.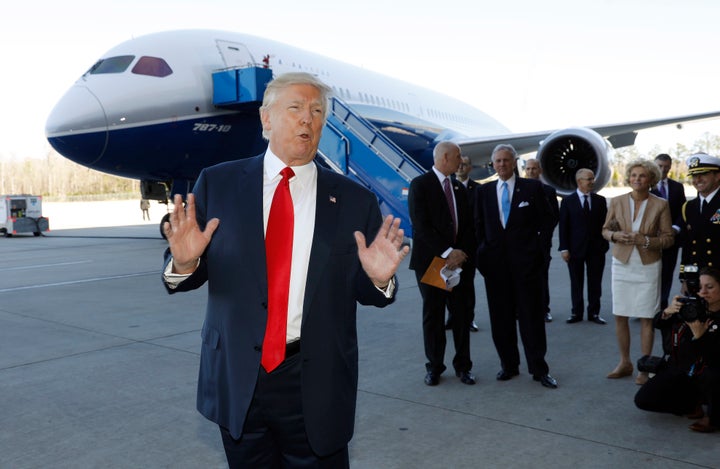 Trump's proposal would have created a not-for-profit corporation funded by user fees, to be governed by a board consisting of representatives from the industry and government. Proponents argued this was the best way to invest the billions of dollars required to overhaul the system. Opponents, like the Aircraft Owners and Pilots Association, which represents general aviation pilots, warned of "unintended consequences and risks."
Then, a little over two weeks later, the Senate killed the proposal, at least for the time being. And as the Washington Examiner reported Tuesday, Rep. Bill Shuster (R-Pa.), Congress' main proponent of air traffic control privatization, plans to retire at the end of his term, which would deal another blow to Trump's signature aviation initiative.
But Trump has not yet nominated Huerta's permanent successor. The White House declined to comment on when an announcement might be made, but offered a statement that echoed Trump's tweet.
"President Trump has raised the bar for our nation's aviation safety and security," Raj Shah, principal deputy White House press secretary, said. "Last year, the President announced his initiative to modernize Air Traffic Control and under his leadership, the Department of Homeland Security released enhanced security measures to ensure safer commercial air travel. The President is pleased there were no commercial airline deaths in 2017, and hopes this remains consistent in 2018 and beyond."
CORRECTION: A previous version of this story said there have been no fatal commercial airplane crashes in the U.S. since February 2009. In fact, three people were killed in an Asiana Airlines crash in San Francisco in 2013.
This article has been updated to reflect Shuster's plans for retirement, and to include information about a commercial freight crash in Alabama in 2013.
Popular in the Community