WASHINGTON ― President Donald Trump ran a populist campaign, but his vision for the Federal Communications Commission, an agency that protects people from predatory telecom and cable companies, is shaping into the opposite, advocates fear.
This week, Trump appointed Republican Ajit Pai — a former Verizon lawyer who opposed many consumer protection regulations as an FCC commissioner — as FCC chairman. (Verizon owns AOL, The Huffington Post's parent company.) 
An FCC spokesman told HuffPost that the enforcement bureau under Pai "is committed to protecting consumers" and "will be guided by the law and by evidence found during careful investigations."
The spokesman also noted that Pai has cast "numerous votes" to take action against companies who have taken advantage of consumers, particularly through phone cramming and slamming.
The prison phone plan Pai opposed affected people like Wandjell Harvey-Robinson, a 20-year-old advocate from Champaign, Illinois. Her parents were incarcerated when she was in third grade, and the phone calls were so expensive, Harvey-Robinson said she got less than a minute to talk to her mom. All she had time for, she said, was "Hey, I hope you're doing okay, school is going good, pass the phone."
Harvey-Robinson recalled how ecstatic people were when the FCC's ruling —which is currently being challenged in court — came down in 2015, and she's worried about the new administration. "By them coming into office ... they're changing so many things that people are relying on," she said.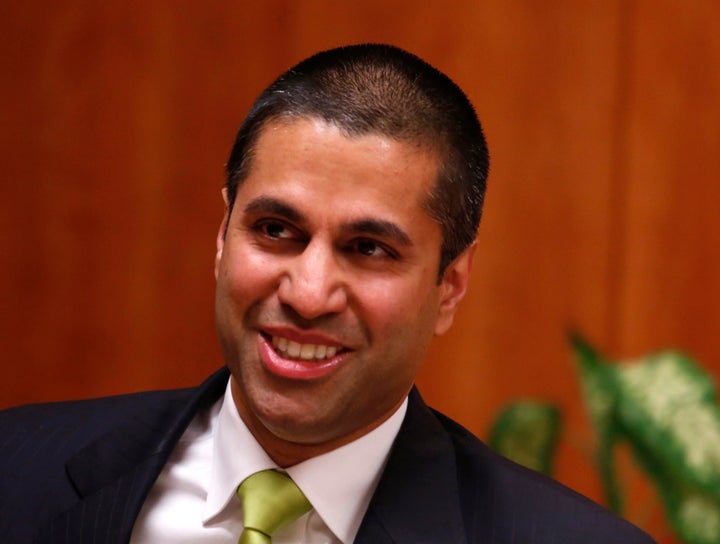 "You can't have rules without enforcement," former FCC Chairman Tom Wheeler told HuffPost last week. "There's almost an existential question here...if we are an agency that creates rules, then there ought to be the expectation that those rules weren't just some kind of intellectual exercise, that they were put in place for a reason and they ought to be followed."
Last year, the FCC announced an $11 million fine against several long-distance carriers, in part due to deceptive marketing. In that case, the FCC cited a complaint from a woman known as "Ms. Bingham" who disconnected her grandmother's phone after the elderly woman passed away in January 2013.
The phone company continued to bill Bingham's grandmother for long distance service, she claimed. Bingham called Central Telecom Long Distance to explain that her grandmother had never bought this service, and she was being mistakenly billed. To prove otherwise, the company played a recording of her grandmother, who "was obviously confused," Bingham wrote in her complaint.
Bingham's grandmother told the company she did not make long distance calls, and she did not know her own address or phone number. "It was so hard to listen to her confusion," Bingham said.
As a commissioner, Pai did vote in favor of fining that company. But advocates say that the rest of his record speaks for itself. 
"When you signal to the industry, 'Totally go to town, do whatever you want, you're safe with us, they will," said Harold Feld, senior vice president of the advocacy group Public Knowledge. 
They're changing so many things that people are relying on.

Wandjell Harvey-Robinson
Meanwhile, some members of Trump's transition team support a radical plan that would gut the FCC's authority to protect consumers.
According to Multichannel News, the new administration supports moving the agency's consumer protection functions to the Federal Trade Commission, which is ill-equipped to take on the FCC's workload. The FTC can conduct investigations, but does not have the same rulemaking authority.
The FTC also does not have legal jurisdiction over the companies the FCC does, like common carriers, so it can't do things like pass strong net neutrality rules. On top of that, the FTC already has to "worry about everything from computer chips to bleach" Wheeler said. "You get lost in that."
Travis LeBlanc, who was head of the FCC's Bureau of Enforcement under the Obama administration, also pointed out that generally, "even ... with both the FCC and the FTC on the beat, there's still more work than both agencies can do right now."
This plan would require congressional approval, but the possibility has advocates worried that it would weaken protections for consumers.
Feld said the proposal suggests that members of the Trump team don't "care about consumers and find[s] them a nuisance."
"That's fine if you're a Washington think tank. It's not a good idea for an actual federal agency," he added. 
Susan Grant, director of consumer protection and privacy at the Consumer Federation of America, pointed out that the "two agencies are quite different" and said the FTC does not "have the expertise in communications service issues."
But Mark Jamison, a visiting fellow with the American Enterprise Institute who advised the Trump transition team, said it's his view that he has no preference about whether consumer protection is done at the FTC or the FCC. Moving it to the FTC "would be fine," he said, adding, "I am skeptical of having two cops on the beat because their rules may conflict." He noted that he was not as familiar with consumer protection issues.
Another former transition team adviser, Roslyn Layton, told HuffPost that she wants the agency to strengthen consumer protection — but incorporate the standard of the FTC.  
An FCC spokesman declined to comment on whether Pai, the new chairman, supports moving consumer protection to the FTC.
How will Trump's first 100 days impact you? Sign up for our weekly newsletter and get breaking updates on Trump's presidency by messaging us here. 
Sign up for the HuffPost Must Reads newsletter. Each Sunday, we will bring you the best original reporting, longform writing and breaking news from The Huffington Post and around the web, plus behind-the-scenes looks at how it's all made. Click here to sign up!
Calling all HuffPost superfans!
Sign up for membership to become a founding member and help shape HuffPost's next chapter