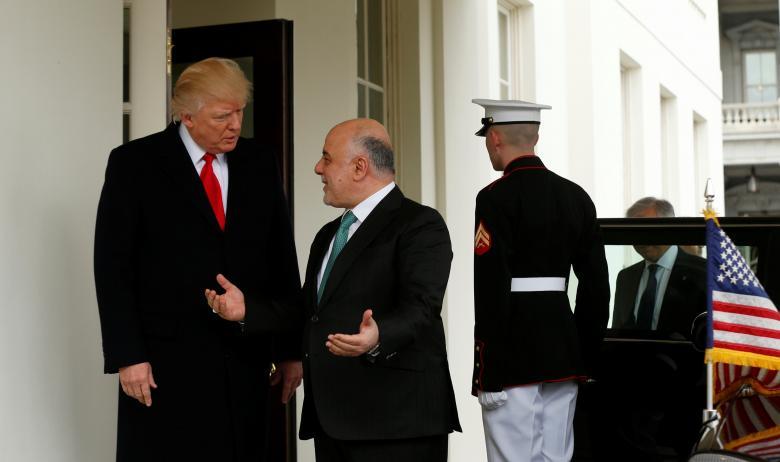 Iraqi Prime Minister Haider al-Abadi arrived Washington, DC Monday on a visit to meet president Trump, along with Vice President Mike Pence, Secretary of State Rex Tillerson, Speaker of the House Paul Ryan and members of Congress. This is the first time a high-level Iraqi official will meet face-to-face with Trump, who has said that he feels his country has spent a lot on Iraqi security since the 2003 invasion without getting anything back in return.
The Prime Minister's office issued an official statement Sunday saying that the goal of Monday's visit is to improve bilateral relations between the two countries, with a focus on military and economic ties. al-Abadi will also meet with officials from a number of international institutions and organizations, and will attend a meeting of the global coalition working to defeat ISIS.
It is clear that the support of the US-led coalition, including the deployment of American troops on the ground, will play a huge role in minimizing the time Iraqi security forces will need to retake the western side of Mosul. American forces operating out of the Qayyarah airbase have been involved throughout the battle, using Apache helicopters and smart missiles to fend off ISIS fighters inside the city.
The battle to retake Mosul in its entirety is likely to end before mid-April, given the progress made so far, and follows many other battles to eliminate ISIS' presence in Iraq completely.
Without the continued assistance of the international coalition and American forces, the Iraqis won't be able to defeat ISIS. But Iraqi media outlets, mainly those run by Shiite parties or backed by Iranian funds, insist that it is Iran has been the main contributor to the fight for retaking Mosul.
President Trump increased the presence of American forces in Syria this month. American aircraft also still use freely the many Iraqi airfields like Al Asad Airbase and Al-Taqaddum Airbase at Habbaniyah, as well as various also air bases in Kurdistan. Additionally, several hundred Marines were deployed to Syria earlier this month as part of an operation to retake the cities of Raqqa, the de-facto capital of the self-proclaimed Islamic State, and Deir Al Zor. They have entered Syria through the country's Turkish border, but they will need to be able to operate in western Iraq to succeed in capturing Raqqa.
al-Abadi knows Iraq will never survive unless it receives real support comes from Washington. Thus, in the coming August election, al-Abadi might break away from Al Dawa Islamic party currently led by former prime minister Nouri Al Maliki, and instead create and lead his own party.
With a new administration in office, al-Abadi will need to listen to language which may be quite different from what he is used to hearing from Obama administration. al-Abadi has always stressed that his first priority to defeat ISIS, and has shelved government reforms and programs to support reconciliation between the country's divided political, ethnic, and sectarian groups. In the weeks after al-Abadi comes back from DC, Iraqis will see what kind of exhortation he gets from the new US administration.
This piece was edited by H. Graph Massara, UC Berkeley.
REAL LIFE. REAL NEWS. REAL VOICES.
Help us tell more of the stories that matter from voices that too often remain unheard.
This post was published on the now-closed HuffPost Contributor platform. Contributors control their own work and posted freely to our site. If you need to flag this entry as abusive,
send us an email
.