WASHINGTON ― Four weeks after loudly celebrating its own role in bringing home an imprisoned American aid worker from Egypt, the Trump White House has taken no steps to engage the families of three other detained Americans.
Seventeen-year-old Ahmed Hassan of Pomona, New Jersey, has been held in overcrowded Egyptian facilities with adults since December. Ahmed Etwiy, 26, and Mustafa Kassem, 52, both from New York, have each been detained for nearly four years without receiving prison sentences.
In early April, President Donald Trump personally spoke with Egyptian President Abdel-Fattah el-Sissi about the case of imprisoned American aid worker Aya Hijazi, 30, who had been jailed for almost three years. An Egyptian court acquitted her weeks later, closing a case widely seen as an unsubstantiated witch hunt devised to boost Sissi's image as a tough ruler independent of Washington.
A U.S. military plane flew Hijazi home, and the Trump administration soon released photos of her in the Oval Office with the president and White House aides Ivanka Trump and Jared Kushner. Later that day, Trump boasted about the accomplishment via Twitter, in the form of a bizarre, self-congratulatory video set to the song "Proud To Be An American."
The three other detainees and their families grew hopeful, Hassan's pro bono lawyer and relatives of Etwiy and Kassem told HuffPost this week. But they have since been disappointed. There's no sign that the Trump administration is treating the remaining cases as priorities, they said. And a previously unreported May 2 State Department letter to Congress about Hassan's case avoided answering the question of whether Trump mentioned him or the other detainees when he met with Sissi.
"My expectations changed greatly," Dr. Nagwa El Kordy, Etwiy's mother, told HuffPost in an email. "Seeing Aya released after all this time gave me hope that the same can happen for my son. So far nobody from the Trump administration has contacted me. And the [American] embassy in Cairo hasn't visited him for almost 3 months."
Praveen Madhiraju, an attorney for Hassan and the executive director of the nonprofit Pretrial Rights International, said the White House has not responded to multiple entreaties from Hassan's family and lawyers ― including a letter the American teenager personally addressed to Trump.
And Mustafa Hussain Ahmed, Kassem's brother-in-law, said he had no idea how to even contact Trump's team. He asked if HuffPost could connect him.
The White House did not respond to a request for comment. Will Cocks, a spokesman for the State Department's consular affairs bureau, said he could not comment on the three Americans' cases because of "privacy considerations."
"We're aware of media reports of U.S. citizens detained in Egypt," Cocks wrote in a Friday email. "One of the most important tasks of the Department of State and U.S. embassies and consulates abroad is to provide assistance to U.S. citizens who are detained abroad."
"When a U.S. citizen is detained overseas, the Department works to provide all appropriate consular assistance... [which] may include attempting to ensure that the detained/arrested U.S. citizens receive a fair and speedy trial with the benefit of legal counsel; visiting detained/arrested U.S. nationals in prison to ensure that they are receiving humane treatment, including medical treatment if needed; facilitating communications with their families or others as they wish; and assisting with the transfer of funds from family and friends in the United States to pay for attorneys' fees, food, and medicine while incarcerated," Cocks went on.
Representatives for the three jailed Americans say they are dealing with the challenges Cocks describes with only minimal U.S. government support.
Hassan's last appeals hearing, an opportunity for him to gain an early reprieve on his one-year sentence for challenging police officers who wanted to arrest his uncle, was meant to be on April 19. But authorities pushed it to July because, they claimed, not enough police officers were available to escort the 17-year-old to the courthouse.
Etwiy and Kassem have been charged but not sentenced. Both have been in prison for nearly four years since being swept up in mass arrests during 2013 political protests. Etwiy has experienced depression and severe food poisoning, according to his mother; Kassem has had to wait up to two weeks for deliveries of the blood sugar control drug, NovoLog, that he uses to manage his diabetes, according to Ahmed, his brother-in law. Ahmed said the American consular visits were "useless" because officials told Kassem they could not be helpful beyond ensuring he does not die.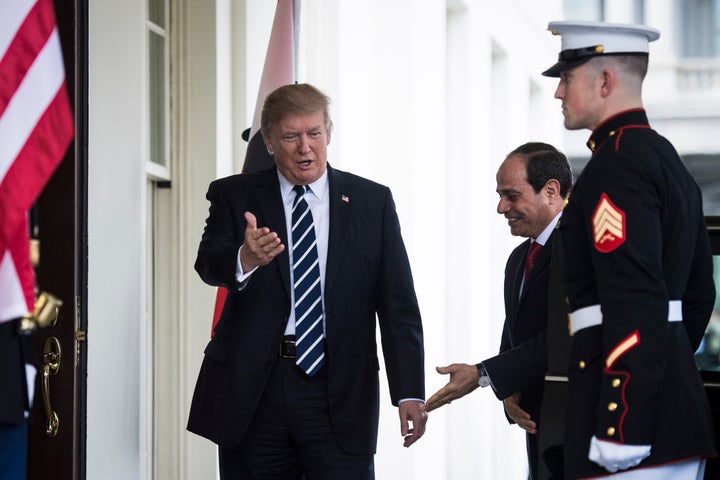 The U.S. has maintained a close relationship with Egypt despite growing human rights concerns. At least 30,000 people have been arrested since the military took control in a Sissi-directed 2013 coup. Mass trials, beatings and solitary confinement have become common, and hundreds of prisoners remain behind bars long beyond legal limits on pre-trial detention. Human rights advocates say Egypt is experiencing the worst government repression in its contemporary history. Cairo claims the actions are necessary to combat terror, while outside analysts say Egypt is actually allowing the militant group known as the Islamic State to thrive.
Estimates vary on how many Americans have been affected by the surge in state-sponsored violence. NPR reported a figure of 20 in April, but the Egyptian-American activist Mohamed Soltan, himself a former prisoner, told HuffPost this week that he thinks the number is now nine. The State Department refused to provide details. Egypt's embassy in Washington did not respond to a request for comment.
It's unclear what Trump and his team are willing to do for these Americans. Soltan believes Egypt's regime is more likely to respond to requests from Trump because of the personal praise he has showered on Sissi, one of the many authoritarian leaders Trump frequently mentions as favorite peers. The two presidents may see each other later this month when Trump meets with a group of Muslim leaders from around the world in Saudi Arabia.
But the White House's approach thus far does not suggest such personal requests are forthcoming. Hassan's congressional representatives, Sens. Cory Booker (D) and Bob Menendez (D) and Rep. Frank LoBiondo (R) of New Jersey, sent Secretary of State Rex Tillerson a letter on April 25 inquiring about whether Trump or Tillerson had raised the young American's case during meetings with Sissi earlier that month.
On May 2, State Department official Joseph McManus responded to LoBiondo in a message the congressman's office shared with those of the two senators. (No similar response was sent to Booker; Menendez's office did not respond to a request for comment. Madhiraju, Hassan's lawyer, said he was not aware of the contents of the message.)
"We have been closely monitoring Ahmed's case, including ensuring fair trial guarantees are respected," McManus wrote in his letter to LoBiondo.
McManus acknowledged that Egyptian authorities had delayed Hassan's appeals hearing. "We have contacted Egyptian authorities to request an earlier hearing," he wrote. He also said consular officials had visited the young American twice and requested a third visit. Hassan had not been moved to a juvenile facility because his family wanted him to stay at the police station where he was originally detained, McManus said.
"We are in frequent contact with Ahmed's family here and in Egypt," he wrote. "During the consular visits mentioned above, Ahmed has not made any allegations of mistreatment during his incarceration... The family has told us they have regular access to him and that he has been treated fairly well. Ahmed's father recently expressed concern to a consular officer about crowded and uncomfortable conditions at the police station, but told the officer he would confirm with Ahmed before for assistance to have him moved. If Ahmed requests a move during his next consular visit or through his father, we will contact the appropriate Egyptian authorities to facilitate that request."
The letter did not respond to the third question in the lawmakers' original letter to Tillerson: "Did you or President Trump raise Ahmed's case and those of other American citizens when President Sissi visited Washington in early April?"
After being informed of the letter's contents, Hassan's attorney told HuffPost the State Department accurately described its efforts so far but that they were insufficient. "State's first responsibility is to make sure one of ours has a fair trial and is treated humanely. If they are imprisoned unjustly, it's then the President's duty - both legal and moral - to demand their release," Madhiraju wrote in a Saturday night email. Hassan "wasn't able to speak with his attorney before trial. Etwiy and Kassem have been in jail for more than three years without trial. Monitoring their conditions is not enough."
Despite Trump's talk of always putting America and Americans first, advocates believe more high-profile attention is necessary to really prompt a U.S. government push.
"It's important to note how crucial public opinion is in creating pressure on the administration to act more intentionally on behalf of these citizens," Soltan and his sister, Middle East strategy consultant Hanaa Soltan, wrote to HuffPost. "Mohamed's and Aya's case both garnered quite a bit of attention before the administrations were moved to act on them as they did." (The Obama administration lobbied for Mohamed Soltan's release in 2015.)
"Every case is a combination of factors, of sustained public and private engagement with the Egyptians at multiple levels from multiple actors. The strategy also depends upon what stage the case has reached in Egypt," said Wade McMullen, an attorney for Hijazi, the freed aid worker, at the Robert F. Kennedy Human Rights nonprofit. "President Trump and his administration deserve credit for personally engaging on Aya and [her husband] Mohamed's case with President Sisi and other Egyptian officials. But a lot of people deserve credit for Aya's and Mohamed's freedom."
In a Wednesday email, McMullen cited the Egyptian legal team, Sen. Tim Kaine (D-Va.) and Rep. Don Beyer (D-Va.) and advocacy organizations and U.S. officials.
For now, the other Americans remain behind bars.
"Trump is spending his weekends golfing in Bedminster, N.J., while Ahmed will spend his 18th birthday in jail," Madhiraju said, noting that Hassan's birthday is on May 25 and that the president is legally required to make inquiries to any foreign government that unjustly detains an American.
Hassan described the conditions in his March letter to Trump.
"I've been in jail in Egypt since December 1, 2016, and am laughed at and mistreated by the police here because I am American. Please help me," he wrote. "I am in a jail cell with more than 20 adults. It is scary to be here with these people and the police... I am proud to be an American. I beg you to defend my right to be free."
CORRECTION: An earlier version of this story misidentified Hanaa Soltan as a lawyer. She is a consultant focused on Middle East affairs who works closely with lawyers and advocates on issues like helping Americans detained abroad; she is not an attorney.
Support HuffPost
The Stakes Have Never Been Higher
Popular in the Community