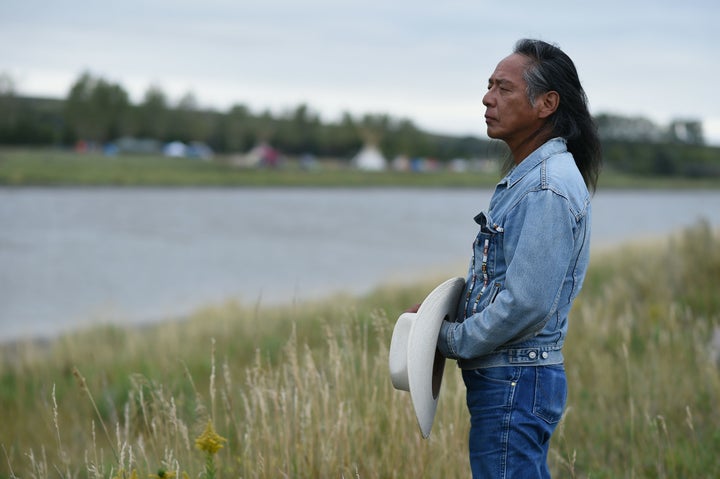 The Standing Rock Sioux Reservation in North Dakota has been thrust into the national spotlight since the protests over the Dakota Access Pipeline (DAPL) have increased tensions in the region. The DAPL is a proposed 1,100+ mile pipeline that is set run from North Dakota down into Illinois. If constructed, it will transport crude oil through four states.
Environmental activists and members of the Standing Rock Sioux Tribe have been strictly opposed to the particular route the pipeline is set to take, as it runs the risk of poisoning the drinking water for millions of people (it would pass under Lake Oahe and the Missouri River) if a leak occurs, and it would traverse through and destroy sacred ground.
These concerns are entirely valid. Crude oil pipelines spring leaks quite often. As the Chicago Tribune reported, referencing data from the Pipeline and Hazardous Materials Safety Administration, there have been over 2,000 pipeline incidents resulting in 347 fatalities, and 1,346 injuries since 1995. And this data does not even speak to the environmental and economic impact of these incidents, which can be catastrophic. And keep in mind the original proposed route of the pipeline was to cross the Missouri much further north, but that was rejected when residents of nearby Bismarck, ND expressed fears over the potential pollution of their water supply. So, as the U.S. is wont to do, we cater to the conventional/white demographic and force the native people bare the brunt.
Back in August, thousands of protesters led in large part by the Standing Rock Sioux, headed to known sites to stop the construction. Since then, a brutal battle has ensued. Construction began in early September despite the multiple lawsuits and injunctions filed against it. It was temporarily halted on September, 6th, although significant damage was already done to sacred Sioux ground. On September, 9th, shortly after a judge denied the Standing Rock injunction, the Department of Justice, the Department of the Army and the Department of the Interior issued a joint statement which said they would not authorize further construction:
The Army will not authorize constructing the Dakota Access pipeline on Corps land bordering or under Lake Oahe until it can determine whether it will need to reconsider any of its previous decisions regarding the Lake Oahe site under the National Environmental Policy Act (NEPA) or other federal laws. Therefore, construction of the pipeline on Army Corps land bordering or under Lake Oahe will not go forward at this time. The Army will move expeditiously to make this determination, as everyone involved — including the pipeline company and its workers — deserves a clear and timely resolution. In the interim, we request that the pipeline company voluntarily pause all construction activity within 20 miles east or west of Lake Oahe.
Unfortunately, as these things are never easy, construction has continued, protests have grown and tensions have reached a fever pitch over the last few months. On September 8th the National Guard was called in to help law enforcement efforts. They came rolling in on military vehicles armed in full riot gear. What resulted, unsurprisingly, has been escalating violence, followed by hundreds of arrests. The National Guard has used rubber bullets, pepper spray, dogs and tear gas among other questionable tactics, and a few of the protesters have responded with Molotov cocktails, and one allegedly fired a gun at police.
The anger of the protesters is completely warranted.
The way our country has treated Native Americans since Christopher Columbus first dug his boot into native soil is disgraceful and horrific - and it still continues. We stole and destroyed their land, slaughtered their people, disregarded treaties and forced our way of life upon them. We've been oppressive savages for too long. Enough is enough is a banal cliche we really need to heed. This country needs to take onus for the atrocities we've committed upon these people. The DAPL should not go anywhere near the Standing Rock Sioux Reservation, nor should it run beneath Lake Oahe or the Missouri River. Period.
We as Americans should all be on the side of the Standing Rock Sioux. It's about time we recognized the native people of this country and respected and honored their heritage instead of ramming our capitalistic endeavors down their throats. This should be an obvious and politically safe stance.
And yet, neither major party presidential nominee has issued a significant statement on the DAPL. This is utterly staggering. Hillary Clinton issued a statement that is middle-of-the-road, veneer-thin placating.
We received a letter today from representatives of the tribes protesting the construction of the Dakota Access Pipeline. From the beginning of this campaign, Secretary Clinton has been clear that she thinks all voices should be heard and all views considered in federal infrastructure projects. Now, all of the parties involved—including the federal government, the pipeline company and contractors, the state of North Dakota, and the tribes—need to find a path forward that serves the broadest public interest. As that happens, it's important that on the ground in North Dakota, everyone respects demonstrators' rights to protest peacefully, and workers' rights to do their jobs safely.
It's an acknowledgment of awareness, which is better than Trump, who hasn't even mentioned it and may be directly connected with certain people behind the pipeline's construction, but that's a pretty low bar.
It's just not enough; it's not even close to enough.
Green Party Candidate Jill Stein ― regardless of her bevy of policy deficiencies ― has been there on the front lines. She has a warrant out for her arrest for spray painting a bulldozer at Standing Rock while protesting. Now that may have been a bit much for a presidential candidate, but at least she's doing something. And Bernie Sanders has joined the protests, he wrote a letter to President Obama asking him to intervene on behalf of the Standing Rock Sioux and he's written about the issue on his website.
Secretary Clinton still hasn't learned that this is why young people love Bernie Sanders. Because he does a lot more doing than saying. Nobody was expecting much from Donald Trump, so his lack of substance and potential connection to the DAPL is not surprising in the least.
But Hillary should be doing more. A lot more.
At the very least she should make a strong statement in support of the Standing Rock Sioux. By keeping the issue in her periphery and monitoring it while traipsing along a political tightrope, she is showing how centrism can be downright handicapping.
(If you're looking for ways to help the Standing Rock Sioux, head over to the Free Thought Project. They have a great breakdown of the best people to contact, petitions to sign, and places to donate to.)
Popular in the Community