Assuming he isn't ousted as the GOP's presidential nominee at the party's Cleveland convention next month, who will be Donald Trump's vice presidential running mate? The field keeps narrowing, as more and more Republicans - including Florida Gov. Rick Scott, Ohio Gov. John Kasich, and former Secretary of State Condoleezza Rice -- distance themselves from Trump. As the pickings get slimmer and slimmer, Trump will have to figure out who can best help him climb out of the quicksand he's jumped into with his big mouth, excessive ego, and lack of impulse control.
In handicapping the VP sweepstakes, many pundits think former House Speaker Newt Gingrich is the most likely choice. If Trump picks Newt, they could adopt the slogan: "Two men. Six wives. Family values." Or, as UCLA law professor Jonathan Zasloff suggested, they could call themselves the "Henry VIII ticket" in honor of their multiple marriages during their (combined) 143 years. Their campaign film could be called the "Six Wives Club."
We all know about Trump's misogynyst attitudes toward women, his obsession about the size of his penis, his boasts about his sexual conquests, and his three marriages. When he was deposed in the 1991 divorce proceedings with his first wife, Ivana, he invoked the Fifth Amendment 97 times, mostly in response to questions about "other women." During the divorce contest, Ivana accused Trump of having raped her. (Would anyone be surprised if we start hearing more women accusing Trump of being a sexual predator?).
So perhaps, in Trump's eyes, it would help "balance" the GOP ticket by adding another three-marriage adulterer.
Gingrich cheated on his first wife, Jackie, while she was recovering from treatment for cancer in 1980 and asked her for a divorce. Then he cheated on his second wife, Marianne, while having a six-year affair with a staffer, Callista Bisek (23 years his junior), who is now his third wife. In 2012, Marianne Gingrich told ABC News that her husband had asked her for an "open marriage." "And I just stared at him and he said, 'Callista doesn't care what I do,'" she revealed. "He wanted an open marriage and I refused."
Gingrich's other ethical problems also won't help Trump clean up his act. Gingrich violated campaign finance laws while in Congress. His House colleagues fined him $300,000 for his breach of ethics standards. The entire House passed the ethics report by 395 to 28 vote, including by a 196-26 margin among Republicans. He was the first Speaker in American history to be sanctioned in this way.
Like Trump, Gingrich also has a precarious relationship with the truth. Politifact and FactCheck has consistently found that many of Gingrich statements are misleading or outright lies. When he was running for president in 2012, for example, he repeatedly claimed that "more people have been put on food stamps by Barack Obama than any president in American history." He was wrong. More people were added under George W. Bush than under Obama. Over the years, Gingrich has been a bottomless pit of wacky ideas. During his presidential campaign he proposed doing away with child labor laws, which he called "truly stupid." He suggested that children should be allowed to work as janitors at their schools.
After he left Congress, Gingrich made a fortune as a corporate lobbyist and influence peddler. In 2003, for example, Gingrich met with two dozen Republican House members, trying to persuade them to to support a Medicare prescription drug benefit at the same time that he was soliciting funds from drug companies for his consulting firm.
On a practical side, it isn't clear that Gingrich helps Trump win any states. And although Gingrich is a right-wing extremist, he's much more articulate than Trump, which makes him look smarter - something that Trump might not be able to handle.
How do Newt's leading rivals for the VP slot compare?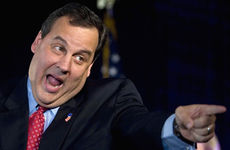 Chris Christie. Like Gingrich, New Jersey Gov. Chris Christie desperately wants the VP job. He's certainly been willing to humiliate himself to be seen with Trump over the past few months, serving as Donald's errand boy. (Trump even had Christie fetch him a Big Mac). The combination of Trump's Trump University controversy and Christie's George Washington Bridge-gate crisis would make it easy for the media to portray a Trump-Christie ticket as the "Scandal Twins." Plus, Christie wouldn't help Trump win key states. He won't even help Trump win New Jersey because the governor is so unpopular in his home state. Seven New Jersey newspapers, including the Star-Ledger, the state's largest daily, have called on Christie to resign.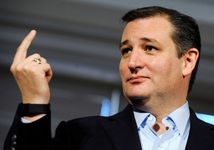 Ted Cruz. The Democrats would love to replay the videos of Trump and Cruz attacking and insulting each other during the GOP primaries. Cruz called Trump a "serial philanderer," a "pathological liar" and a "narcissist." Trump accused Cruz's father - a right-wing evangelical extremist - of playing a role in the Kennedy assassination. Plus, Cruz is so unpopular with his GOP Senate colleagues that it will not bring any reluctant Senators on board the Trump train.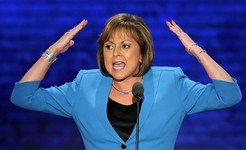 Susana Martinez. Absolutely the best person to help Trump would have been New Mexico's Republican Governor. She might have muted (somewhat) Trump's attacks on women and Latino/as. But Trump blew that chance with his nasty comments about Martinez when she wouldn't endorse him. He might have been able to cultivate her, but no longer.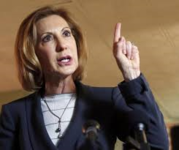 Carly Fiorina. It might be awkward for the fired Hewlett Packard CEO and failed Senate and presidential candidate to serve as Trump's VP running mate. During the primaries, Trump indulged in his instinct for insult when, referring to Fiorina, then his rival candidate for the GOP nomination, he said: "Look at that face! Would anyone vote for that? Can you imagine that, the face of our next president?" Trump might be tempted to ask another corporate CEO -- or retired CEO - to join him on the ticket. But that would mean that the GOP would have two candidates from the business sector, both without any political experience (unless he picks former CEO's Dick Cheney or Donald Rumsfield). That won't fly.
So who's left? It boils down to the following list: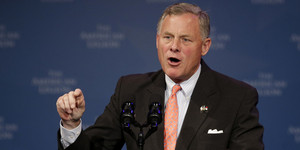 Richard Burr. The Senator from North Carolina is not well-known outside his home state, where he now faces a tough re-election campaign. Polls show that he currently leads his Democratic rival, former NC state Rep. Deborah Ross, by a narrow margin, but with Trump at the top of the ticket, Burr will have an even harder time getting re-elected in that swing state. So he might want to get out of that race while the getting's good. (He can't run for his Senate seat and VP simultaneously.) Burr is on the Senate Intelligence Committee, which could help Trump by picking someone with foreign policy experience, but he might balk at having a VP candidate with intelligence.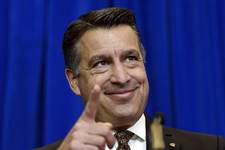 Brian Sandoval. The Nevada governor might be Trump's best bet - a Latino Republican in a swing state who has already endorsed The Donald. (He initially endorsed Kasich but switched to Trump after Kasich dropped out). But given the likelihood that Trump will lose to Clinton in a crushing landslide, accepting the VP nomination might end Sandoval's political career. (He might want to wait four years and be Paul Ryan's VP pick, if Susana Martinez doesn't get it). A former federal judge, Sandoval is quite conservative, but within the GOP he's considered a "moderate."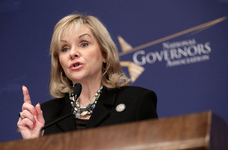 Mary Fallin. The Oklahoma governor, whom some have called "America's worst governor," is an extreme right-winger, which could appeal to some Tea Party voters who somehow think Trump isn't conservative enough. Tea Partiers will have an easy time remembering her name, because it sort of rhymes with Palin. It is hard to imagine that anything could help Trump gain support among women, but putting a woman on the ticket might get him a few more female votes. Given Trump's deeply-ingrained misogyny, however, he's likely to insult Fallin during the campaign.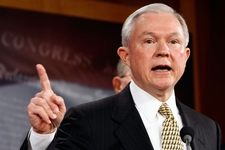 Jeff Sessions. The Senator from Alabama is as racist and as fierce an opponent of immigration as Trump. In 1986, Reagan nominated Sessions to be a judge of the U.S. District Court for the Southern District of Alabama. The Senate Judiciary Committee killed Sessions' nomination, partly after hearing witnesses report on some of his racist views. He was only the second nominee in 50 years to be rejected by the Senate judiciary committee. If Trump can't win Alabama on his own, he's in huge trouble. But Sessions has the advantage of being a veteran Senator with political experience, offsetting Trump's inexperience. An upside for Republicans of picking Sessions is that if he loses, he can return to the Senate, since he's not up for re-election until 2020. And if, by some chance, Trump and Sessions win, Alabama's Republican governor Robert Bentley will pick his successor, assuming that Bentley hasn't already been impeached as a result his current sex scandal.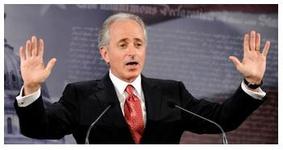 Bob Corker. The Senator from Tennessee has endorsed Trump and was reportedly high on the VP list, he's recently criticized Trump for some of his more outlandish comments, such as Trump's racist attacks on a federal judge presiding over the case against Trump University . Corker is chair of the Senate Foreign Relations Committee, which would help Trump, whose bombastic shoot-from-the-hip remarks don't give people confidence in his diplomatic skills. But Corker also comes with some serious negatives. It's hard to believe that America is ready for a ticket comprised of two men who made millions in the real estate business. And, like Trump, he's got his own tax scandals. Corker failed to disclose $2 million dollars worth of hedge fund profits and millions more of income from his commercial real estate business.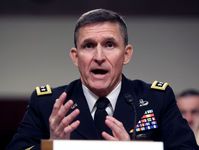 A retired general. Many ex-military brass and a bipartisan group of national security heavyweights think Trump is a reckless lunatic. Both camps have issued statements questioning Trump's qualifications to conduct military and foreign policy. But if Trump can find a former military leader who also has some foreign policy experience, and would be willing to serve as his VP, it might help him gain some credibility and offset some of the crazy ideas he has been promoting, like cozying up to Putin and endorsing the spread of nuclear weapons. He'd have to be careful to vet the retired general to make sure that he hasn't made a fortune as a lobbyist for a military contractor or called for a nuclear attack on Iraq. Lt. Gen. Michael Flynn (pictured above) -- a retired soldier who deployed to Iraq and Afghanistan.-- is rumored to be on Trump's short list. In 2012 he was named director of the Defense Intelligence Agency but was forced out in 2014. He is working as an adviser to Trump and has been very critical of both Barack Obama and Hillary Clinton. He has a book coming out next month, "The Field of Fight: How We Can Win the Global War Against Radical Islam and Its Allies," that sounds right up Trump's alley. But Flynn has made a number of controversial statements that could backfire during the campaign.
Peter Dreier is professor of Politics and chair of the Urban & Environmental Policy Department at Occidental College. His most recent book is The 100 Greatest Americans of the 20th Century: A Social Justice Hall of Fame.
Popular in the Community