Donald Trump's recent campaign ad celebrating the Hindu holiday Diwali will go down as one of the more peculiar ones of the 2016 presidential election. In it, he proclaims in stilted Hindi "Ab ki baar Trump sarkaar" ("This time, a Trump government"). The 30-second ad wraps up with Trump professing his love for Hindus and India at an event sponsored by the Republican Hindu Coalition that he attended in New Jersey.
With mere days remaining until Election Day, why would Trump's campaign be spending vital resources, even sending his daughter Ivanka to a Diwali event in Virginia, to court the backing of the Hindu-American community, which comprises less than 1 percent of the U.S. population and, according to polls, shows only 7 percent support for Trump's candidacy? His position in relation to Hindu-Americans also seems contradictory to negative statements that he has made towards many other minority and immigrant communities in the U.S.
This pivot to India and Hindus can be in part attributed to one man—the wealthy Chicago industrialist and founder of the Republican Hindu Coalition Shalabh Kumar. As a longtime fundraiser for the Republican Party and immigrant from the Punjab region of India, Kumar has been a source of increasing linkages over the past years between Republican leadership and the Hindu nationalist Bharatiya Janata Party (BJP) whose leader, Narendra Modi, currently serves as Prime Minister of India. He paid for a trip to India for Republican members of Congress to meet with Modi, and Modi even appeared in a 2014 video supporting Kumar's political action committee formed to support Republican congressional candidates.
Kumar's strong support of Trump, which includes a $1.1 million campaign donation, is further a sign of the strong ideological bonds between Trump's campaign and the BJP. Much of the rhetoric and policies of Prime Minister Modi would sound very similar to what the U.S. hears from Trump and his surrogates. Modi's rhetoric stresses the need for economic growth, a fight against corruption, antipathy towards a neighboring country, and an uncompromising stand against Islamic terrorism. Modi's campaign slogan will also sound familiar—"Ab ki baar Modi sarkaar." Trump himself has praised Modi and his leadership on a number of occasions.
While in India over the previous summer, a number of BJP supporters told me that Trump and the rhetoric of his campaign mirrors what they love in Modi, using the same reasons to praise both men. They held rallies and traditional Hindu ceremonies for Trump in Delhi, citing economics and his hardline position against Muslims and immigrants as the reasons for their support. In one instance in Amritsar, Punjab, two young men, after spotting me walking on the other side of a busy highway, even bolted across traffic on their scooter in order to eagerly tell me they hoped Trump wins because of his business experience. Though, I spoke with many people who were skeptical of both politicians.
But what do this kind of support and emulation of Modi's leadership say about a potential Trump presidency?
The positions of the BJP, according to many of Modi's critics, has bred and exacerbated the politics of divisiveness within India, especially towards the Muslim community. The BJP grew out of the Hindutva ideology that emerged in the early 20th century and stresses above all the need to emphasize the Hindu faith, history, and culture as the defining features of Indian civilization and identity. It points to the corrupting influence that the presence of foreigners have had on Indian culture throughout history, especially Muslims who ruled the subcontinent for centuries and today comprise nearly 15 percent of the population. This ideology, now the official ideology of the BJP, was promoted by the activities of the BJP's predecessors—the Bharatiya Jana Sangh party and its militant wing, Rashtriya Swayamsevak Sangh (RSS), a group whose leadership in the past professed admiration for Nazi Fascism and has continued to oppose minorities in India. Modi's career would be jumpstarted as a member of the RSS.
While there has been much focus on Modi's efforts to attract foreign investment, the party has also been focused on promoting Hindu culture. In 2015, the BJP chief minister of Haryana State, Manohar Lal Khattar, pushed to have the Hindu holy text, the Bhagavad Gita, a mandatory part of state education. Shortly before this, a senior BJP leader from Tamil Nadu argued that mosques are not holy places, unlike Hindu temples, and therefore can be safely demolished at any time.
Such Hindutva rhetoric, left unchallenged by Modi, has often been translated into violence. There have been incidents in which Hindu mobs have razed mosques to the ground or attacked Muslim neighborhoods. There have also been an increase number of vigilante groups that have killed individuals they accused of eating beef, as the cow is considered sacred in Hinduism. While Modi was Chief Minister of Gujarat State prior to becoming Prime Minister, the state experienced anti-Muslim riots over a period of three days in 2002, which killed more than 1,000 people, mostly Muslims. Many people blamed Modi for promoting antipathy towards the Muslim communities and then failing to halt the violence. He was denied a visa to the U.S. in 2005 because of this incident, a ban that would last until he became prime minister. While not all supporters of the BJP are passionate ideologues, such support, similarly for Trump, often requires overlooking these positions.
It is true that India is an emerging economic powerhouse as the fastest growing major economy in the world with increasing ties to the US. Over the past two years, in fact, U.S. investments in India have increased by 500 percent. The next U.S. president needs to further strengthen ties with the world's largest democracy poised to become the world's largest country within the next few years.
Trump's resonance with BJP supporters may not signal his campaign understanding the importance of relations with India or even be a brief flash of multicultural outreach. When Trump shrouds his support of the multicultural and multi-religious Indian-American community through the lens and language of Hinduism, he is echoing the rhetoric of Hindu nationalism. Rather, this is a further affirmation of his politics of divisiveness that have come to define his campaign and, potentially, his presidency.
Before You Go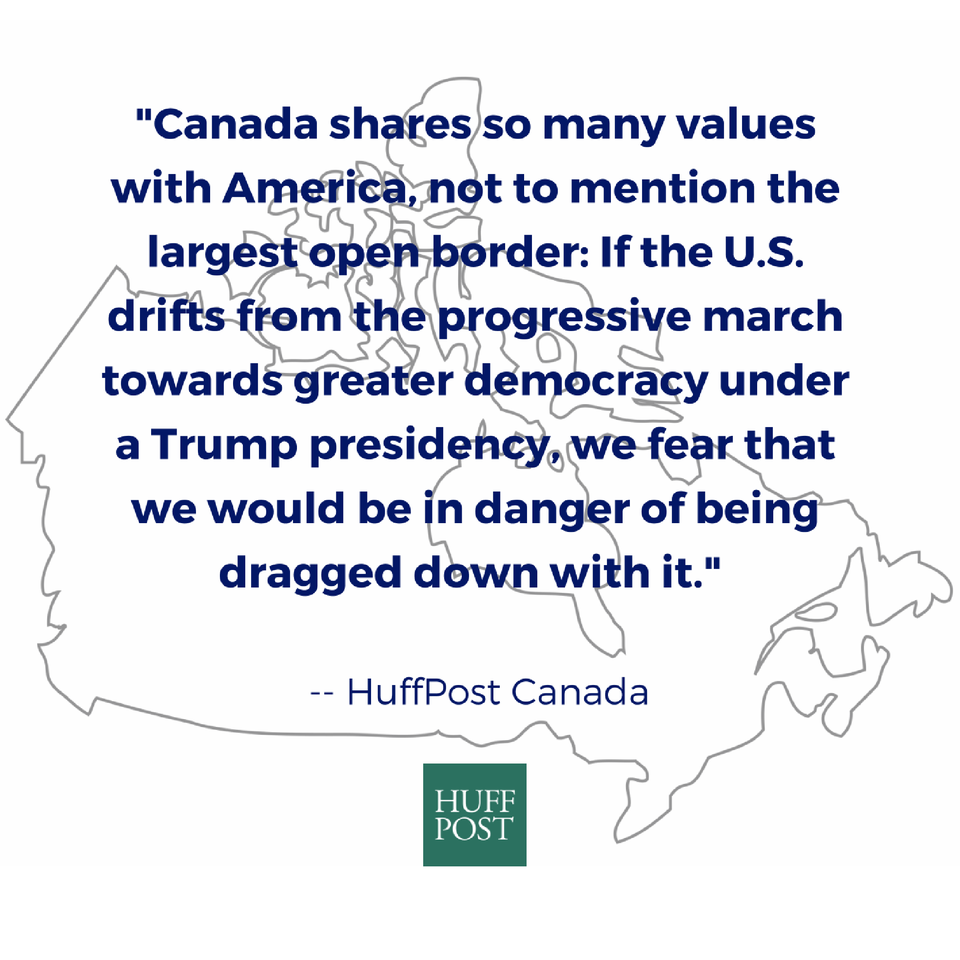 This Is What The World Finds Scariest About Trump
Popular in the Community