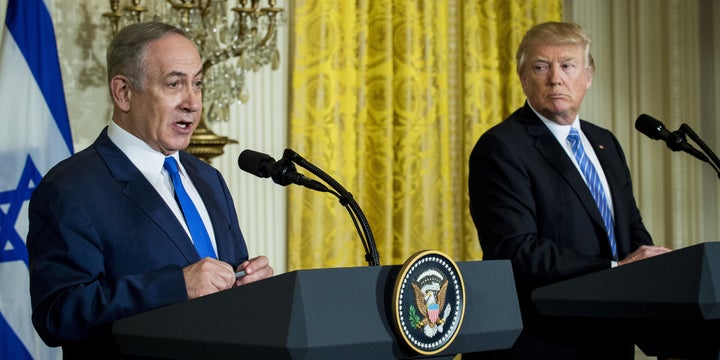 In the lead up to this week's meeting between President Trump and Israeli Prime Minister Benjamin Netanyahu, multiple reports suggested that one of Netanyahu's main goals would be pushing Trump to impose new sanctions on Iran, a move that could dangerously escalate already high tensions between the U.S. and Iran and put us one step closer to war.
Among other similarities, both leaders have been staunch opponents of the Iran nuclear agreement, which lifted sanctions against Iran in exchange for Iran scaling down its nuclear program and fulfilling obligations that verifiably block its potential paths to obtaining nuclear weapons.
During the campaign, Trump pledged to "dismantle the disastrous deal with Iran." Should he fulfill that pledge, the best means of ensuring Iran cannot obtain nuclear weapons would be gone, and the dangerous and counterproductive alternative of bombing Iran's nuclear facilities would be hailed by some as the necessary next step. While Netanyahu probably stopped short of asking Trump to abandon the agreement outright, he may have pushed for further sanctions against Iran that could ultimately serve to unravel the deal.
Michael Rubin, a resident scholar at the conservative think tank American Enterprise Institute (AEI), was quoted in the Washington Post last month as saying, "What'd I'd like to see is them [the Trump administration] going along with the deal, but subtly antagonizing the Iranians enough so the Iranians want to scrap it… More non-nuclear sanctions. Pushing the IAEA [International Atomic Energy Agency] to inspect more. We can force them to be the ones to pull the trigger." The subtext of this shameless strategy, a strategy shared and expressed by other conservative foreign policy operatives, is to create a situation in which the administration can argue that Iran is to blame for the agreement's collapse, effectively creating a false pretense for war.
Congress, for its part, seems to have gotten that memo. Since the convening of the 115th Congress, at least three separate bills have been introduced that would impose new non-nuclear sanctions on Iran. The signing of any of these bills into law could violate the nuclear agreement, and would likely be perceived that way by Iran even if the letter of the agreement were followed. While the bills have yet to pick up steam, they certainly could if Congressional leadership got behind them. That may be why Netanyahu's trip includes meetings with Congressional leaders on both sides of the isle.
Meanwhile, the administration has been implementing a range of actions that also seem to follow the "antagonizing the Iranians" playbook. Trump's executive order on refugees, the realization of his campaign promise of a Muslim ban, was the administration's first jab at Iran. In addition to being a dangerous and discriminatory executive order, Trump's Muslim ban blocked citizens of Iran from traveling to the U.S., including dual nationals from allied countries. In so doing, it may have violated the spirit, if not the letter, of the nuclear agreement, which states that the U.S. "will refrain from any policy specifically intended to directly and adversely affect the normalisation of trade and economic relations with Iran."
After Iran's recent ballistic missile test, which did not violate the agreement, then national security advisor Michael Flynn (who resigned on Monday less than a month after assuming the role) announced that the U.S. was "officially putting Iran on notice." Unclear on his meaning, reporters asked whether military options were being considered, to which a White House official replied, "We are considering a whole range of options." Thus with a couple of vague statements, the administration raised the prospect that it might start a war with Iran regardless of whether it continues to abide by the nuclear agreement.
While the administration may not have violated the letter of the nuclear agreement so far, each rattling of the sabre has increased tensions and empowered hardliners in Iran months before its upcoming presidential election.
Another report suggests that the administration is considering pressuring the IAEA to demand access to Iranian military sites in the course of its work to ensure compliance with the nuclear agreement, a move specifically called for in the strategy outlined by Rubin. While the deal allows for this if the IAEA suspects Iran is using a military site for nuclear purposes, there's no indication that the IAEA harbors any suspicion, let alone evidence. Needless to say, Iran would be furious if the IAEA demanded access absent a reasonable suspicion, and may even refuse to grant it, to which Trump could claim a violation of the deal.
If Trump continues antagonizing Iran to the point that it abandons the agreement or otherwise lashes out, he could make a case, however contrived it might be, for war. Netanyahu's perpetual bashing of Iran as a "terrorist regime," among other hostile descriptors, suggests he would be among the first to back Trump up. Regardless of their intent, Trump and Netanyahu's belligerence towards Iran is steadily increasing the risk of war, and that's cause for grave concern. Military experts have explained that bombing Iran's nuclear facilities would only delay Iran's nuclear program by a few years, and would likely lead Iran to build new facilities deeper underground. That in turn would likely lead to further escalation and potentially a full scale ground war that would not only cost an exorbitant amount of taxpayer dollars, but would also cost countless lives and fuel anti-American sentiment and extremism across the Middle East for years to come.
Support HuffPost
The Stakes Have Never Been Higher
Related
Popular in the Community