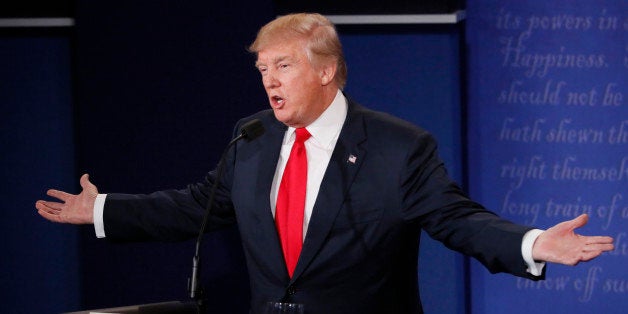 During the third presidential debate Donald Trump continued his vicious campaign denouncing women who charge him with sexual assault. He assaults them once again by calling them horrible, liars, and fame seekers. He also dismisses media that report their accusations as corrupt and part of a vast conspiracy to undermine his presidential campaign. Trump has threatened to pursue legal action against both his accusers and the media outlets that report their accusations. As of October 17, ten women have publicly accused Trump of inappropriate and unwanted sexual aggression.
Trump continues to call Hillary Clinton a criminal even though she has been investigated by numerous government agencies and has never been brought up on charges. According to the United States Justice Department, rape is defined as "The penetration, no matter how slight, of the vagina or anus with any body part or object, or oral penetration by a sex organ of another person, without the consent of the victim." By this definition, the accusation by at least one of the women who denounced Trump's actions might legally constitute rape.
Unfortunately Trump is not the only prominent figure or company that feels it is okay to dismiss allegations, coddle sexual assault, or blame the victims of aggression for allowing it to happen. Fox News fired former CEO Roger Ailes after he was accused of sexual harassment by twelve women, but gave him a $40 million severance package. After being fired, Ailes became a major advisor to the Trump presidential campaign.
The British newspaper The Guardian recently reported that Pearson Education, which boasts that it is the world's largest education publisher, distributes a textbook in South Africa that teaches secondary school students that at least some rape victims are responsible for being raped. The textbook, published by Pearson's South African subsidiary, Maskew Miller Longman, has been used since 2011.
According to The Guardian, "The textbook - aimed at children aged 15 and 16 - includes a question based on a girl's account of being raped at a party. In the example, a girl named Angie explains that she went to the party without her parents' permission, got drunk and was locked in a room with a boy, who raped her. Pupils are then asked to answer three questions, the first of which reads: "List two ways in which Angie's behaviour led to sexual intercourse."
Ben Phillips, the director of policy at Action Aid International, called it appalling "that in a Pearson school textbook schoolchildren have to blame rape survivors to pass the test." Lisa Vetten, a research associate at Witwatersrand University in South Africa highlighted the question's use of the phrase "sexual intercourse." "To use 'rape' and 'sexual intercourse' interchangeably is to fundamentally misunderstand the nature and effects of rape."
The Pearson subsidy has submitted corrections to South Africa's education officials and plans to print a new edition. In a letter to John Fallon, Pearson CEO, American Federation of Teachers President Randi Weingarten and South African Democratic Teachers Union General Secretary Mugwena Maluleke called on Pearson, as a partial corrective measure, to make "significant financial contribution to organizations combating gender violence in South Africa."
That is a reasonable request. According to the United Nations, South Africa has the highest rate of rape in the world. Police report 147 sexual offenses a day.
REAL LIFE. REAL NEWS. REAL VOICES.
Help us tell more of the stories that matter from voices that too often remain unheard.