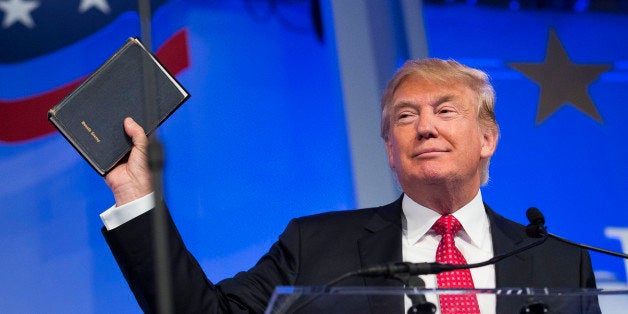 The race to be the Republican presidential nominee has had a distinctively Christian, and, indeed, Evangelical, feel this time around. Among the front runners, Ted Cruz announced his bid for the presidency at a Christian university and recently earned endorsements from a number of significant Evangelical leaders. Ben Carson's Christian identity has been central to his campaign, even if the public has needed some explanation regarding the particular strand of Christianity of which he is a part. Carson has not been shy about invoking the Bible: his tax plan is based on the biblical notion of tithing, he has compared himself to the biblical Noah, and recently, in what was presumably an attempt to emphasize the Christian aspects of the holiday, he tweeted a verse from the Gospel of Luke's story of Jesus' birth without comment.
Donald Trump has had to work a little harder to convince Evangelical voters of his biblical bona fides. On August 21 Trump called his own book, the Art of the Deal, his second favorite book of all time next to the Bible.
When pressed a few days later in a Bloomberg TV interview, Trump declined to share his favorite Bible verses, saying: "I wouldn't want to get into it. Because to me, that's very personal.... The Bible means a lot to me, but I don't want to get into specifics." And when asked if he prefers the Old or New Testament, Trump responded, "Probably equal. I think it's just incredible."
A few weeks later, in an interview on the Christian Broadcasting Network, Trump expanded on his appreciation of the Bible:
There's so many things that you can learn from it. Proverbs, the chapter 'never bend to envy.' I've had that thing all of my life where people are bending to envy. Actually it's an incredible book, so many things you can learn from the Bible and you can lead your life. I'm not just talking in terms of religion; I'm talking in terms of leading a life even beyond religion. There are so many brilliant things in the Bible.

The Bible, is special, the Bible -- the more you see it, the more you read it, the more incredible it is. I don't like to use this analogy, but like a great movie, a great, incredible movie. You'll see it once it will be good. You'll see it again. You can see it 20 times and every time you'll appreciate it more. The Bible is the most special thing.
Trump appears to have relented to requests for his favorite passages in the Bible by sharing, "Proverbs, the chapter 'never bend to envy.'" But the trouble is that it's not entirely clear that Trump's favorite Bible verse is actually in the Bible. His campaign later clarified that he was referring to Proverbs 24:1-2, which admonishes readers to "not envy the wicked." Whether or not he got the Bible passage wrong, Trump's repeated references to the Bible as a movie raise questions regarding whether he has actually read it or just has film versions of the Bible in mind.
On September 25, Trump brought his childhood Bible to the Values Voters Summit, showing off the hand-written dedication by his mother written in the inside flap. But that was it. He showed he owns a Bible and has kept it for sentimental reasons.
Trump's most recent attempt to show his legitimate Bible chops came on December 29 before a crowd of would-be Evangelical supporters in Iowa. As the rally opened, Trump waved his Bible and displayed the kind of rhetorical skill that has marked his entire campaign and made him the Republican front runner:
I even brought my Bible -- the evangelicals, ok?" Trump said as the rally opened. "We love the evangelicals and we're polling so well. This Bible was given to me by my mother, going to Sunday school. ... So, we love the Bible. It's the best. We love 'The Art of the Deal,' but the Bible is far, far superior, yes.
Jacques Berlinerblau has suggested in Thumpin' It: The Use and Abuse of the Bible in Today's Politics that politicians often invoke a specific Bible passage, but don't linger on it in order to leave in place the assumption that the chosen passage lines up with their proposed policy. Additionally, politicians can invoke the Bible in generic way -- simply claiming something is biblical or mentioning the Bible. Donald Trump's practice of claiming the Bible by merely waving it might fit in the latter category, or might merit a new category all its own: the Bible as a prop.
Will it work? Evangelical voters in Iowa will let us know in a few short weeks.
Related
Popular in the Community