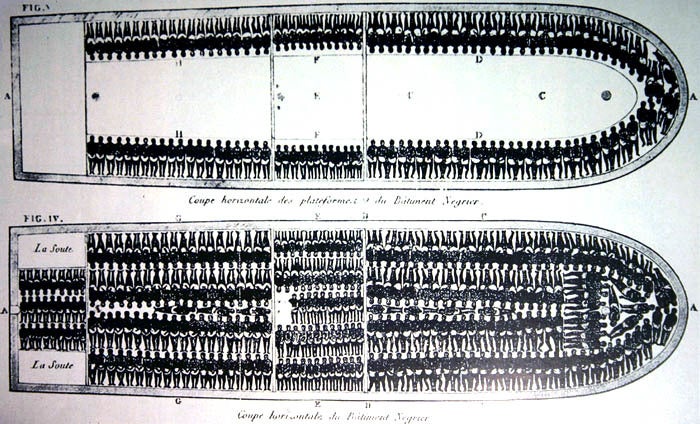 It is a good thing Ben Carson, Betsy DeVos, Kellyanne Conway, and Donald Trump are not in middle school; they would all fail English and history classes. Whatever you may think of Common Core, it does encourage middle school students grades 6 to 8 to "cite specific textual evidence to support analysis of primary and secondary sources" and expects them to "distinguish among fact, opinion, and reasoned judgment." Both requirements appear to be beyond the skill level of people now running this country, at least if you look at recent statements. They also have a remarkable level of ignorance, especially about the African American experience.
"There were other immigrants who came in the bottom of slave ships, who worked even longer, even harder, for less, but they too had a dream that one day their sons, daughters, grandsons, granddaughters, great-grandsons, great granddaughters might pursue prosperity and happiness in this land." – Ben Carson, Secretary, Department of Housing and Urban Development, March 6, 2017
Enslaved Africans, first brought to what would become the United States in 1619, were not voluntary immigrants, did not get paid, and could only dream of freedom. Slavery in the United States did not end until 1865, 246 years later.
Historically Black Colleges and Universities were founded as a response to racial segregation and the exclusion of qualified Blacks from many state and private universities, not as schools of choice.
Frederick Douglass, self-emancipated slave, abolitionist, orator, and author did an amazing job, but he died in 1895.
"Terrible! Just found out that Obama had my "wires tapped" in Trump Tower just before the victory. Nothing found. This is McCarthyism!" – Donald Trump, POTUS, March 4, 2017
FBI Director James Comey says there is NO evidence this happened.
FBI Director James Comey says there is NO evidence this happened. Clearly, Trump and Conway have "intelligence" the rest of lack.
As Mark Twain explained, commenting on Trump's election and presidency back in 1887, "All you need in this life is ignorance and confidence, and then success is sure." Twain is "getting recognized more and more," I'm sure Donald Trump would like to meet him too.
In a show of support for Trump and ignorance in general, a bill was introduced by a Republican in the Arkansas State Senate, "TO PROHIBIT A PUBLIC SCHOOL DISTRICT OR OPEN-ENROLLMENT PUBLIC CHARTER SCHOOL FROM INCLUDING IN ITS CURRICULUM OR COURSE MATERIALS FOR A PROGRAM OF STUDY BOOKS OR ANY OTHER MATERIAL AUTHORED BY OR CONCERNING HOWARD ZINN," including Zinn's "A People's History of the United States." So far Zinn has not commented, but he died in 2010.
REAL LIFE. REAL NEWS. REAL VOICES.
Help us tell more of the stories that matter from voices that too often remain unheard.
BEFORE YOU GO