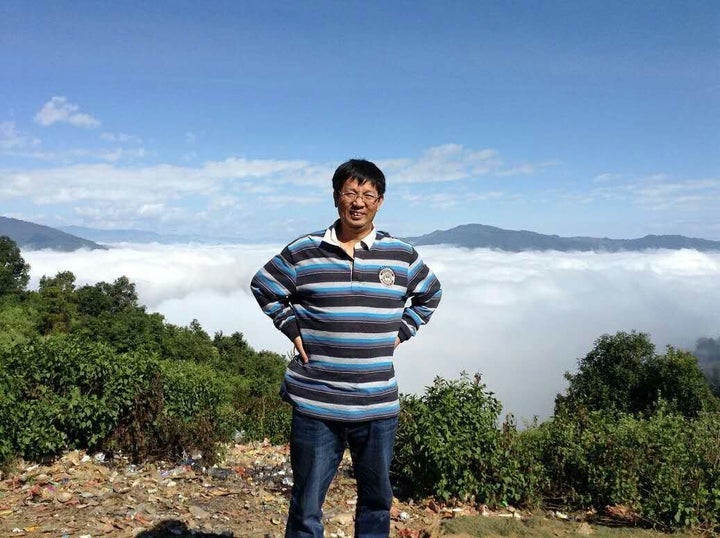 Ben Cao, an evangelical Christian from Charlotte, North Carolina, told HuffPost he was happy to hear the good news about Andrew Brunson, a pastor from his state who was released last week after being detained by the Turkish government for two years.
But Cao said he hopes the U.S. government won't forget about another North Carolina pastor who is still being held in a foreign country ― his father, Rev. John Sanqiang Cao.
"I understand the circumstances are different for my [family's] situation, but I hope we are not overlooked nor forgotten," Ben Cao wrote in an email. "Our story deserves to be told, and I believe that the American public will agree that the US Government should be more outspoken about the situation."
John Cao was arrested in March 2017 while traveling back to China from Myanmar with a fellow Christian missionary. Ben Cao said that his dad has crossed the border to Myanmar numerous times over the years for humanitarian work without trouble from authorities.
The pastor was charged with "organizing others to cross the border illegally," a crime that is more commonly used to indict human traffickers, according to The Associated Press. He was sentenced in March 2018 to seven years in prison. The pastor remains in detention in the Chinese border city of Menglian while his lawyer appeals the verdict.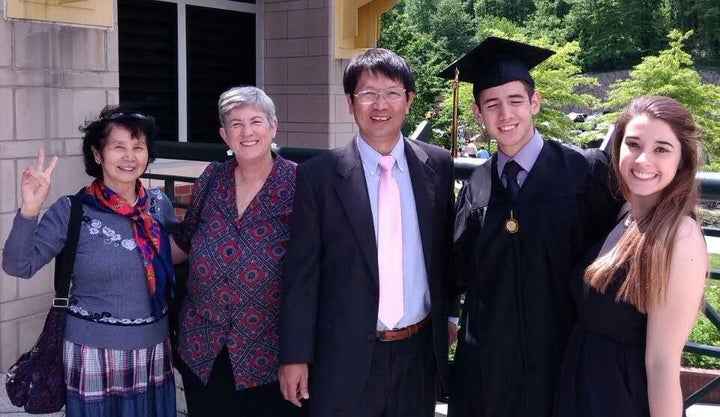 John Cao was a leader in China's house church movement, which operates outside of state-sanctioned Christianity. But he also had a well-established life in the U.S. He attended seminary in New York and pastored two Chinese congregations in North Carolina. 
Since his work took him to China so often, the pastor kept his Chinese citizenship and became a legal permanent resident of the U.S. ― even though his two children and wife, Jamie Powell, are American citizens.
In July, Powell was invited to share her husband's story at a U.S. State Department conference on religious freedom. Ben Cao said his family has received support from the White House, the Senate and the State Department ― but that he hopes to see more public support from President Donald Trump. 
Brunson paid a visit on Saturday to the White House, where he blessed the president and prayed for Trump to have the "courage to stand for truth" and protection from the "slander" of enemies.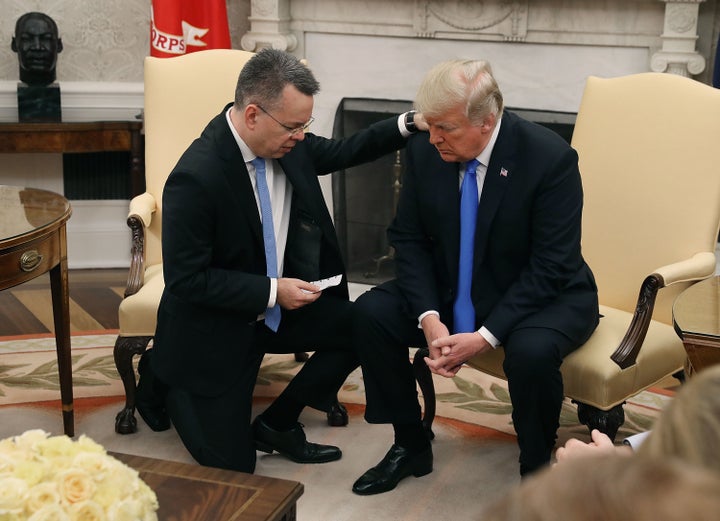 Ben Cao said that he is "beyond thankful" about Brunson's release and hopes to meet the pastor one day. Still, he said he hopes Trump will do more for his father.
The administration is reportedly weighing placing sanctions on senior Chinese officials and companies over Beijing's mass detentions of Uighur Muslims. It has already imposed sanctions on the country for buying Russian fighter jets and missiles. 
However, Trump has yet to speak up publicly about John Cao's detention in China.   
"I would love to hear directly from President Trump, as he has spoken with the Brunson family, as well as made public statements about pastor Brunson," Ben Cao said. "I hope my father receives the same attention."
Ben Cao said he hasn't spoken directly to his father since January 2017 and is worried about his dad's health. He said he has been able to receive messages from his dad through the pastor's Chinese lawyer.
In one of those messages, the pastor reportedly told his son to follow through on his plans to get married. But Ben Cao said he refuses to get married until his dad is safely back home. 
"I will wait for his release," he said. 
REAL LIFE. REAL NEWS. REAL VOICES.
Help us tell more of the stories that matter from voices that too often remain unheard.
BEFORE YOU GO
PHOTO GALLERY
The World's 50 Most Unusual Churches