How did the president of the United States come to retweet three anti-Muslim videos to his 43 million followers early Wednesday morning? Based on the Twitter accounts he follows and the surge in anti-Muslim activity on the social media platform this year, here's one possible scenario.
Jayda Fransen is a leader of Britain First, a far-right extremist group in the U.K. that wants Islam banned in the country. Its members are known for carrying out "mosque invasions" and committing hate crimes. Last year Fransen herself was convicted of religiously aggravated assault for accosting a Muslim woman. She has also openly supported a prominent Polish anti-Semite arrested for burning an effigy of an Orthodox Jew.
Naturally, Fransen has a verified Twitter account, which she used Tuesday at 3:40 p.m. EST to send this message: "VIDEO: Muslim migrant beats up Dutch boy on crutches!"
Ann Coulter is an American far-right, anti-immigration and anti-Muslim provocateur known for appearing at white nationalist events. Her verified Twitter account is among only 45 accounts that the president follows. Coulter follows Fransen on Twitter, and on Tuesday night, she retweeted her fellow bigot from across the pond: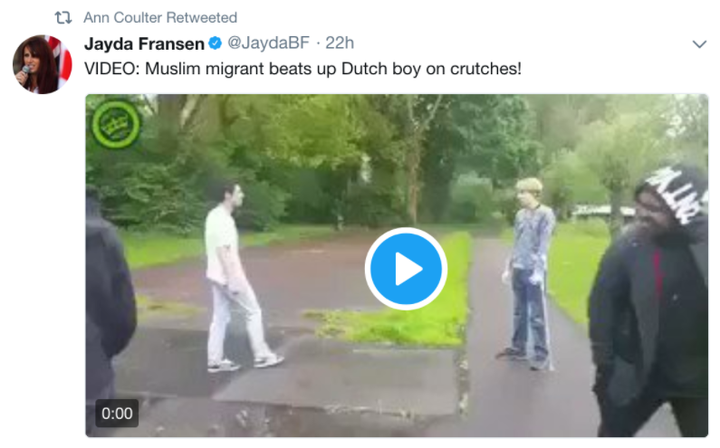 And so early Wednesday morning, it's possible that Trump rolled out of bed, fixed his hair, turned on "Fox & Friends" and opened up Twitter. Scrolling through his feed, he might have seen Coulter's retweet of Fransen.
Perhaps liking what he saw, he could've clicked on Fransen's Twitter profile, scrolled down, and then started retweeting between 6:32 and 6:49 a.m.
Trump retweeted Fransen three times. First was the Dutch "Muslim migrant" video." The second tweet read, "VIDEO: Muslim Destroys Statue of Virgin Mary!" ― which left out some crucial context. It wasn't just any "Muslim" in the 2013 video, but extremist cleric Abo Omar Ghabra, then with the Syrian militant Islamist group Jabhet al-Nusra.
The third retweet read, "VIDEO: Islamist mob pushes teenage boy off roof and beats him to death!" That video showed a horrifying incident in Alexandria, Egypt, during clashes between rival political groups in 2013.
The White House did not respond to a request for comment on how Trump saw Fransen's tweets or whether it was Trump who actually pressed the retweet button. However it happened, millions of Americans woke up Wednesday to their president spreading the word of a British Islamophobe.
At a White House briefing on Wednesday, press secretary Sarah Huckabee Sanders defended her boss, arguing that it didn't matter whether the videos were real because "the threat is real."
"I'm not talking about the nature of the video," she told reporters. "I think you're focusing on the wrong thing. The threat is real and that is what the president is talking about."
That same day, White House deputy press secretary Raj Shah was asked how the president came across Fransen's tweets. "Look, we are not going to be focusing on process," he said. "I know you guys want to. We are going to be focusing on the issues."
Trump's bigotry, white nationalism and ties to the anti-Muslim movement are well-documented. His retweets Wednesday were not surprising, and whatever outrage the American public has mustered will soon enough shift to yet another presidential provocation or scandal in a year of unending presidential provocations and scandals.
But what Trump did Wednesday underscores a growing problem for his favorite social media platform. A new report by the British anti-racist group Hope Not Hate shows that anti-Muslim activists like Fransen have gained outsized influence on Twitter over the last year, due to rising anti-Muslim sentiment in Europe and the U.S., and due to the use of bots to amplify anti-Muslim hate.
Fransen had just 13,000 followers on Twitter in March, according to the Hope Not Hate report. Before the president retweeted her Wednesday, she had about 52,000.
The report describes her as part of a global network of anti-Muslim activists who use Twitter to push the narrative that Islam, the world's second largest religion, is an "imminent threat" to Western civilization. Hope Not Hate monitored the accounts of anti-Muslim activists, including Fransen's (@JaydaBF), from March until November. During that time, those accounts saw an average 117 percent growth in followers: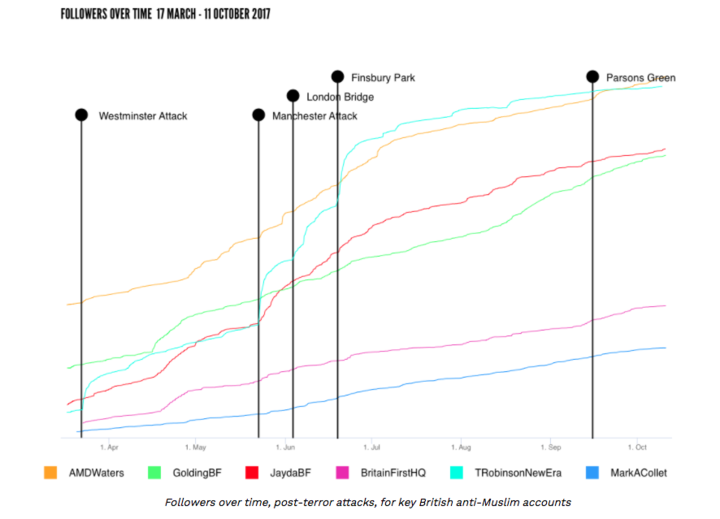 The anti-Muslim accounts often exploited terror attacks in the U.K. to spread their messages, doctored images and fake news. In the process, they gained much bigger followings.
Within 48 hours of the May terror attack in Manchester, Tommy Robinson, a former leader of the far-right and virulently anti-Muslim English Defence League, added nearly 30,000 new followers. Similarly, Robinson gained 22,365 followers after the Westminster attack in March. From March to November, he saw an average weekly increase of 6,422 followers.
These accounts have a real impact on how other people talk about Muslims, the report found. Thirty-two of the 100 most shared tweets regarding the London Bridge attack in June, for example, expressed negative views of Muslims.
Part of the explanation for the growth of anti-Muslim accounts, the report says, is the use of bots — automated, semi-automated or otherwise fake accounts that can tweet or automatically retweet Islamophobic propaganda.
Hope Not Hate's report focuses on one account, @SouthLoneStar, which tweeted an image of a Muslim woman walking past a group of people helping the victim of the Westminster terror attack. @SouthLoneStar falsely asserted that the photo proved the woman's indifference to terror's victims. The image went viral, eventually being shared by American white nationalist figurehead Richard Spencer and American anti-Muslim activist Pamela Geller.
Later, Twitter would tell the U.S. House Intelligence Committee that @SouthLoneStar was among 2,700 fake accounts set up by Russia to impact American and British politics.
Hope Not Hate's report also identified 102 suspected bot accounts that have amplified Geller's tweets. Geller, who rose to prominence in the anti-Muslim movement during protests over the so-called "Ground Zero Mosque" in New York, is a prolific tweeter, often posting links to her site Geller Report.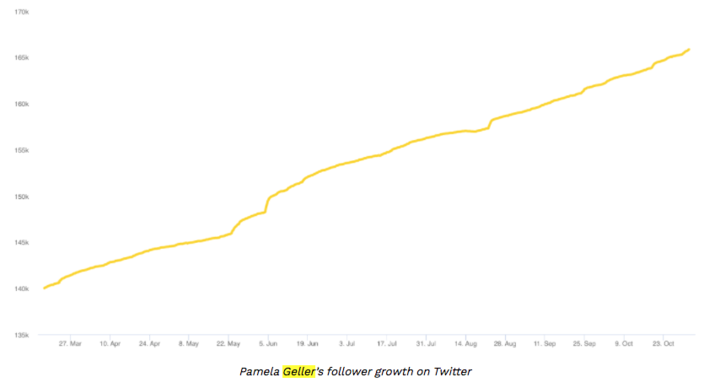 Geller's Twitter account saw a steady rise in followers through 2017, and according to Hope Not Hate, her website doubled its traffic, from 1 million views per month to over 2 million, in the period between July and October.
In May, hers was among the first accounts to share the video of the "Muslim migrant" teen attacking another teen in the Netherlands ― the same video the president shared on Wednesday.
Asked by HuffPost about Trump's retweets of Fransen, Geller replied that "the videos are authentic and have circulated for years."
They're neither "'far-right; nor 'Islamophobic,'" she continued. "They're just factual. Once again the media is blaming the messenger instead of dealing with Islamic violence. He didn't add any rhetoric. He retweeted authentic videos. If Muslims sincerely condemn jihad terror and Sharia oppression, they shouldn't oppose him."
Speaking at a Wednesday night event promoting her new book in Manhattan, Geller lashed out at The Guardian, which first reported on the Hope Not Hate report. "I don't know what a bot is," she said.
"What they're trying to do … is have Twitter shut me down, because what we have been able to do is build this large social media following," she added.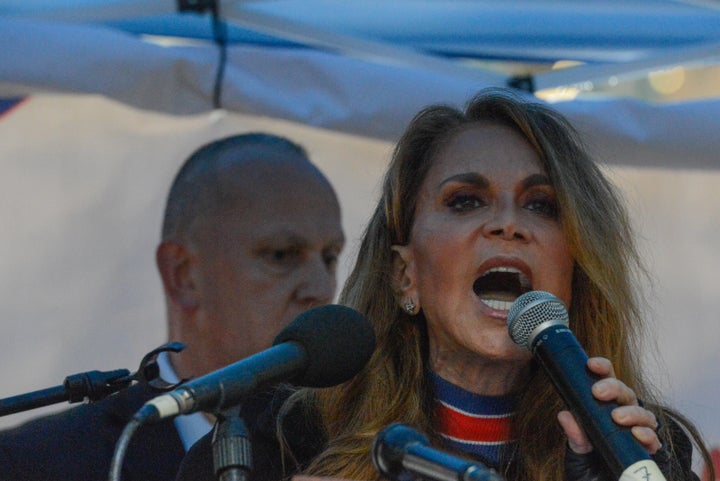 The Hope Not Hate report notes that Geller runs a "mirror" Twitter account (@atlasshrugs) that posts the same tweets as her main account (@PamelaGeller). This strategy, the report explains, "helps her stay online in case one account is suspended, while at the same inflates the reach of her message." It's also a possible violation of Twitter's terms of service, which largely prohibit mirror accounts.
Twitter would not comment on the record as to whether Geller was violating its terms of service, nor did it respond to HuffPost questions about the Hope Not Hate report.
Asked whether the Fransen videos the president retweeted might have violated any of the company's terms of service, a Twitter spokesperson sent this statement:
As appropriate, we take action against content that violates our terms of service, including hiding some content behind sensitive media filters. As our Help Center notes: "To help ensure people have an opportunity to see every side of an issue, there may be the rare occasion when we allow controversial content or behavior which may otherwise violate our Rules to remain on our service because we believe there is a legitimate public interest in its availability. Each situation is evaluated on a case by case basis and ultimately decided upon by a cross-functional team."
Fransen, meanwhile, has been soaking up the attention Trump's retweets have brought her. "GOD BLESS TRUMP!" she tweeted Wednesday. "GOD BLESS AMERICA!"
In the 24 hours since the president retweeted her, she has gained nearly 30,000 new followers.
Ashley Feinberg contributed to this report.