One of President Donald Trump's first promises as leader of the free world is to "empower our law enforcement officers to do their jobs and keep our streets free of crime and violence," according to a statement on the new White House website.
"The Trump Administration will be a law and order administration. President Trump will honor our men and women in uniform and will support their mission of protecting the public," reads the issue brief published on Friday. "The dangerous anti-police atmosphere in America is wrong. The Trump Administration will end it."
Although the document provides little in the way of specifics, it suggests Trump will prioritize some of the more controversial concerns raised by the law enforcement community in response to protests after the 2014 killing of Michael Brown in Ferguson, Missouri. Many law enforcement officials, including those in the Fraternal Order of Police, the nation's largest union of rank-and-file officers (which endorsed Trump earlier this year), have portrayed calls for police reform as dangerous and unnecessary, suggesting they have led to rising violence toward police officers and among civilians.
As the website launched, Trump delivered an inaugural address that included a reference to inner-city "crime and gangs and drugs" ― "American carnage," as he put it. His platform takes a similar tone, noting recent increases in homicides in a number of the nation's largest cities and suggesting the response should be "more law enforcement, more community engagement, and more effective policing."
While Trump raises the specter of a rising crime wave, experts say the data is much less clear. The recent growth in violent crime comes after a decades-long downturn, during which the murder rate reached a low point in 2014. And crime remained close to historic lows in 2016, despite increases in certain cities over the past two years, according to an analysis by The Brennan Center for Justice.
The White House statement also appears to take a dim view of the ongoing movement for police reform, which has mounted nationwide protests demanding transparency and accountability in law enforcement.
"Our job is not to make life more comfortable for the rioter, the looter, or the violent disrupter," the statement reads. "Our job is to make life more comfortable for parents who want their kids to be able to walk the streets safely. Or the senior citizen waiting for a bus. Or the young child walking home from school."
Trump has also pushed the narrative that mounting scrutiny of police tactics has led to a literal "war on cops." Violence against police has reached historic lows in recent years, however, and though preliminary data from 2016 suggests the trend ticked upward last year, policing is still far safer today than it was in previous decades.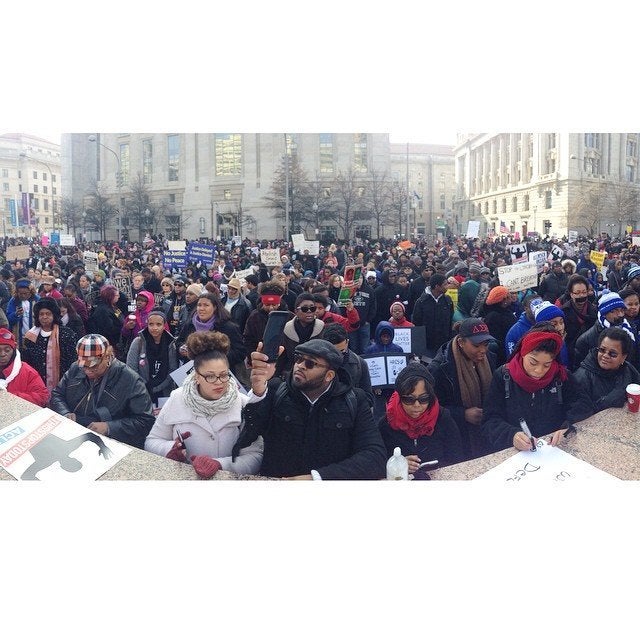 Powerful Black Lives Matter March In Washington
Popular in the Community