President Donald Trump made comments on Thursday that appeared to suggest that members of the U.S. Marshals Service executed an "antifa" supporter who was charged in the death of a right-wing protester in Portland, Oregon.
Michael Forest Reinoehl was shot and killed by members of a fugitive task force led by the U.S. Marshals Service in Washington state last month. Reinoehl's killing is under investigation, and The New York Times recently reported on serious questions about whether law enforcement actually attempted to arrest Reinoehl before they killed him. A gun was found in Reinoehl's pocket. "I respect cops to the utmost, but things were definitely in no way, shape or form done properly," one witness said.
Trump bragged about Reinoehl's killing at a rally in North Carolina on Thursday, getting cheers for a description that sounded like a summary execution by the state.
"We sent in the U.S. marshals, took 15 minutes and it was over," Trump said. "They knew who he was, they didn't want to arrest him, and 15 minutes, that ended."
Who "they" referred to was up for some debate. Some people thought Trump was referencing the U.S. Marshals Service, which would suggest he was saying that members of law enforcement wanted to kill Reinoehl and had no plans to arrest him. Others said it appeared that Trump was referencing the Portland Police Department, a comment that disparages members of law enforcement as cowardly. (The U.S. Marshals Service commonly helps track down criminals who flee to other states, where out-of-state law enforcement officials lack the jurisdiction they have in their own states.)
Trump previously described Reinoehl's killing as "retribution" and falsely claimed that the marshals "ended up in a gunfight" with Reinoehl when there's no evidence he ever fired his weapon.
"This guy was a violent criminal, and the U.S. marshals killed him. And I will tell you something, that's the way it has to be. There has to be retribution when you have crime like this," Trump said in September.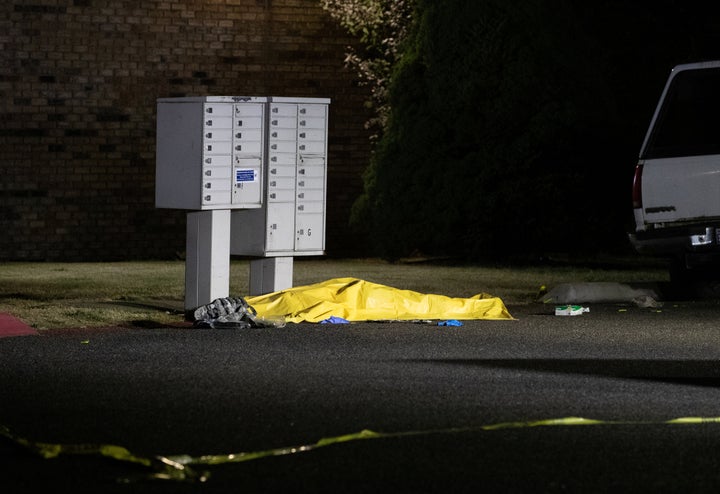 A spokeswoman for the U.S. Marshals Service declined to comment. A spokeswoman for the Justice Department did not immediately respond to HuffPost's requests for comment.
Attorney General William Barr said in an unusual statement after Reinoehl's death that called the "tracking down" of the "dangerous fugitive, admitted Antifa member, and suspected murderer" a "significant accomplishment in the ongoing effort to restore law and order." The statement called him a "violent agitator" and claimed he "produced a firearm" before he was shot, a statement now disputed by witnesses.
Support HuffPost
The Stakes Have Never Been Higher
Popular in the Community