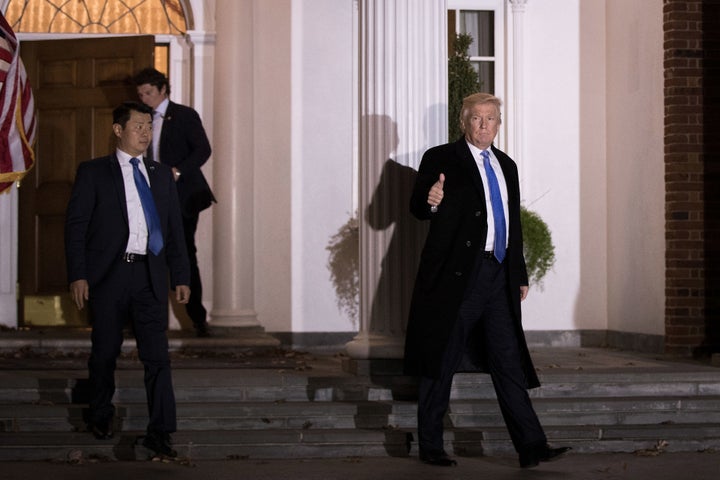 Will Trump's appointees to high government office ensure Donald Trump does not use control of the executive branch to enrich himself and his family? Trump enriching himself as president is not an idle or libelous question. Trump himself raised the prospect in 2000 to Fortune Magazine, telling them that "[i]t's very possible that I could be the first presidential candidate to run and make money on it."
Matt Yglesias puts the threat to the rule posed by Donald Trump and the "Trump Organization" in stark language, arguing "Trump's first 100 days could also be the last 100 days in which America's system of republican government can be saved." Yglesias fears that the potential for corruption is so great that "political favor" might become "the primary driver of economic success."
The Wall Street Journal editorial page employs less ominous language to come to a surprisingly similar conclusion, noting problems posed by the fact that "The President is exempt from federal conflict-of-interest law."
As Bloomberg put it, the Trump family business poses an "unprecedented potential conflicts of interest."
The last line of defense against the installation of a kleptocracy is the U.S. Senate, which can insist that President Trump meet the same standards for public disclosure and avoidance of conflict of interest as past presidents and presidential candidates of both political parties.
The U.S. Senate can and should demand transparency into Trump family finances. Moreover, the U.S. Senate can and should demand an end to the inherent conflicts of interest posed by the ongoing existence of "The Trump Organization."
The Senate can do so by refusing to confirm any nominations until Trump takes the following steps to promote faith that a Trump presidency will not enrich himself and his family:
1. Releases his tax returns;
2. Releases a detailed and current financial disclosure that includes beneficial ownership information on all "shell companies" that are part of the Trump Organization;
3. Follows the advice of the The Wall Street Journal editorial page that "Mr. Trump's best option is to liquidate his stake in the company" via "a leveraged buyout or an initial public offering";
And these disclosure requirements should be treated as annual requirements. Having President Trump and his children reconstitute a "Trump Organization" to receive payouts from foreign countries and rent-seeking businesses is a serious concern that cannot be prevented merely by an ensuring initial clean post-liquidation start. The Saturday Washington Post includes an article suggesting that diplomats understand the advantages of spending money at Trump's D.C. hotel.
There should be particular concern about all non-publicly traded assets he and his children might hold. Trump and his children cannot be allowed to use "shell companies" to hide his actual business partners, creditors, and assets, including dealings with foreign governments or companies with significant potential dealings with the executive branch.
Without these comprehensive actions, Senators have no way to know what conflicts of interest they should be concerned about.
Does the Trump Organization have business dealings with, for example, Japan? If so, that suggests a line of questions for a potential Assistant Secretary of State for East Asian and Pacific Affairs.
Is a Trump company being investigated by the SEC? That matters for potential SEC Commissioners.
Even a Trump infrastructure bill raises questions. Would Trump follow the Dennis Hastert precedent and put forward highway projects designed to increase value of Trump family owned properties?
Trump announces a tax plan — would it benefit him?
Trump Energy Department actions — would they boost Trump family energy investments?
And assets are not the only issue. Senators need to know if any appointments constitute Trump repaying literal debts.
Every part of the federal government can be used to benefit private interests, and thus for all positions, the Senate requires clarity into Trump's financials.
That goes for Trump-era law enforcement as well. David Dayen has wondered if the Trump win provides "a massive lifeline to Deutsche Bank, the German financial firm that has been rocked recently by rumors that they would have to pay a $14 billion fine to the Justice Department over crisis-related mortgage abuses."
What's the basis of Dayen's curiosity? The fact "that one of Deutsche Bank's biggest borrowers — Trump — will soon be sitting in the White House."
Senators need to know how to provide oversight of the executive branch. To have confidence in Trump appointments and governance, Senators must demand both transparency and an end to conflicts of interest. Otherwise, it is all too likely he and his family will make money off control of the executive branch.
Popular in the Community