Barely a week into Donald Trump's presidency, Americans are already deeply divided about his job performance, with opposition more intense than support, according to the latest SurveyMonkey national tracking survey.  
Among all adults nationwide, 48 percent say they approve of the way Trump is handling his job as president, while 50 percent disapprove.
Yet Trump's support is softer than the opposition. More say they strongly disapprove (38 percent) than strongly approve (27 percent), with just over one in five Americans (21 percent) saying they approve of Trump, but only somewhat.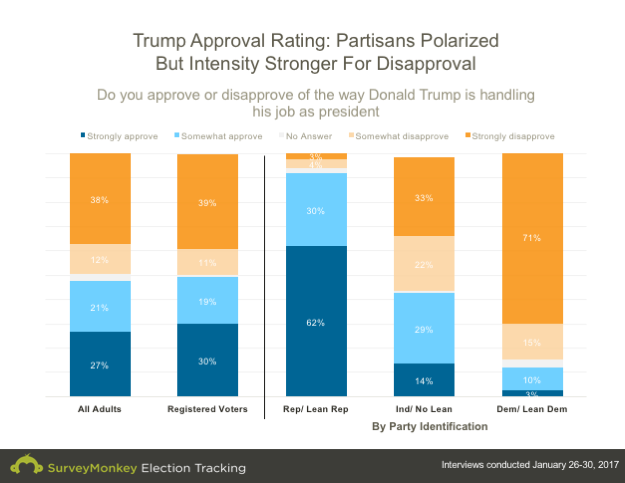 Not surprisingly, attitudes about Trump continue to divide sharply along partisan lines. Republicans and independents who lean Republican are mostly positive, with 92 percent saying they at least somewhat approve of his performance, and just 7 percent disapprove. Meanwhile, just 13 percent of Democrats and Democratic-leaners say they approve, while 86 percent disapprove.  
Again, note the contrast in intensity of feeling. The number of Democrats who strongly disapprove of Trump (71 percent) exceeds the number of Republicans who strongly approve (62 percent). Nearly a third of Republicans (30 percent) approve of Trump, but only somewhat. And, a third (33 percent) of non-leaning independents "strongly disapprove" of Trump, compared with less than half as many (14 percent) who say they "strongly approve."
The relative softness in Trump's support helps explain the variation in his approval percentage across polls by different organizations, as some may opt to say they are uncertain, depending on the question format. For example, the Gallup Daily tracking survey for January 26-29 shows 50 percent disapproval, matching SurveyMonkey's result for disapproval, but a lower number for approval (43 percent). SurveyMonkey interviewed 4,443 adults nationwide January 26-30.  
SurveyMonkey's question format does not include an explicit prompt for "uncertain," leaving it to respondents to skip questions for which they do not have an opinion. The net result should be a smaller uncertain percentage than for other polls.  
The Trump administration's announcement of an executive order temporarily banning citizens from seven predominantly Muslim countries from entering the US came in the midst of our survey. Yet Trump's approval and disapproval ratings were essentially the same in interviews conducted on Sunday and Monday (47 percent approval, 49 percent disapproval) as in those conducted earlier in the week (48 percent approval, 50 percent disapproval).
The division in American's views of Trump are also evident in the emotions they express about his presidency. Our survey asked respondents to select from a list of emotions that might describe their reaction to Trump's inauguration. About as many say they are "hopeful" (35 percent) as are "fearful" (34 percent) about the new Trump administration, and about as many are "excited" (18 percent) as are angry (17 percent), although more are "ashamed" (25 percent) than are "proud" (14 percent).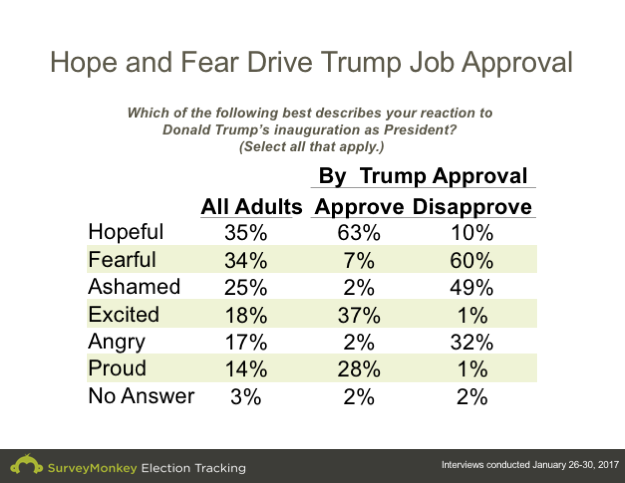 The sense of hope is what defines Trump's soft support. Those who strongly approve of Trump as likely to say they are excited (55 percent) or proud (40 percent) of Trump's presidency as to say they are hopeful (54 percent). But among those who only somewhat approve, 73 percent say they are hopeful, only 15 percent excited and 12 percent proud.
Trump's supporters also express considerable distrust of the news media.  Better than three out of four (76 percent) who approve of Trump say the news media have been too critical of him during his first few days in office, while 18 percent say the coverage has been fair and just 5 percent not critical enough. In contrast, 41 percent of those who disapprove of Trump say the new coverage has been fair, 50 percent say it has not been critical enough and just 8 percent say it has been too critical.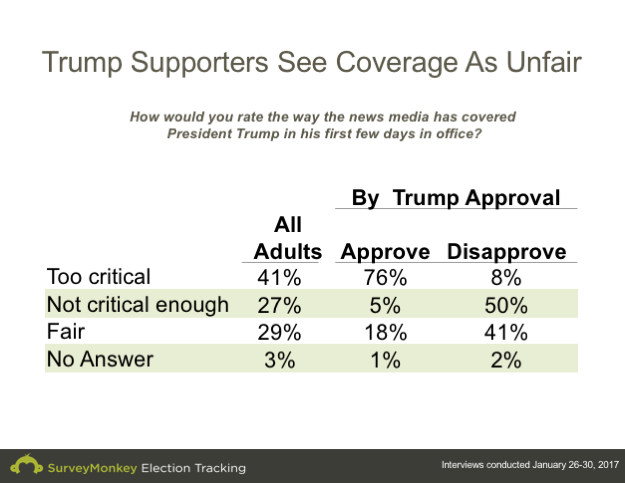 If Trump's supporters continue to rally to his side even  in the face of critical coverage of his administration, it may be due in part to this skepticism his supporters feel toward the mainstream news media.
This SurveyMonkey online poll was conducted January 26-30, among a national sample of 4,443 adults ages 18 and up. Respondents for this survey were selected from the nearly 3 million people who take surveys on the SurveyMonkey platform each day. Data for this week have been weighted for age, race, sex, education, and geography using the Census Bureau's American Community Survey to reflect the demographic composition of the United States. This article is cross-posted from the SurveyMonkey Election Tracking blog.
Calling all HuffPost superfans!
Sign up for membership to become a founding member and help shape HuffPost's next chapter
BEFORE YOU GO