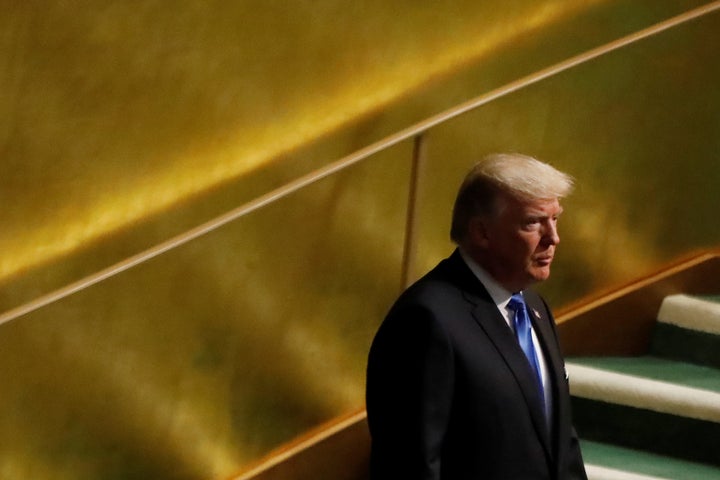 About 40 percent of Americans approve of Trump, while about 53 percent disapprove, yielding a net approval score of -13, according to HuffPost's aggregate of public polling as of Wednesday afternoon. 
It does, however, mark an improvement from the -19 Trump saw at the beginning of August.
One possible reason for the change: After months of news cycles dominated by White House turmoil and the GOP health care bill's failure in Congress, recent weeks have focused much more on the spate of hurricanes, keeping Trump out of the headlines more than usual. 
Trump's response to those storms, meanwhile, has garnered some of his best ratings to date as president. Polls found that a majority of Americans approved of his handling of the hurricane response following Harvey and Irma, even if that didn't translate to support for the president more broadly.
That being said, Democrats have hardly changed their minds about Trump's record overall: On average, barely over 10 percent approve of his performance.
Instead, HuffPost's average shows that Trump's rating among Republicans improved from a net +62 at the beginning of August to a net +67 now, a figure that rose among independents from a net -22 to a net -16 in the same period.
Gallup's tracking poll also shows Trump gaining with independents, among several other groups:
The intensity of Trump voters' support for the president has also rebounded modestly. More than half once again "strongly," rather than "somewhat," approve of the president, according to Economist/YouGov polling ― down from two-thirds when he first took office, but up from a low of 43 percent at the beginning of August.
What remains to be seen is whether Trump's ratings will remain above the 40 percent mark, or whether, with hurricane season drawing to a close, and a Obamacare repeal effort back on the table, they'll again face the gradual erosion that characterized Trump's earlier days in office. Given that the Republican Party's performance in the polls has so far tracked closely with Trump's numbers, the answer could make a difference heading into next year's midterm elections.
Calling all HuffPost superfans!
Sign up for membership to become a founding member and help shape HuffPost's next chapter