Former President Donald Trump pleaded not guilty Tuesday to 34 felony charges that he falsified business records to hide $130,000 in hush money he paid in the last weeks of his 2016 presidential campaign ― a payoff that could well have swayed the outcome of that election.
Trump surrendered at the Manhattan Criminal Court early Tuesday afternoon and was placed under arrest.
Trump, who is also facing other criminal investigations, including two into his failed coup attempt to remain in power despite losing reelection in 2020, is now the first president in American history to be fingerprinted and face a judge in a criminal prosecution.
A New York City grand jury handed up the indictment against him last week after hearing months of testimony about Trump's successful efforts to prevent Stormy Daniels and Karen McDougal from revealing their claims that they'd had affairs with him.
Trump had already been damaged a month before the 2016 election by the revelation of a recorded boast that his celebrity status permitted him to grab women by the genitals. Daniels' story could have made the difference in a race that was decided by only 77,744 votes across three states.
Former Trump lawyer and "fixer" Michael Cohen pleaded guilty to a federal campaign finance law violation in the matter and in 2018 was sentenced to three years in prison for that and several unrelated charges. Prosecutors in that case described Trump as "Individual-1" who directed Cohen to pay Daniels and arranged for the National Enquirer to pay McDougal.
The Department of Justice has a policy of not prosecuting sitting presidents, and Trump was not charged at the time.
Tuesday's indictment spelled out 34 separate felony counts of falsification of business records regarding 11 separate reimbursement payments from Trump, through his Trump Organization business, to Cohen between February and December 2017.
Bragg also released a 13-page "statement of facts" that laid out a chronology of actions by Trump and Cohen "to conceal criminal conduct that hid damaging information from the voting public during the 2016 presidential election."
"The participants also took steps that mischaracterized, for tax purposes, the true nature of the payments made in furtherance of the scheme," the document states.
The documents says Trump's reimbursement payments to Cohen in 2017 were part of a larger scheme with the publisher of the National Enquirer supermarket tabloid, David Pecker, to watch out for negative stories about Trump as he ran for president and use a practice known as "catch and kill" to buy those stories with the intention of never running them.
This began with a $10,000 payment to a former Trump Tower doorman who claimed Trump had had a child out of wedlock, even though that National Enquirer staff later decided the claim was not true.
In June 2016, the National Enquirer began negotiations with McDougal, a former Playboy model who said she'd had an affair with Trump, who was willing to sell her story to the paper. The National Enquirer wound up paying $150,000 to her and never ran her story, with the understanding that the company would be reimbursed.
Several months later, the National Enquirer alerted Cohen and Trump about Stormy Daniels, who also wanted money for her story about an affair with Trump. "The Defendant directed Lawyer A to delay making a payment to Woman 2 as long as possible. He instructed Lawyer A that if they could delay the payment until after the election, they could avoid paying altogether, because at that point it would not matter if the story became public," the document states.
Cohen wound up making the $130,000 payment to Daniels, again with the understanding that he would be reimbursed.
"Under New York state law, it is a felony to falsify business records with intent to defraud and intent to conceal another crime," Bragg said in a news conference later in the afternoon. "That is exactly what this case is about. 34 false statements made to cover up other crimes. These are felony crimes in New York no matter who you are."
Trump arrived in New York on Monday afternoon and plans to make a statement about his prosecution Tuesday evening at his country club home in West Palm Beach, Florida.
He has been vocal about the case since news reports revealed last month that Manhattan District Attorney Alvin Bragg was close to presenting charges to a grand jury for a vote. Trump has called Bragg a "racist" beneficiary of Democratic donor George Soros and that his investigation is part of a "witch hunt" he claims has dogged him since his 2016 run. He has also said the judge in the case, Juan Merchan, is biased against him and has warned there would be "death and destruction" should prosecutors bring charges against him.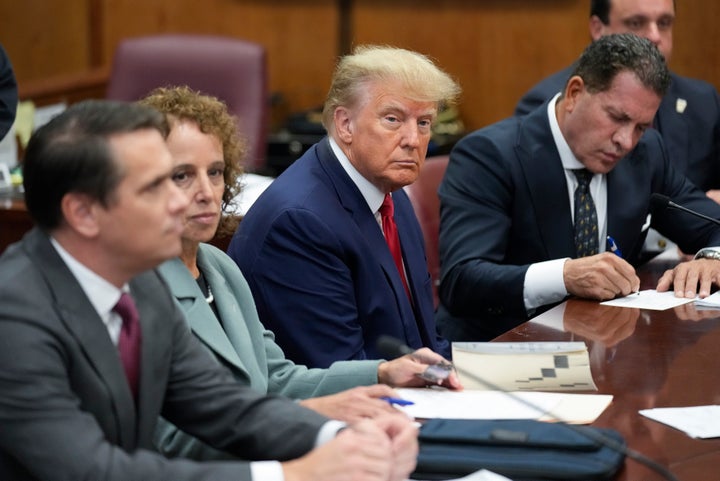 Trump spent Tuesday morning posting complaints about the case in all-capital letters to his Twitter-like platform, Truth Social, including about the unfairness of being charged in Manhattan, where he is disliked by most residents, and Fox News' choice of guests.
"WHY DOES FOX KEEP PUTTING ON BILL BARR. AS ATTORNEY GENERAL HE WAS A COMPLETE COWARD WHO WAS ABSOLUTELY PETRIFIED OF BEING IMPEACHED, WHICH THE DEMOCRATS THREATENED TO DO UNTIL HE BECAME THEIR VIRTUAL "SLAVE" AND REFUSED TO INVESTIGATE AND PROSECUTE THE MASSIVE ELECTION FRAUD THAT TOOK PLACE IN THE 2020 PRESIDENTIAL ELECTION, BY FAR THE RADICAL LEFT'S GREATEST CONCERN. HE SAID HE DID INVESTIGATE, BUT HE DIDN'T HAVE THE 'GUTS' TO PROPERLY DO SO, AND NOW WE HAVE A NATION IN MASSIVE DECLINE!" Trump wrote, repeating his lies that the 2020 election was stolen from him.
Trump is also under criminal investigation in Georgia for his attempt to coerce state officials to overturn his election loss there in 2020 and by the DOJ for his actions leading up to and on Jan. 6, 2021, when his supporters stormed the U.S. Capitol as Congress met to certify Joe Biden's electoral votes. Federal prosecutors are also investigating Trump's retention of top-secret government documents at his home in defiance of a subpoena demanding that he turn them over.
He is nevertheless running for the White House again, with most polls showing him with a substantial lead over rivals for the GOP nomination.
Popular in the Community