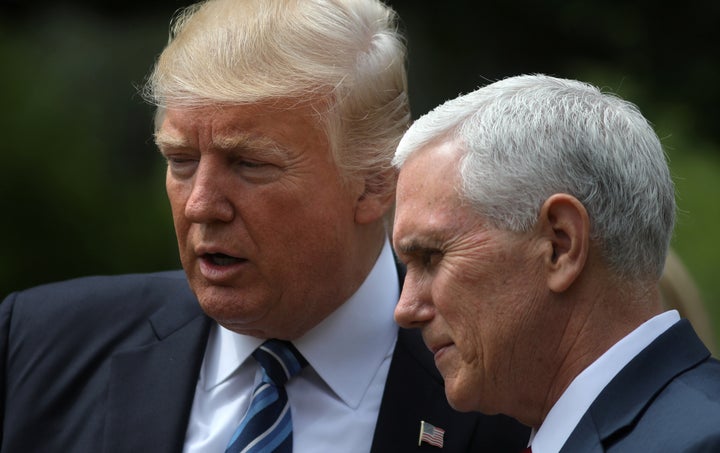 This week marks the end of Asian American and Pacific Islander (AAPI) Heritage Month. First designated in 1978, this annual commemoration is a time to celebrate the proud legacy of the Asian American community and as importantly, to reflect on the important challenges ahead.
For the Trump administration, this month has passed with little fanfare.
The White House issued a bland proclamation to "recognize the achievements and contributions of Asian Americans and Pacific Islanders that enrich our Nation." However, Donald Trump opted against a public event to mark the month. That's not a bad thing. After all, at a February roundtable for African American History Month, Trump extolled the virtues of Frederick Douglass as if the abolitionist were still alive.
To fill the gap, Mike Pence spoke to a gathering of AAPI community leaders. Oddly, Pence was unable to express much personal connection to the community despite the 120,000 AAPIs in his state of Indiana. Instead, Pence recounted his recent trip to Asia and recited a series of platitudes about Asian Americans "contributing every day to everything that makes America thrive."
Trump and Pence are right to appreciate the accomplishments of the Asian American community. These accomplishments are countless and worthy of celebration. However, by focusing only on the positive, the Trump administration ignores the serious challenges facing the AAPI community – and the federal role in addressing these challenges.
In contrast, the eight Heritage Month proclamations issued by Barack Obama acknowledged the discrimination and hardships faced by AAPIs. For instance, Obama recognized the "long history of injustice," "persistent inequality and bigotry," and "disparities in health care, education, and employment that keep [AAPIs] from getting ahead."
On balance, it is true that Asian Americans are wealthier, more educated, more stable and more established than other groups. Yet, the AAPI community is not a monolithic one, and there continue to be great disparities among its subgroups. Consider just a few examples:
When Mike Pence addressed AAPI leaders, he said: "[This President wants you and every American, no matter the background, to accomplish more, to climb higher, to make tomorrow even better than today."
To the contrary, the Trump administration has advocated policies over the past four months that would exacerbate the problems affecting the Asian American community.
The administration has released a budget that drastically cuts critical programs – such as student loan forgiveness, disability benefits, affordable housing, and nursing home care – that benefit poor and working class AAPIs. By decreasing funding for food assistance programs, the Trump administration cuts an essential lifeline that feeds 1.3 million Asian Americans. The budget also slashes funding for job training programs that help AAPIs gain access to fast-growing, high-paying careers.
Asian American-owned businesses, which now number 1.9 million, also would suffer from the Trump budget. Programs to educate and counsel entrepreneurs are cut by 21 percent. And the Trump budget eliminates the Minority Business Development Agency, which last year helped AAPI businesses secure almost $900 million in contracts and capital, thus creating or retaining 2,800 jobs.
The administration's attempt to repeal the Affordable Care Act (ACA) endangers over 2 million AAPIs who have obtained health care in recent years. Also impacted are 4.3 million other AAPIs who have greater access to preventive care, including cancer screenings, because of the ACA.
With regard to immigration, Trump's divisive policies harken back to an era of discriminatory actions like the Chinese Exclusion Act and Japanese American internment. Trump's deportation agenda has created fear and anxiety among the 1.5 million undocumented Asian Americans, while his budget cuts to civil rights enforcement would leave the community vulnerable to discriminatory practices.
As troubling as the immigration policies is Trump's inflammatory rhetoric that has contributed to a rise in hate crimes against Muslim and South Asian Americans. As ten AAPI civic leaders explained in their resignation from a White House commission in February: "[W]e object to your portrayal of immigrants, refugees, people of color and people of various faiths as untrustworthy, threatening, and a drain on our nation."
In its successes and struggles, the Asian American community is a microcosm of the nation. Instead of recognizing the diversity of AAPI experiences, the Trump administration chooses to perpetuate the model minority stereotype and obscure the destructive nature of its policies.
Chris Lu served in the Obama administration as Deputy Secretary of Labor, White House Cabinet Secretary, and Co-Chair of the White House Initiative on Asian Americans and Pacific Islanders. He is a senior fellow at the University of Virginia Miller Center. You can follow him on Twitter at: @ChrisLu44.
Popular in the Community