President Donald Trump's administration has spent its first days in office aggressively attacking the media for what it calls attempts to "delegitimize" the country's new leader. On Sunday, the hosts of the network public affairs shows hit right back and essentially called out the administration for lying.
Both Trump and Press Secretary Sean Spicer insisted on Saturday that the crowd that watched the inauguration this year was the biggest ever. Trump claimed that TV networks showed a picture of an "empty field" and that from where he stood, "it looked like a million, a million and a half people" had attended. He also falsely stated that the crowds "went all the way back to the Washington Monument."
"This was the largest audience to ever witness an inauguration — period — both in person and around the globe," Spicer said at his first press briefing. 
None of those statements are true. But on Sunday, White House Chief of Staff Reince Priebus and Kellyanne Conway, a counselor to the president, continued to attack the media for being dishonest and focusing on crowd size ― an issue Trump loved to talk about during his campaign. The Sunday show hosts, however, aggressively went after the Trump administration for its lies.
"Why did the president send out his press secretary ― who is not just the spokesperson for Trump, he is also the spokesperson for all of America at times, he speaks for all of the country at times ― why put him out there for the very first time in front of that podium to utter a provable falsehood?" Chuck Todd, host of NBC's "Meet the Press," asked Conway. 
The administration may "rethink [its] relationship with the press" if the media continues to criticize Spicer, Conway threatened. She also told Todd not to be "so dramatic" when he said such falsehoods undermine Trump's press office on its very first day. 
"Sean Spicer gave alternative facts to that," Conway said, regarding crowd size.
"Alternative facts are not facts, they're falsehoods," Todd replied, as Conway quickly changed the topic to the Affordable Care Act.
On ABC's "This Week," host George Stephanopoulos also pressed Conway on why Spicer "repeated things that just aren't true" in his press briefing.
"We are going to watch what the president does, we're going to watch the president says," Stephanopoulos told her. 
Chris Wallace similarly challenged Priebus on "Fox News Sunday." Wallace said Trump had made statements that were "flat wrong" and that there needed to be discussion about "the president's honesty." Wallace showed photos of the crowd at Barack Obama's first inauguration and compared the number of attendees to the crowd gathered at Trump's. There's no question that fewer people attended this year.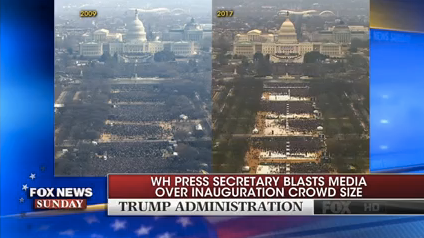 "I was there on the Mall. ... I am telling you, there were huge empty areas," Wallace said, saying he saw the difference with his own eyes. 
The Sunday show hosts acknowledged that there's a legitimate debate to be had about whether crowd sizes matter. But the point is that the Trump administration, and the president himself, lied about a matter that was easily verifiable. 
Trump made his comments during a visit to the CIA, while standing in front of the agency's Memorial Wall of heroes. In addition to boasting about how many people attended his inauguration, he talked about the number of times he's been on magazine covers, called the media "the most dishonest human beings on earth" and accused the press of concocting a feud between him and the CIA.
The media did not make up that feud. Trump himself has compared the intelligence community to Nazis. 
Trump also repeatedly said he didn't believe the intelligence community when it said Russia had interfered in the U.S. presidential election.
"It's not the media, it's what he was saying," Wallace told Priebus, who tried to shift the subject to talking about how it was "rotten" that someone leaked an unverified Russian dossier on Trump to the media.  
On CBS, "Face the Nation" host John Dickerson asked Conway why the president keeps bringing up issues he says he doesn't want the media talking about. "Aren't there more important things to talk about at the CIA for the new president of a nation of 320 million people?" Dickerson asked. 
Former CIA Director John Brennan also blasted Trump for using his speech at the agency for self-aggrandizement.
The Trump administration has also been using an error by a Time magazine reporter as evidence that all of the media is dishonest. The reporter incorrectly noted in a pool report that Trump had removed a bust of Martin Luther King Jr. in the Oval Office and replaced it with one of former British Prime Minister Winston Churchill. In fact, both busts are now in place. The reporter quickly apologized and corrected himself as soon as he learned his error.
How will Trump's first 100 days impact you? Sign up for our weekly newsletter and get breaking updates on Trump's presidency by messaging us here.  
Want more updates from Amanda Terkel? Sign up for her newsletter, Piping Hot Truth, here.
Calling all HuffPost superfans!
Sign up for membership to become a founding member and help shape HuffPost's next chapter